We found the perfect 'working from home' top - and it's currently on sale!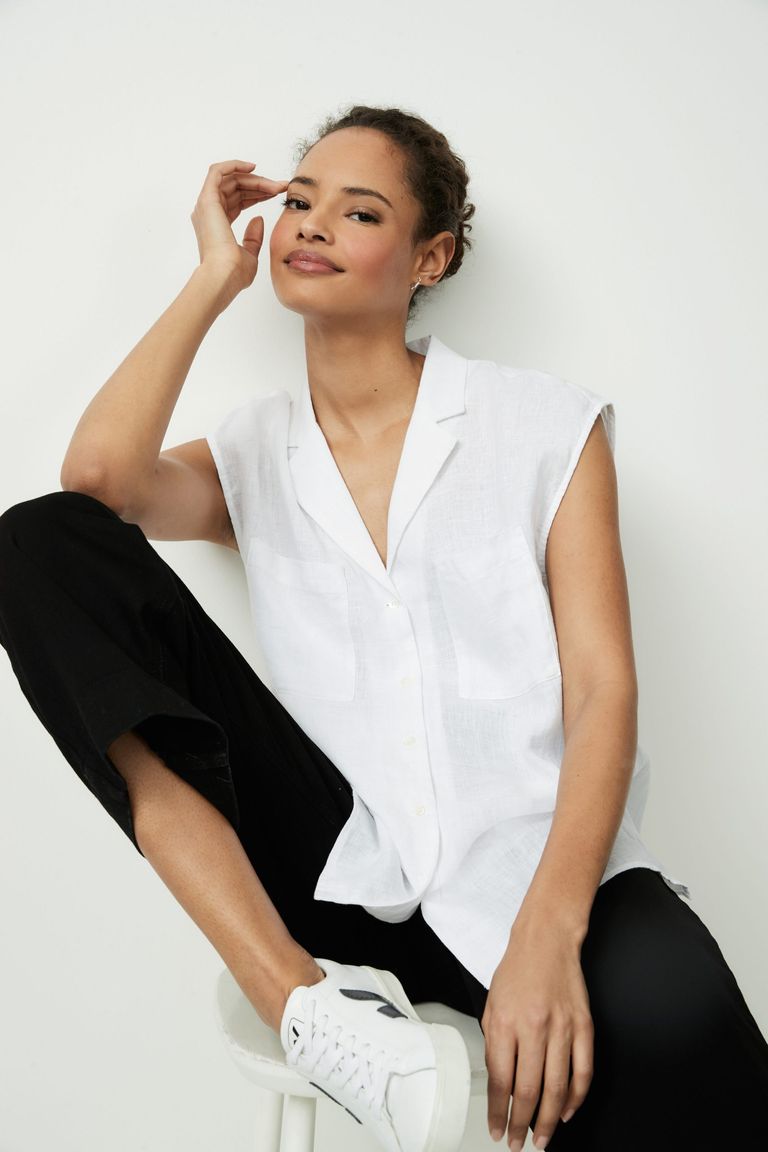 Now working from home has become the norm (albeit temporarily), owning 'nice' tops has never been more important.
While we bet most people are actually spending the majority of the time in comfy loungewear (we already picked our faves!), it's still important to look professional when that Zoom call comes around.
Cue our excitement when we found The White Company's brand new collection is the Holy Grail of working from home pieces. And why, you may ask? Not only are their pieces the classic items you would buy and wear again and again over the years anyway, they are just the right mix of professional and supremely comfortable.
As always with The White Company, all of these pieces are of high quality, so you know you'll be able to enjoy long after lockdown is over.
Plus, they currently have 20% off EVERYTHING until Sunday 17th May - all you have to do is use the code TREAT20.
These The White Company's bestsellers are the perfect addition to your WFH wardrobe
It's no surprise these four pieces have been selling like hotcakes - some already have limited sizes in some colours, so we'd add to your cart asap!
The Linen Shirt
SHOP NOW: Linen Sleeveless Shirt, Was £79, Now 63.2, The White Company
Linen is quickly becoming the material of the year, for its many qualities - it's sustainable, regulates your temperature and it's highly absorbent.
With all the signature details of a classic shirt but still casual enough for a lazy summer day of sightseeing (forward planning here), we're crowning this piece the perfect 'working from home' top.
When life goes back to normal (or some version of normal), it will look great paired with tailored trousers, jeans and floaty skirts.
The T-Shirt
SHOP NOW: Organic Cotton Jersey V-Neck T-Shirt, £35, The White Company
This organic cotton t-shirt with a very flattering V-neck style is another piece that's already selling out, but you can still grab it depending on your size and preferred colour.
Pair with some statement earrings, and a nice necklace (have you seen Missoma's lovely tribute to the NHS?), and you've got yourself a lovely Zoom look, ready to press to 'call'.
The Printed Dress
SHOP NOW: Linen Printed Dress, £129, The White Company
If you feel inspired to get out of your comfy joggers, then the next best thing has to be a comfy dress. Enter this linen printed dress in an effortless tunic shape, so there's nothing squeezing you anywhere.
We promise this dress will also become one of the first things you pack next time you go on holiday...
The Wide Leg Trouser
SHOP NOW: Wide-Leg Tile-Print Trousers, £98, The White Company
If you struggle finding a pair of trousers that are comfortable yet smart, then these tile-print trousers have to be the answer to that dilemma.
Perfect for when the weather is warm (like right now), these are ideal for when you really miss getting dressed up and graduate from loungewear into a 'proper outfit' - that's still comfortable, of course...