5 sportswear brands that are good for your health and the environment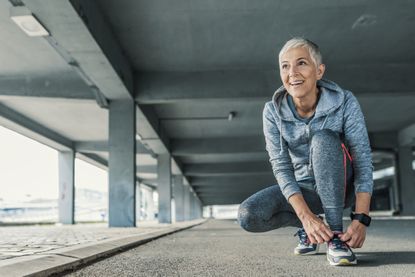 (Image credit: Getty Images)
Working out may be good for our bodies (yep, our hearts, bones and lungs certainly thank us for that run or Zumba class), but how good is it for the environment?
We're talking about that never-ending pile of leggings (full length, three-quarters, and those magical ones we go to when our bum needs a lift), plus the vest tops, t-shirts, hoodies and sports bras (half of which we bought because we liked the pattern). Really it's no surprise that we buy more clothes per person in the UK than any other country in Europe.
Everything we wear has an embedded social and environmental cost. The production is seriously water intensive. According to the 2017 Wrap report –which looks at the environmental impact of the whole journey of clothing – the average water footprint for a kilo of cotton is 10,000-20,000 litres, while the fashion industry consumes more energy than the aviation and shipping industry combined.
Ethical sportswear
We're more mindful than ever about our personal impact on the world and it's resources. That doesn't mean that we don't want to buy new and beautiful things though. But it's possible to make your workout gear more green, here are five ethical sportswear brands that ease our guilt a little...
Golf retailer golfsupport.com have explored sustainable materials in activewear. They founded the brand Sundried, whose collections are now made from 100% recycled materials, such as plastic bottle and coffee grounds. And it's pretty affordable, too. A four piece activewear set – which includes a sports bra, vest, leggings and a hoodie or sweatshirt – is £143.30.
Bamboo is an increasingly popular alternative to cotton because it requires limited water and no pesticides to grow, making it an ideal raw material for textiles. And the best part? Eco-friendly can mean fully functional too. Bamboo absorbs three times its weight in water, keeping sweat away from skin, but it also locks in water when the temperature drops. Plus, it delivers superior flexibility, durability and breathability, helping keep its shape for longer. Ethical sportswear brand BAM, as the name suggests, makes all it's clothes in this brilliant textile. There's nothing fancy about the designs, but there's style to their simplicity.
Carrot Banana Peach make sportswear from nature-created products. Yes, you really can choose from fabrics made from soybean, bamboo, organic cotton or aloe vera. Their stuff is also designed to streamline your silhouette, deliver extra compression support and regulate your body temperature for maximum comfort.
If you have a budget that can stretch, discover Perff Studio's new range. Their sustainable pieces are made from ECONYL, regenerated nylon that is infinitely recycled and are also built to last.
New York based lifestyle brand Vyayama. It uses an innovative Tencel fabric, which is made from sustainably farmed eucalyptus, while the brand's hypoallergenic Cupro fabric naturally transports moisture away from the body keeping you both cool in summer and warm in winter.
So you can now workout sustainably and in style. What's not to love?
Natalia Lubomirski is a health journalist with 14 years experience in the publishing industry. She has worked for a number of well-known magazines and websites including Marie Claire, marieclaire.co.uk, woman&home, Top Sante, Boots and The Telegraph.
She likes to think she practices what she preaches when it comes to health and fitness. She loves the great outdoors and you'll often find her up a mountain somewhere. She's climbed eight major mountain ranges across four continents and hit the summit of Half Dome (in Yosemite) during her honeymoon.