M&S sleep shop: our top picks of sleepwear, bedding and mattresses
Sleep in style!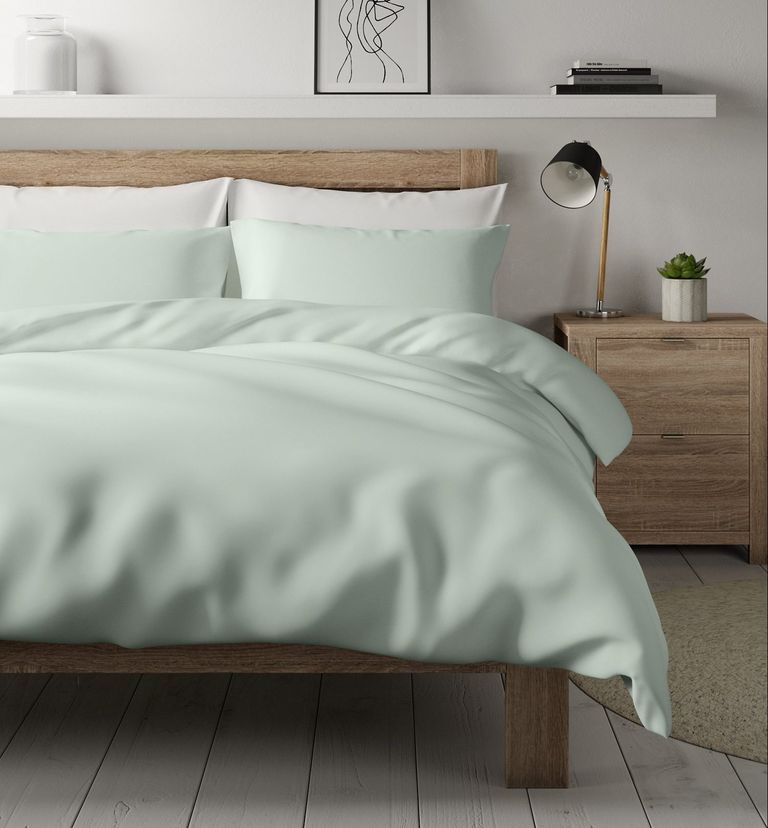 September is here which means it's time to invest in cosy clothes and comforting homeware goodies, to prepare for the colder months ahead.
M&S has a plethora of treats for those who love snuggling up inside on chilly winter evenings.
The brand's M&S sleep nightwear and bedding selection will make anyone excited to jump into bed after a long day working from home or in the office. From soft pyjamas, to colourful duvet covers and memory foam mattresses, M&S has a lot to offer - all at very affordable prices.
M&S is known for its quality and this can be seen through the brand's cotton-rich pyjamas, Egyptian cotton duvet covers and more.
A good pair of pyjamas are a winter essential and M&S has nightwear to suit every taste. For just £12.50, the brand has a set of pure cotton blue checked pyjamas, as well as a star print variety. For those who prefer something a little sexier - but still want to stay comfy - satin pyjamas are an excellent option. M&S has a gorgeous satin crane print set for £35, as well as a polka dot version for £25.
In the bedding department, there's something for everyone with crisp white sheets, vibrant duvet patterns and texted covers. The high street store now offers a duvet cover made with bamboo and sustainably sourced cotton - which has antibacterial characteristics and a breathable feel. Available in mint, pink, white and grey, this bedding is priced at £42.50 for a double duvet. Of course, there are more vibrant prints available, too, such as the Madeline floral bedding set which features a pastel design - this is priced at £39.50 for a double. Likewise, the Elena geometric cover includes a more subtle grey print and comes in for £15 for a double.
A mattress can make or break a good night's sleep and M&S has a selection for every individual's needs. Two of the brand's most highly-rated products include the 750 pocket sprung memory foam mattress, which is £399 for a double, as well as the ortho-enhanced 1500 pocket sprung extra firm mattress priced at £649.
Star Print Short Sleeve Pyjama Set, M&S, £12.50
VIEW NOW: Star Print Short Sleeve Pyjama Set, M&S, £12.50
Pure Cotton Checked Print Pyjama Set, M&S, £12.50
VIEW NOW: Pure Cotton Checked Print Pyjama Set, M&S, £12.50
Satin Crane Print Pyjama Set, M&S, £35
VIEW NOW: Satin Crane Print Pyjama Set, M&S, £35
Satin Polka Dot Print Pyjama Set, M&S, £25
VIEW NOW: Satin Polka Dot Print Pyjama Set, M&S, £25
Bamboo Duvet Cover, M&S, £42.50
VIEW NOW: Bamboo Duvet Cover, M&S, £42.50
Madeline Pure Cotton Floral Bedding Set, M&S, £39.50
VIEW NOW: Madeline Pure Cotton Floral Bedding Set, M&S, £39.50
Elena Geometric Bedding Set, M&S, £15
VIEW NOW: Elena Geometric Bedding Set, M&S, £15
750 Pocket Sprung Medium Mattress, M&S, £399
VIEW NOW: 750 Pocket Sprung Medium Mattress, M&S, £399
1500 Pocket Sprung Extra Firm Mattress, M&S, £649