The new H&M designer collection to shop before it sells out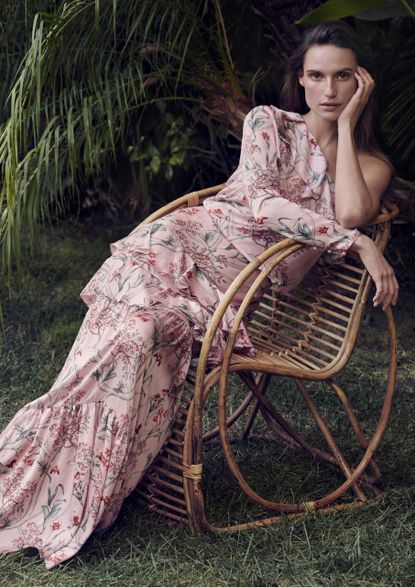 H&M is launching a gorgeous new designer collection in partnership with Colombian designer Johanna Ortiz - and we predict a sellout.
Spring's just around the corner - days are already getting a bit longer and we can't wait for temperatures to start rising at least a bit.
And to keep you dreaming of sunny and warmer days, H&M has just unveiled what we're sure it's going to be one of the brand's most successful collabs of the year.
Johanna Ortiz x H&M: What you need to know
Designer Johanna Ortiz has brought her colourful signature prints to the high street brand. Think florals and botanical patterns in different shades of mustard, red, pink, green… Just what you need to lift your mood!
With prices starting at £12.99, you'll be saving a lot as it's not even close to the £400 that's the usual starting price for the designer's collections.
Johanna Ortiz has said about the collection, "I'm thrilled to be able to infuse this H&M collection with effortless glamour and introduce some Latin American festivity to the H&M customer's wardrobe. I hope customers wear the pieces barefoot and with a beautiful flower in their hair."
The collection is comprised of amazing flouncy dresses in lively colours, which are great for spring and summer weddings, and also tops and swimwear (start packing for your summer holidays!). Of the 19 pieces, we've chosen our favourites, and that was a pretty difficult task…
The fashion team's must loved items
The swimsuit
Update your swimwear wardrobe with this gorgeous leaf print swimsuit. It'll get you straight from the beach to a relaxed alfresco lunch in style. It can also be used as a body with white wide leg trousers - two outfits sorted with just one piece.
SHOP NOW: Swimsuit, £24.99, H&M x Johanna Ortiz (opens in new tab)
The frilly dress
This is the perfect choice to add some frills and colours to your look. Pair it with flats or trainers and denim jacket for a casual summer outfit.
SHOP NOW: Dress, £24.99, H&M x Johanna Ortiz (opens in new tab)
The ballon sleeve dress
Elegant and chic, this is one of the most classic pieces from the collection and it's still equally beautiful and desirable as all the others. The balloon sleeves and the belted waist details are so flattering!
Pro tip - it'll look amazing with espadrille wedges...
SHOP NOW: Dress, £34.99, H&M x Johanna Ortiz (opens in new tab)
The versatile dress
If bright tones are a bit much for you, this rose print maxi dress is your best bet. It can be worn on chilly days with tights and over a roll neck or just as it is, weather permitting (hopefully sooner rather than later).
SHOP NOW: Dress, £39.99, H&M x Johanna Ortiz (opens in new tab)
The must-have dress
Although we're mad about the whole collection and can't wait to get every single item in our shopping basket, if we had to choose one piece this would definitely be the one. Its flouncy shape and frills, the high neck and the top detail, not to mention the lovely floral print - it got us dreaming of a summer wedding in Tuscany.
SHOP NOW: Dress, £49.99, H&M x Johanna Ortiz (opens in new tab)
We're ready to bag up our favourites, pack and go on holidays!
See you at the beach...
Freelance Fashion and Lifestyle Writer
Manuela Rio Tinto is a freelance fashion and lifestyle writer with experience in both short and long-form articles, as well as copywriting. Brazilian, she moved to London six years ago and since then has worked for brands like Woman & Home, Woman's Own, Chat, Selfridges and Karen Millen, to name a few. Passionate about all things culture, travel and scuba diving-related, you'll find her either reading, travelling or diving in her spare time.