Here's the truth behind that Zara sizing hack that went viral
Turns out that viral Zara sizing hack isn't quite what we thought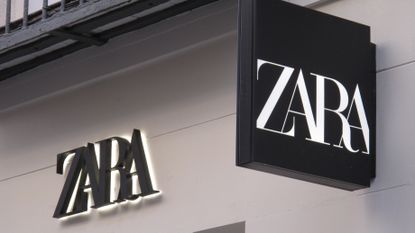 (Image credit: Getty Images)
If you're a regular Zara shopper, odds are you've heard about that viral Zara sizing hack that did the rounds on the internet earlier this year.
Along with the jean sizing hack that also took off big time, the insight into Zara's famously inconsistent sizing took social media by storm, with shoppers discovering what was seemingly a seriously easy way to figure out which size to buy by using a tiny symbol on the store's labels.
However, unlike the hack that proved we've been using the Zara website wrong all this time, it turns out there's some inaccuracies surrounding the what TikTok told us those little symbols mean.
Rumour has it that a small gray circle on a Zara tag means that the sizing runs large and that shoppers should size down, a triangle means the sizing is on the smaller side and customers should choose a larger size and a square means the piece is true to size.
Sounds like a game-changer, right? Well, if you've been following this rule when it comes to filling up your Zara basket, you should probably read on as it turns out that the so-called hack has been totally debunked. Sigh.
According to various Zara staff members, the symbols actually tell shoppers (and employees placing the clothes on the shop floor) whether a piece of clothing is from the brand's Basic, Woman or TRF section.
TRF stands for Zara's Trafaluc line which offers pieces aimed at the brand's younger shoppers, tending to have a lower price point. These labels are where you'll find the triangle symbol.
The circle, on the other hand, represents Zara's main line Woman collection, while the square is found on the tags of the Basic range.
And if you've noticed some Zara pieces don't have a shape at all, there's a reason for that too.
One TikTok user responded to a Zara employee debunking the symbol hearsay, asking, "What does it mean if it doesn't have a shape? I have a pink dress that I love that doesn't have one!"
"Is it knitwear? Our knitwear normally doesn't have a shape because it can be placed anywhere in the store," the Zara assistant penned in response. Makes sense!