These are the fashion brands making significant efforts to help during Covid-19
Check out the brands doing their bit!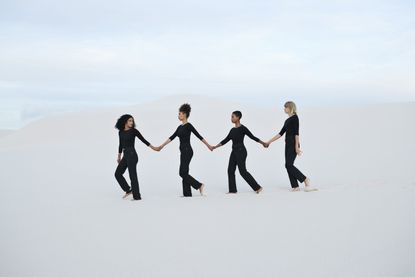 Things might be uncertain at the moment but one thing we do know is that when it comes to rallying around those that need it - the fashion pack have been some of the first to step up.
Here's how these stylish stores are helping...
Kurt Geiger
All UK store managers are working with their Local NHS Hospitals to give £100 gift cards to 55 NHS workers in the critical care departments of their local hospitals.
As all store have been closed, over 2,000 Kurt Geiger store workers were asked to utilise their time whilst they are paid and not working to become part of their local communities, volunteering scheme for employees with Age UK underway and active across the country. NHS workers will also receive a 50% discount for a year in all Kurt Geiger stores once they re-open.
Supermodel Jourdan Dunn commented on the move saying, "Now is a time for us all to play a part in our communities and Kurt Geiger's initiative to encourage all of their workforce to support their communities and work with the elderly is an example I hope we will all follow. Given the shortness of blood the NHS already has, it's more necessary than ever for us to come forward and donate blood - especially those with rare blood groups." Bravo!
Mango
MANGO made a statement that they will donate two million masks in the coming days. The Spanish fashion firm looks to collaborate the fight against COVID-19 pandemic and alleviate the serious social, economic, and public health consequences it is causing.
Mango will be in charge of distributing the two million masks in hospitals across Spain, many of which are in shortage of essential medical supplies to carry out their heroic work. The distribution will be made following the instrutions of the Ministry of Health.
Through their statement, Mango wanted to acknowledge and thank, on behalf of its more than 15,000 employees, the extraordinary effort being made by all the people who are part of the health teams in Spain that are incessantly fighting COVID-19.
Boden
This week Boden announced on their Instagram channel that they would be partnering with Helpforce, a bighearted charity who coordinate initiatives to make the lives of NHS staff and patients better.
The brand announced together with Helpforce they would be donating clothes to those that need them, form nightwear for NHS workers who can't return home at the end of their shift, to clothes for recovered patients to wear when they leave hospital.
Fitflop
Fitflop have joined in and are giving 40% off to NHS staff - helpful as the brand is all about confort and their shoes are already widely used by health workers.
Each pair of shoes is engineered with innovative technology designed to enhance wellbeing and the 'feel-good factor'. They also promote natural body alignment with the help pf the science of biomechanics, to deliver non-stop comfort.
And if you want any of this comfort yourself, here's some options to wear around the house, in the garden and on your walk - because we all need some 'feel-good factor' too...
SHOP NOW: SHUV Leather Clogs, £95, Fitflop
SHOP NOW: ALLEGRO Leather Ballet Pumps, Was £80, Now £56, Fitflop
SHOP NOW: AIRMESH Trainers, Was £80, Now £56, Fitflop
SHOP NOW: CLARA Shearling Suede Moccasin Slippers, Was £80, Now £56, Fitflop
Joules
Joules'sdonating all profitsfrom sales of theirlatestRainbow Editto theNHS Charities Together COVID-19 UrgentAppeal.It encompasses a range of womenswear, kids wear and home products all adorned with the bright rainbow to spread support and solidarity for the NHS at this difficult time.
SHOP NOW: Shelbury Espadrilles, £39.95, Joules
SHOP NOW: Straw bag, £24.95, Joules
Finisterre
Former member of the fashion brand Finisterre team, Annie Lucas, created Cornwall Scrubsgroup to help support the national campaign#ForTheLoveOfScrubs– producing scrubs, surgical caps and other PPE for frontline NHS staff. Now, less than a month once this project started, it has more than 1.000 volunteers.
Besides that, Finisterre has also launched their first ever t-shirt design competition with100% of sales going to the NHS Covid-19 Urgent Appeal. They explain how to get involved in their Instagram account.
Crocs
Crocs has donated over 200,000 pairs of shoes to hospitals globally to support frontline healthcare workers during the Covid-19 crisis.The first donation in the UK arrived with the NHS last month, Crocs is providing its iconic comfortable and lightweight shoes. They're alsoinviting its online customers to join in further supporting healthcare workers either by giving £10 with a purchase of Classic Clogs or by contributing £10 to gift a pair of clogs to a healthcare worker. For every contribution made, Crocs will send a pair of shoes directly to those frontline workers who need them most.
Maxine
Shoe brand Maxine is also taking a huge step and donating all profits in April for Doctors without borders Help Them Help Us, both organisations helping fight Covid-19. This is definitely a good cause for shopping.
Aspinal of London
Aspinal has launched #AspinalHeroes on Instagram to recognise people who are doing amazing work to care for the people around them and who are vulnerable. It doesn't focus only on NHS or key workers but anyone who's making a difference and volunteering during difficult times. Every week until beginning of May, Aspinal will be rewarding 100 #AspinalHeroes with a personalised surprise gift to brighten up their week and say thank you for the amazing work they have done.
Mayhoola
The parent company of prestigious fashion brands as Balmain, Valentino and Pal Zileri, Mayhoola announced a donation of €1m to the French charity La Fondation Hôpitaux de Paris - Hôpitaux de France. The donation will be targeted at aiding two hospitals helping fight the virus, Montfermeil and Delafontaine to acquire equipment and also to support the health and well-being of its medical staff.
Nobis
Canadian outerwear brand Nobis is donating 100% of digital sales over the next two weeks to help fight coronavirus. This is the company second action towards tackling the disease, following a donation of CAN$100,000 to local Ontario hospitals.
Well, our hearts are officially warm.
Fashion, we salute you!
Millie Gooch worked at woman&home as a fashion writer and stylist and has worked on numerous shoots for the brand. As a freelance journalist, Millie has written for a range of publications, including, ELLE, Stylist, the BBC, and the Evening Standard.
Millie is also the founder of Sober Girl Society, an online collective of women who don't drink alcohol. Millie's debut non-fiction book, The Sober Girl Society Handbook, is a bestselling manual to navigating life as a young and sober woman. Millie gave up alcohol back in February 2018 and has since dedicated her career to changing perceptions around sobriety.