This is the shoe everyone will be wearing this festive season according to Pinterest
Any excuse for a new pair of shoes, right?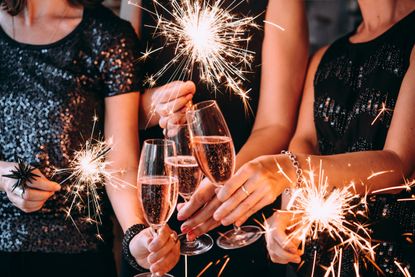 With less than six weeks to go until December the 25th, it's almost time to get into the swing of Christmas party season.
With our schedules for the next five weeks and the days following the big day filling up with festive soirées and fun-filled merry get togethers, our wardrobes are likely to be calling for a punchy Christmas revamp.
In fact, it seems users of picture sharing app Pinterest have already begun scouring the internet in pursuit of the perfect festive party pieces, and one style of shoes is having a particularly good moment.
Searches for red shoes are up by a huge 2732% according to figures provided by Pinterest to Stylist - and it makes so much sense. What better way add a festive flare to an outfit than a pair of striking red party heels?
SHOP NOW: Deaga Patent-Look Court Shoe, £89, GUESS (opens in new tab)
These GUESS Deaga Patent-Look Court Shoes will allow you to go for the whole evening in your heels, with a low but elegant heel, flattering pointed toe and sling back ankle strap.
SHOP NOW: Red Cerise Suede Ulani Heels, £55 down from £125, Ted Baker (opens in new tab)
If bright ruby red isn't your cup of tea, channel the same vibe while sticking to a cherry red tone with these Red Cerise Suede Ulani Heels from Ted Baker.
They're delicate, glamourous and currently on sale with £57% off. Hurrah.
SHOP NOW: Argon Block Heel Boots, £39 down from £70, Office (opens in new tab)
For the stiletto heel haters or those prone to chilly feet, a pair of red chunky heeled boots may be the way to go.
Office are offering the stunning block heeled Argon boots. They're shiny, they're festively red, they've got rave reviews AND they're £39 down from £70 right now.
Of course searches for New Year's Eve outfits up a whopping 1,440%, according to Stylist.
SHOP NOW: Principles Silver Sequin Tie Front 'Brillo' Midi Dress, £31.20 down from £39, Debenhams (opens in new tab)
Naturally, a little black dress is on the list, but it looks like Pinterest users are keen to inject a glitzy Xmas sparkle to the classic for the most wonderful time of the year.
Searches for a sequinned LBD have rocketed up by 274%.
A great option for getting on board with the glittering trend is the Principles Silver Sequin Tie Front 'Brillo' Midi Dress from Debenhams.
The dazzling frock is both flattering and appropriate for chilly December evenings, with long sleeves, a round neck and a hem landing below the knee.
Happy partying!