Why sales of these 'ugly' sandals have more than doubled during lockdown
There's one item of clothing we didn't see topping the style stakes this last year, but which have won out purely for comfort - Birkenstocks.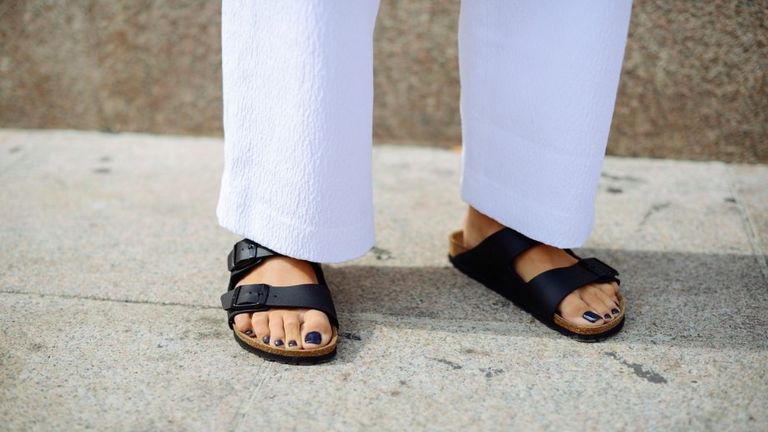 (Image credit: Getty Images)
Since the start of the first lockdown last spring, there's one thing that we've all been looking for when it comes to clothes shopping - comfort.
After nearly a year of living in our loungewear wardrobe, some of us have taken to putting on our good clothes just to take our rubbish out as an excuse to crack out something other than our best leggings, while others have totally relaxed into the lifestyle and outfit changes that have taken place over the past 10 months.
But there's one item of clothing we didn't see topping the style stakes this last year, which have somehow shot up out of nowhere - Birkenstocks.
The usually considered 'ugly' sandals seem to have become a staple part of many of our lockdown wardrobes - and we expect it's all because of the comfort factor.
According to The Times, sales of Birkenstocks have been increasing considerably since the first lockdown started, with John Lewis reporting an increase of nearly 50% between March and July, while Selfridges saw a 140% increase during the same time period.
Of course, we're in the winter months now, but with nowhere to go apart from to take our bins out, we can safely say the stigma around socks and sandals have been utterly quashed.
And while most styles of Birkenstock cost between £50 and £100, shoppers are also splurging for more expensive models – the Birkenstock 1774', which costs a whooping £330, was a best-seller at Matches Fashion throughout the summer months.
Are Birkenstocks worth it?
Birkenstocks wearers rave about how comfortable they are all the time, but the sandals will also give you serious fashion credit.
Despite being commonly known as 'ugly sandals', the comfort shoes have been trendy among the fashion community ever since Phoebe Philo presented them in her Spring/Summer 2013 collection, while she was creative director at Celine.
The brand also earned extra style points after their collaboration with catwalk brands such as Valentino Garavani and Proenza Schouler.
And there seems to be a very simple explanation for the recent surge in popularity, according to CEO of Birkenstock Americas, David Kahan.
Speaking to industry publication Footwear News about the spike in sales, he said, "We've gone through [many] world crises, so it gives us a little perspective.
"We know many people may have previously associated comfort with soft slippers, but after now weeks at home, they know there's an [alternative]. This period may have given many an introduction to our brand.
"When times are uncertain, people look for products that give them a degree of certainty.
"Look at iconic products like Stan Smith, Adidas, Nike Air Force One. They [offer] an emotionally satisfying purchase – you feel good about buying them. It's not like you're going out shopping for something you think might be in style now, then out of style in 60 days."
The executive also teased more future collaborations, so fingers crossed for even more stylish designs soon!
Shop our favourite Birkenstock styles
Arizona Gator Gleam Mineral
Birkenstock Madrid Narrow Fit Open Toe Vegan Buckle Sandals
Arizona Birko-Flor Patent
Birkenstock Women's Madrid Big Buckle Mules
Birkenstock Arizona white flat sandals
Birkenstock Gizeh Floral Sandals in Multi