Save £197 on a designer Aspinal of London handbag in their amazing outlet sale online
Save up to 80% on your next Aspinal purchase!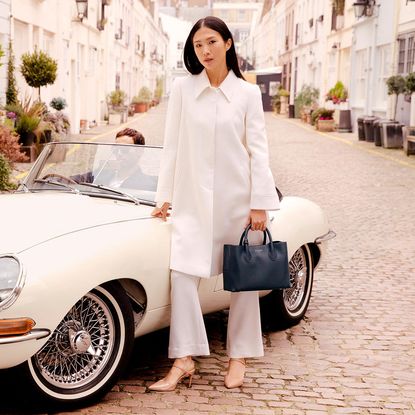 (Image credit: Aspinal of London)
If you are thinking about buying a new designer handbag, it's difficult not to consider Aspinal of London. When you are in the market for luxury leather items, be it for yourself or for a loved one, the British brand has a reputation for quality.
The price points are also often a smidge more wallet friendly than Mulberry and other best designer bags labels. However, elegant and hand-finished leather bags usually go hand in hand with prices that soar way above the £500 mark, partly down to that well-known saying 'you get what you pay for'. But sometimes we're lucky enough to find a really good deal in the sales or outlet stores. Wel, today is one of those sometimes!
At the moment Aspinal of London are having a big sale online in their outlet section, with up to 80% off luxury leather items. You can find some of their iconic styles, not only bags, for up to 80% off! We have chosen our fave pieces below, from small gifts such as a keyring or a scarf, to gorgeous timeless bags you'll sling over your shoulder for decades to come. A particular highlight for us is the Midi London tote, reduced by almost £200 to come in at £297. For comparison, a bag from high street stores such as Whistles or Reiss can cost up to £300, so this feels like a brilliant bargain to us.
However, what if you want to treat yourself or someone you love to an item that isn't in the Aspinal sale though? There really are a lot of tempting new in pieces, including candy coloured mini bags and bejewelled trunks! Well, don't let the lack of sale stop you indulging... At the moment the brand are also offering special promotional discount codes off full priced stock. The discount codes will get you up to £150 off a full price order.
Aspinal discount code on full price stock
Spend £100 - SAVE £15. Use Aspinal discount code: SAVE15
Spend £200 - SAVE £40. Use Aspinal discount code: SAVE40
Spend £400 - SAVE £100. Use Aspinal discount code: SAVE100
Spend £550 - SAVE £150. Use Aspinal discount code:SAVE150
Click here to shop and use the Aspinal discount code on full price items.
We don't know how long these discount codes will be valid for, so if you see something you like shop quickly. Sources at the brand say that they're likely to end this offer very soon.
Best Aspinal outlet sale purchases
If it's a sale bargin you are after though, here are the best pieces in the Aspinal outlet right now...
Midi London tote
was £495, now £297 Minimal and elegant, this leather tote has interior pockets to keep all your small belongings organised and to hand. It comes with a detachable cross-body strap, 2 styles in 1!
Origami duffle bag
was £350, now £175 This tan duffle bag is just the right size to fit your essentials - not too big, not too small, it'll see you through all your day, from AM to PM in style.
Signature silk neck bow
was £80, now £48 A silk scarf is a thoughtful gift idea. Add some colour to any plain outfit, be it around the neck, as a bracelet or around a handbag handle.
VIEW NOW: Signature silk neck bow
Zipped card wallet
was £95, now £57 Get your cards and cash organised in this gorgeous croc wallet. We love the colour, which is makes it look much more expensive than its £57 price tag.
Small lion & shield keyring
was £60, now £36 You'll never again loose your keys. Keep them safe and easy to spot on this chic keyring. A great gift for someone who appreciates the finer things in life too.
VIEW NOW: Small lion & shield keyring
Small Florence snap bag
was £595, now £416.50 This croc classic shape handbag will dress up any outfit and add an instant glam touch. It will still look great with casual jeans and flats though too.
VIEW NOW: Small Florence snap bag
Essential tote
was £350, now £245 As practical and simple as it can get. Throw all your big and small essentials inside and you're ready to go. The zipped pouch will make sure you don't loose your keys and your phone. Handy. Lovely colour too that will go with everything.
Freelance Fashion and Lifestyle Writer
Manuela Rio Tinto is a freelance fashion and lifestyle writer with experience in both short and long-form articles, as well as copywriting. Brazilian, she moved to London six years ago and since then has worked for brands like Woman & Home, Woman's Own, Chat, Selfridges and Karen Millen, to name a few. Passionate about all things culture, travel and scuba diving-related, you'll find her either reading, travelling or diving in her spare time.