The 1970s has been crowned the best decade for fashion and beauty, according to research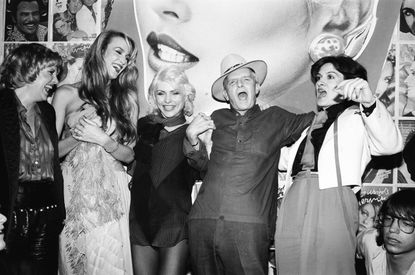 (Image credit: Getty)
A study of 1,000 adults found more than 40 per cent of respondents would choose the disco era as the decade they would like to revisit.
Bell-bottom trousers and platform shoes helped propel the era to the top of the list.
Knee high boots, tie dye and frayed jeans were also cited as some of the top trends Brits miss the most.
The research was commissioned by shopping destination centre:mk (opens in new tab) to celebrate its 40th birthday, as part of a project called 'Four Decades of Style – 1979 to 2019'.
The study investigates styles from the last 40 years, revealing the trends, fashion fads, celebrated influencers and enduring style icons.
centre:mk collaborated with fashion and culture expert Jo Craven on the 'Boomerangs, Fads and Icons' report.
It identifies fashion headliners and 'boomerang' trends as well as fleeting fads, revealing the cyclical nature of four decades of fashion.
Kim Priest, head of marketing at centre:mk, said, "When we commissioned Jo Craven for our 'Boomerangs, Fads and Icons' report, we didn't expect it to start so many conversations across the generations.
"In particular, explaining the iconic status of the mullet in its time brought huge amusement.
"So many of the iconic trends from the last four decades keep on boomerang-ing back, season after season, and have resurfaced on the high street this season.
MORE:What food was everyone eating the year you were born? Most popular dishes of the 50s 60s 70s and 80s revealed!
"This focus on reinvention is something we celebrate as a centre, ensuring we stay as relevant as the latest boomerang trend."
The colourful 1980s was the second best decade for fashion and beauty thanks to hero items including shoulder pads, big hair and shell suits.
More than one quarter thought power shoulder pads were a standout eighties trend, while two in 10 believe big hair was a definitive look.
The year 1983 also saw Madonna release her debut album and go on to define the era's fashion. As a result, 22 per cent believe she is one of the most iconic influences of the period.
A further three in 10 credited Princess Diana as having a huge impact on the way we dress today and the late David Bowie with his chameleon-like appearance was chosen as the most influential male style icon.
Other stylish men included Kurt Cobain, Karl Lagerfeld and Mick Jagger, who along with his then-wife Bianca were style icons of the 70s.
At the other end of the spectrum, mullets were voted the most 'hilarious' look that the nation would least like to come back into fashion, followed by puffball skirts and skin-tight metallics.
Grease was the most influential film for fashion and beauty and Olivia Newton John and John Travolta's leather duo was the most 'iconic' style moment in pop culture according to over a quarter of Brits.
Jo Craven said, "Four decades ago when centre:mk first opened, mobile phones were a futuristic fantasy, the final episode of Fawlty Towers was aired on TV, Harry hadn't even met Sally and Blondie's Heart of Glass was Top of the Pops.
"Forty years on, we may still be listening to Blondie, but the world has changed substantially.
"But it's so much fun to identify the icons who still inspire us, the trends we still can't quite believe were popular and the much-loved and surprise comebacks."
The modern decades of 2000s and 2010s proved less popular for fashion, but Brits admitted they would like to see capri trousers and leggings make a comeback.
But the styles Brits do not want to ever see return include wearing underwear as outerwear, 'Crocs' shoes and 'his and hers' outfits, according to the OnePoll research.
A full round-up of centre:mk's 40th anniversary celebrations can be found atwww.centremk.com (opens in new tab), along with the full 'Boomerangs, Fads and Icons' report.
Top trends from the 70s: 1. Platform shoes 2. Bell-bottom trousers 3. Knee high boots 4. Maxi dresses 5. Disco fashion 6. Tie Dye 7. Midi skirts 8. Frayed jeans 9. Sideburns 10. Boob tubes
Lauren is the former Deputy Digital Editor at woman&home and became a journalist mainly because she enjoys being nosy. With a background in features journalism, Lauren worked on the woman&home brand for four years before going freelance. Before woman&home Lauren worked across a variety of women's lifestyle titles, including GoodTo, Woman's Own, and Woman magazine.