Celebrities Wearing High Street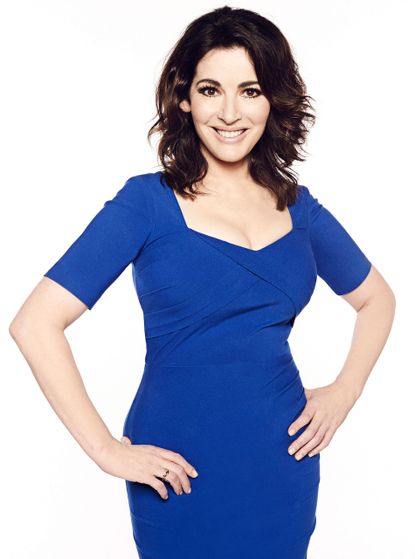 See all the latest stylish celebrity high street looks - and click to buy before they sell out!
Celebrities may have a team of professionals and pockets full of money at their disposal, but that doesn't stop them picking up stylish pieces from the high street. Which is great news for us mere mortals, as we can steal their celebrity style and look like a superstar – at a fraction of the cost.
We love picking up designer pieces when our budget allows, but more often than not we turn to the high street for our fashion picks. And as it turns out, so do many of our favourite celebrities!
The Duchess of Cambridge is known for her high street fashion style, favouring brands like LK Bennett, Zara and Reiss. But she's not the only celebrity who does – keep reading to see our favourite celebrity style from the high street, including the A-list actress who wore an H&M gown to the BAFTAs!
Everyone's favourite domestic goddess certainly knows how to dress for her body shape. Nigella's figure-hugging dresses always take centre stage when she hits our TV screens. Ahead of her American show, The Taste, Nigella chose a form-fitting cobalt dress by London Label Diva Catwalk to wow us once again. Doesn't she look stunning? The £89 dress boasts sculpting 'super stretch' fabric, a daring sweetheart neckline and pleats across the tummy to skim over lumps and bumps.
The dress has, unsurprisingly, sold out, but will be back in stock on January 15. Check divacatwalk.com (opens in new tab) for the next batch, or try out their other stretch dresses and silhouette-friendly styles for a similar look.
Stars know that the best style finds can often be found on the high street, and now you too can steal their celebrity style! Keep reading for our favourite celebrities wearing the clothing labels we can all afford...
Find more style inspiration here.
Samantha Cameron in Asos
The first lady of fashion joined husband David Cameron on the final day of the Conservative Party conference in Manchester, wearing a teal pencil dress from online retailer Asos - proving that even the Prime Minister's wife can tighten the purse strings when necessary! Samantha mixed high street with high end, pairing the £42 Asos dress with an Emilia Wickstead belt, black Topshop heels and a black Cos coat. Buy Samantha's Asos dress (opens in new tab) Buy Top Shop shoes (opens in new tab) Buy Cos coats (opens in new tab)
Kim Sears in Zara
Another tennis match, another stunning - but thrifty - outfit for Kim Sears. The portrait artist chose a £29.99 Zara top to watch boyfriend, Andy Murray compete in the US Open. Kim finished off her high street look with a £29.99 statement necklace, also from Zara and a £329 bag by Ted Baker. Buy Kim's Zara top (opens in new tab) Buy Kim's Zara necklace (opens in new tab) Buy Kim's Ted Baker bag (opens in new tab)
Heidi Klum in Asos
Not usually one for the high street, supermodel Heidi Klum wowed at America's Got Talent in this stunning sequined dress from Britain's very own Asos. Buy Asos dresses (opens in new tab)
Kim Sears in Zara
Andy Murray's Wimbledon win has been coupled with his girlfriend Kim Sears' rise to fashion fame. She wore this floral printed Zara dress for the semi-finals - it sold out within a matter of hours. Buy Zara dresses (opens in new tab)
Kate Middleton in Hobbs
She might have worn a bespoke Jenny Packham dress when she presented Prince George to the world, but Kate Middleton opted for her beloved British high street for her last public engagement before the birth. She chose to wrap her bump in this Hobbs dalmation print mac. Classy and unusual - we like. Buy Hobbs coats (opens in new tab)
Katherine Jenkins in Ted Baker
Katherine Jenkins gave a lesson in pretty summer dressing in this gorgeous candy hued number. Despite its designer-worthy detailing, it's from Ted Baker. We love it. See the Ted Baker new collection (opens in new tab)
Reese Witherspoon in Gap
She might be a Hollywood star, but Reese Witherspoon still loves the high street. She opted for this casual Gap denim dress whilst out and about in LA. Buy Gap dresses (opens in new tab)
Samantha Cameron in Zara
Samantha Cameron just loves Zara! She relies on the Spanish store for stylish separates when appearing at high profile events. Pictured here in a red Zara blouse for a fundraiser in the City, Sam also headed there for her colourful Conservative Party conference attire last year - a grey jumper, orange cigarette trousers and suede courts. Sure beats bland tailoring. Buy Zara's new season take on Samantha's blouse (opens in new tab)
Kate Moss in Mango
The original style maverick, Kate Moss has never been afraid to wear high street with designer and vintage pieces. Maybe that's why she was one of the first celebs to collaborate with a high street store? Her Kate Moss for Topshop collections sold-out over and over again. More recently, she was snapped up as the face of Mango. Shop new season Mango (opens in new tab)
Miranda Kerr in Mango
Following Kate Moss was never going to be easy, but new face of Mango, model Miranda Kerr is already doing a pretty good job. Her white Mango skirt gets the LA treatment pared with a painterly print top, bright jacket, sunglasses and golden glow. Shop new season Mango (opens in new tab)
Michelle Obama in J Crew
She may have opted for a navy coat dress from New York designer, Thom Browne on Inauguration Day, but Michelle Obama showed just how style savvy she is by adding statement accessories (pink leather gloves and a jewelled belt) from affordable American high street brand, J Crew. Daughters, Malia and Sasha have obviously inherited their mum's fashion sense. The girls also chose blue-hued coats from J Crew and w&h favourite, Kate Spade for the spectacle on Capitol Hill. Look out for J Crew's first UK store, opening in London later this year.
Holly Willoughby in Zara
Holly Willoughby obviously loves Zara for their easy-wearing off-duty pieces as much as we do. She pulled a simple pink vest and dark denim jeans combo together by throwing a Zara tweed jacket over the top. See all the latest looks from Zara (opens in new tab)
Jessica Biel in Gap
With the weather constantly changing, getting dressed in the morning is somewhat of a challenge at the moment. Luckily, Jessica Biel can give us a helpful pointer - buy a Gap parka, it works with everything! Buy Gap's 2-in-1 military parka jacket (opens in new tab)
Rosie Huntington-Whiteley in M&S
Model Rosie might live in LA now but she still works a very British style. Pictured here at a lingerie launch, Rosie opted for a dress from good old Marks and Spencer! Shop M&S dresses (opens in new tab)
Michelle Williams in H&M
Not many celebrities would turn down the world's hottest designers for a high street number on BAFTAs night, but that's why we love actress Michelle Williams. She showed up in a gorgeous floor-sweeping frock from none other than H&M! See all the latest pieces from H&M (opens in new tab)
Kate Middleton in Whistles
One person is responsible for the world's current obsession with the British high street - Kate Middleton. The Duchess of Cambridge is as at home wearing Zara, Hobbs, Reiss or Whistles as she is Alexander McQueen or Issa. Everything she wears usually sells out within hours, including this long-sleeved red Whistles dress which she chose for her first official outing of 2013. Shop new season Whistles (opens in new tab)
Anna Friel in Topshop
A lesson in how to mix your prints. Actress Anna Friel was pictured leaving London's Vaudeville Theatre - where she's currently starring in Uncle Vanya - in a zebra-print Topshop shirt and black polka-dot trousers. Definitely an eye-catching look! Buy Topshop shirts and blouses (opens in new tab)