Quick - Amanda Holden's Reiss skirt is now in the sale
She's done it again! Scroll down to bag Amanda Holden's skirt at a fraction of the price...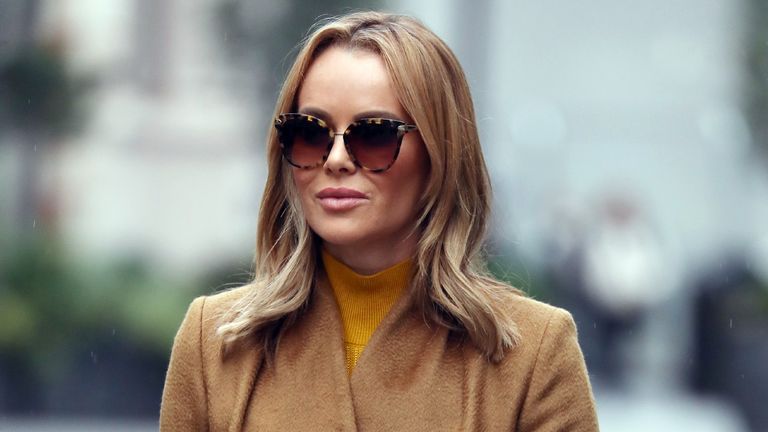 (Image credit: Getty)
If there's one woman who hasn't succumbed to the lure of leggings and loungewear in 2020, it's Amanda Holden. In fact, she's been using her walk to work at Heart Radio as her own personal catwalk, showcasing a series of fashion-forward outfits.
On December 16th she stepped out in one of our favourite looks to date - a gold pleated midi skirt, a boxy ivory faux fur jacket and slouchy leather boots. The best part? Nearly all of her outfit is available on the high street.
Amanda Holden's skirt is from Reiss, and reduced from an eye-watering £165 down to a far more appealing £85. We know, that's still pretty pricey, but let's be honest, we all deserve a treat after the year we've had.
One of those handy pieces that can be dressed up or down, this shimmering skirt would look great teamed with a slinky black camisole and show-stopper earrings for your next Zoom party. Or, make like Amanda and wear yours with a sleek roll neck jumper from M&S (was £19.50, now just £13.65).
Get Amanda's look
We haven't been able to track down an exact match for Amanda's fluffy fur, but we have found a brilliant look-a-like from Abercrombie & Fitch. Another sale bargain (most stores have started their Boxing Day sales early) this is now down to £91 from £130.
If, like us, the idea of a cream coat is enough to send shivers down your spine (and a preemptive payment to the dry cleaners) we've got a solution. This coat also comes in grey, brown and dark leopard print. Tonally, they'll go just as well with Reiss' sparkly skirt, and means you can enjoy a mulled wine (or two!) fear free.
Offering a weather-appropriate alternative to courts or strappy sandals, Amanda's stylish boots are also from Reiss - and also in the sale. Now £165 from £275, the Jax Leather Calf Length Boots are still an investment, but one you'll get plenty of wear out of. If ivory isn't your bag, this buttery-soft leather style is also available in classic black and rich berry shades.
Equally, if you want to skip footwear altogether in favour of a pair of fluffy slippers, we're not judging.
Happy shopping!