10 Ways To Fake Longer Legs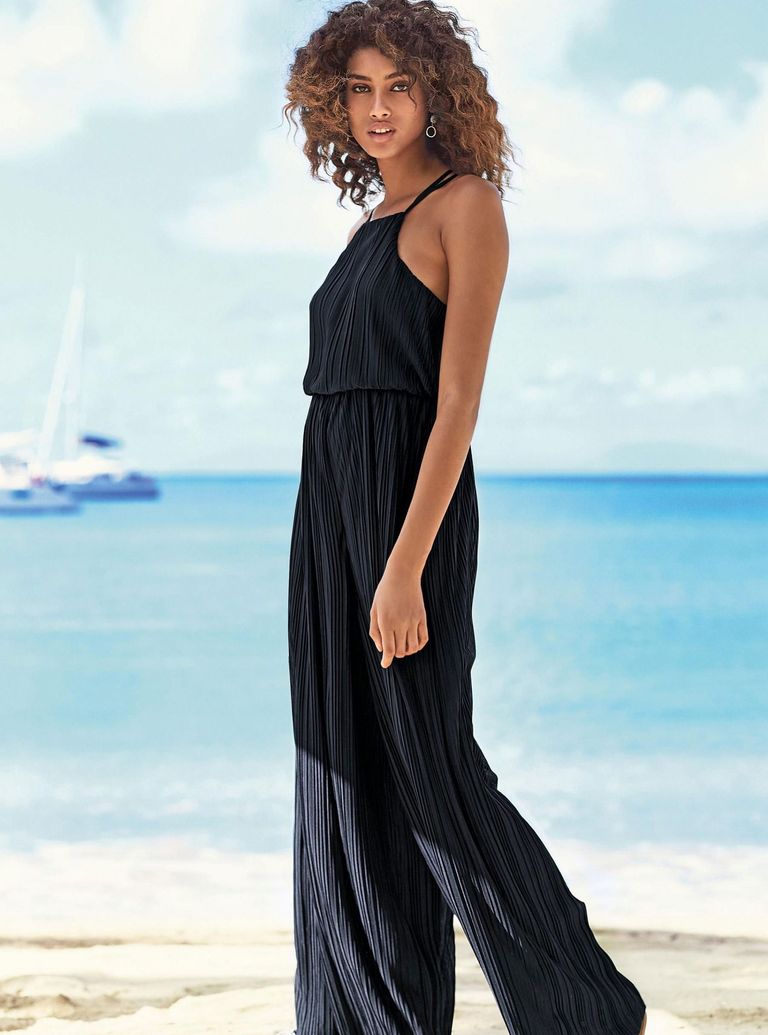 Learn how to make your legs look longer with some clever wardrobe choices...
Knowing how to dress for your body shape can be tricky, mind-boggling business, but with a little know-how, you can fill your wardrobe with fashion buys that are both stylish and flattering. You don't need to go to extremes to give yourself a flatter stomach or longer legs: it's all in the power of clever fashion. We've got plenty of tips and tricks, plus gorgeous new-season buys, so you'll never be at a loss for how to dress again.
Want to know how to make your legs look longer? It's easy - with the right knowledge, of course. And our first styling tip is to go 'matchy-matchy'. An all-over colour won't break up your silhouette, and the result will be a longer, leaner looking you. Alternatively, keep shoes the same colour as trousers - this works especially well if you're wearing heels.
It's all about playing with proportions and knowing how to style yourself slimmer. Through clever fashion trickery we can make even the most petite of ladies feel 5ft 9, no platforms necessary. And the ultimate leg-lengthening buy comes in the form of the ever-realiable jumpsuit. This pleated style from Next will instantly make you look slimmer, and the higher waist adds inches to those pins! Wear for everything from summer parties to beach days.
From going high waisted to adding a pair of courts, learning how to make your legs look longer is easier than you might think. You may not notice it straight away from looking in the mirror, so try getting someone to take a photo of you and when you see yourself from a distance, you'll notice the longer pins immediately. And, the best thing? It's all an illusion and there's no surgery or extreme dieting involved.
Flick through our top tips and follow our advice on how to make your legs look longer using savvy tailoring tricks?
Wide leg trousers, £125, Reiss
If you have heavy hips then a good pair of wide leg trousers will instantly slim and lengthen. To extend your pins even further, choose a pair that are two inches too long and add heels - it'll make all the difference. Wide leg trousers, £125, Reiss
Top, £25.99, Mango
When paired with high waisted trousers, a shorter top instantly elongates your legs - this is a simple trick that's great if you have a long torso and shorter legs. Choose a style that cuts off just on your hips, and be sure that the waistband on your trousers sits in line with the hem. Top, £25.99, Mango
Heels, £35, River Island
Make your legs look super extended with a pair of court shoes. The pointed toe on the shoe gives the illusion that your pins go on forever. Opt for a signature black pair for days and then vamp it up for the evening with a print or a dash of metallic - the high street is full of these flattering heels right now. Heels, £35, River Island
Jumpsuit, £100, Phase Eight
Take note ladies: sticking to one colour creates an uninterrupted vertical line which immediately creates - you guessed it - a longer look. Jumpsuits are a simple solution to mastering this look and these fine pleats are immediately slimming. Jumpsuit, £100, Phase Eight
Skirt, £45, Warehouse
An a-line hem is a great cheat to longer legs. The eye will automatically be drawn to the highest part of the hemline - especially with that pretty tie belt - and that couple of inches will make all the difference. Skirt, £45, Warehouse
Bag, £199, Radley
It might not be the first thing you think to buy, but an oversized bag is a sneaky way of slimming down your frame. The size and bulkiness of the bag compared to your smaller legs will give off the mirage of supermodel limbs. Stay on trend with a fun summer tote in a block colour to draw attention away from the body parts you don't feel comfortable with. Bag, £199, Radley
Jeans, £42, Topshop
High waisted jeans are a fashion staple for any age, shape or size. They suck you in where you need it and look great with a top tucked in or worn loose. Dark blue or black jeans are your most versatile and slimming option. Wear with a silky cream blouse and sleeveless jacket for an off-duty tailored look. Jeans, £42, Topshop
Stripe trousers, £24.99, New Look
It comes as no surprise that vertical stripes are the most flattering print for elongating your legs. Opt for a wide leg and you?re achieving two looks in one. Team with staple pieces like a simple grey tee or black blouse. Stripe trousers, £24.99, New Look
Tan, £14.99, Boots
Every woman knows the power of a good tan! Faking it will help to contour your legs, making them appear instantly longer and more slender. We love Bondi Sands tanning mousse. Apply with a tanning mitt and you're ready to impress! Tan, £14.99, Boots