10 Of The Best Wear Anywhere With Anything Trainers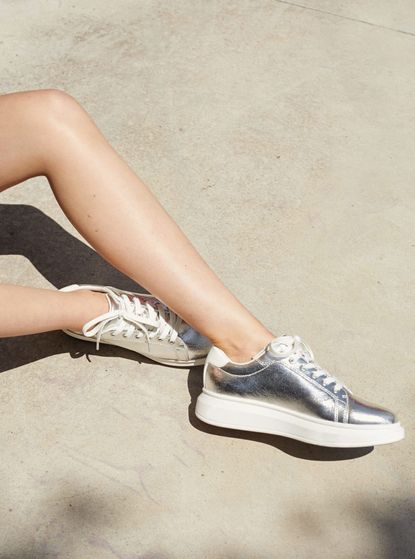 No longer the reserve of the fitness world, fashion trainers have had a stylish makeover and now there's a pair to suit everyone - at any age. See our pick of the best...
New consumer datashows that, for the first time ever, women have purchased more trainers thanheels over the past year, with those aged 35-44 overtaking younger customers asthe demographic most likely to buy a pair.
With the 'athleisure' trend continues to gather momentum, and heel-lovingcelebrities ranging from Victoria Beckham to the Duchess of Cambridge opting toswap their stilettos for sneakers, the fashion trainer is fast becomingfootwear's new status symbol. And, unlike its high-heeled sisters, it won'tgive you blisters by the time you've walked to the bus stop.
From the 'skater' style slip-on to the classic lace-up, there's a style outthere to suit you - and your lifestyle. The key to making the trend work foryou? Treat your trainers as part of your everyday wardrobe. Work them withtailored separates, crisp shirts - even skirts. Treat them like any other pairof smart flats - it's time to change your mindset... and your footwear! Read onfor our edit of the very best fashion trainers on the market...
Up first are this eye-catching metallic pair from Mango (opens in new tab). Ideal for dressing up a simple t-shirt and jean combo. Click through the gallery to see 9 more gorgeous pairs...
£195, Russell & Bromley
Turn up with heat with these summer inspired sneakers from Russell & Bromley Buy now for £195 at Russell & Bromley (opens in new tab)
£25.99, Zara
Opt for something on the girly side with this pink and pearl pair of trainers from Zara. This shade is VERY on trend. Buy now for £25.99 at Zara (opens in new tab)
£29.50, Marks and Spencer
Embroidery is a key trend when it comes to fashion for SS17. Tops, dresses, jackets and now trainers, it's taken over. Buy now for £29.50 at Marks and Spencer (opens in new tab)
£139, Kurt Geiger
If you're going simple with the outfit, then you need to go big with your shoes. These trainers from Kurt Geiger are total show-stoppers. Buy now for £139 at Kurt Geiger (opens in new tab)
£35, Next
The satin finish on these trainers give them that fancy edge. Wear with a simple shirt dress. Buy now for £35 at Next (opens in new tab)
£24, Topshop
Leopard print can be worn summer or winter. And these sneakers will elevate a casual outfit. Buy now for £24 at Topshop (opens in new tab)
£46, Kendall + Kylie at Very Exclusive
For easy to wear trainers that go with anything, look no further than this monochrome pair from Kendall + Kyle at Very Exclusive. Best part of all is that they're in sale - hurry! Buy now for £46 at Kendall + Kyle at Very Exclusive (opens in new tab)
£24.99, H&M
Stripes: they literally go with anything, so these trainers from H&M are a smart buy. Buy now for £24.99 at H&M (opens in new tab)
£75, Nike at & Other Stories
Add that tropical vibe to your footwear with these printed trainers from Nike. Buy now for £75 at Nike at & Other Stories. (opens in new tab)
Samantha Rnic is a fashion stylist and writer from Colchester. She has worked for titles such as Grazia, The Sun and Look magazine. She is currently studio bookings manager at Matches Fashion.