The Best SPF Skincare Buys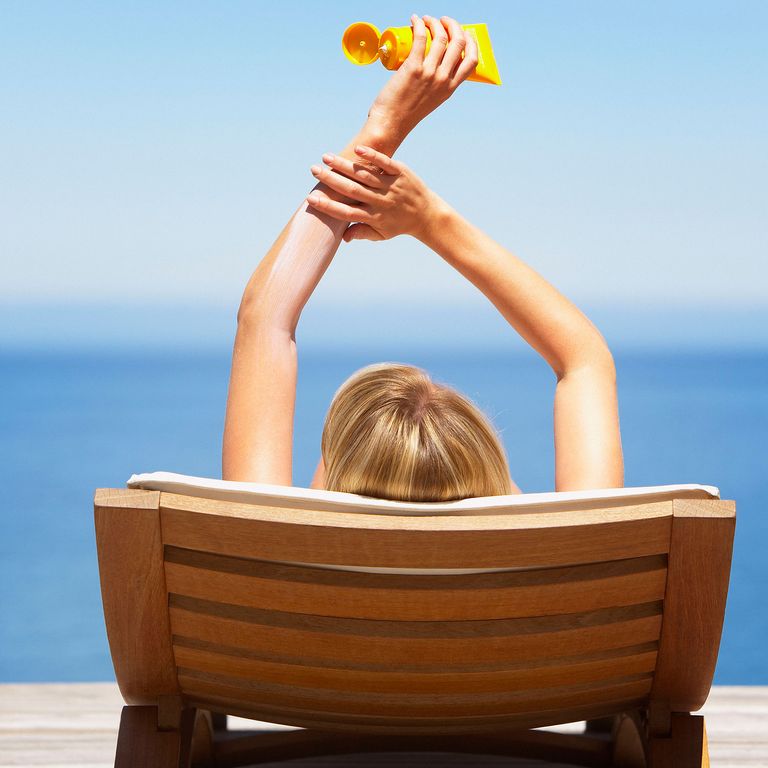 (Image credit: Rex Features (Shutterstock))
What to look for in a suntan lotion and our pick of the best SPF to protect your skin this summer
Do you wear an SPF product every day? It's easy to think we are protected by our regular SPF moisturiser, make-up and cloudy days; but harmful UV rays can penetrate your skin, causing premature ageing, even on dreary days.
So what should you look out for? Firstly, a high SPF - it doesn't matter if your skin is deepest olive or as fair as they come - everyone needs at least an SPF30, anything less is just not worth it, so step away from the factor 15!Secondly, look out for UVA as well as UVB protection. The simple way to remember this is - UVA for Ageing - UVB for burning.
Burning is your skin's way of telling you to get out of the sun and can cause plenty of discomfort, but it's those sneaky UVA rays that cause real trouble. You can't feel them, but they're the primary cause of premature photo-ageing (wrinkles and pigmentation) and have been shown by studies to damage skin cells in the basal layer of your skin, contributing to the development of skin cancers.
A good quality sun cream will protect you from all of these problems - and they will still allow your skin to tan in a healthy, safe way.This doesn't mean layering skin in thick, heavy product. The latest innovations in SPF technology mean the new generations of SPF sunscreens are light, easily absorbed, can be worn in conjunction with your usual skincare routine and sit comfortably under or over make-up.
Choose the right sun cream for your skin and then apply one of our favourite fake tans to give you a healthy glow - the safe way! Trust us, your skin will thank you for it.Read on to discover which SPF is best for you...
Eau Thermale Avene Cleanance Solaire, £11.89
Ask a friend why they don't wear sunscreen every day, and chances are the word "greasy" will come into the conversation. But, with Eau Thermale Avene Cleanance Solaire there'll be no such excuses. This milky lotion does look a little rich when you first rub it in, but give it a minute and it'll dry down to a weightless, entirely matte finish that stays that way and provides a nice base for makeup. The powdery finish won't be for you if your skin is very dry, but for combination or oily types this is brilliant.
Murad City Skin Age Defense Broad Spectrum, £45
It's not just UVA/UVB rays that you need to watch out for; pollution, infrared radiation and blue light from devices are all out to cause trouble for your skin too, so protect on all fronts with Murad City Skin Age Defense Broad Spectrum. It was a watery feel, sinks in instantly and has an ever-so-slight apricot tint which is excellent for brightening dull or parched skin. The SPF50 is as high as you could ever hope for, and various environmental shields take care of the rest.
Garnier SkinActive Moisture Bomb Multi-Protecting Hydrating Mist, £9.99
If you hate the feeling of rich creams or slick oils on your skin, you are nigh-on guaranteed to fall in love with Garnier SkinActive Moisture Bomb Multi-Protecting Hydrating Mist. This clear, so-fine-you-can't-feel-it mist works under or over makeup, and doesn't even need rubbing in to give you SPF30 protection. As with any aerosol, you lose a bit to the great beyond with every spray, but at this price you can afford not to hang onto every drop.
Bioderma Photoderm Mineral 50+, £11
Bioderma make some of our favourite sun protection on the market - the SPFs are high, the formulas are light and the prices are sensible (well, for sunscreen anyway) This new Phototderm Spray lotion is great for sensitive skin, as it's made with mineral sunscreens, so won't cause irritation, and sinks in pretty fast for a 50+
Riemann P20 Once A Day SPF30, £24.99
The original once-a-day sunscreen. This Riemann one has a high alcohol content which keeps it stable, so you really don't need to reapply until the next day. It's herbal scent isn't to everyone's taste and you'll need to wait ten minutes or so for it to dry before you dress, but after that you'll be free to enjoy the sun all day long!
Kiehl's Ultra Light Daily UV Defense, £35
This is everything you would want a facial sunscreen to be - silky but not greasy, portable, smells faintly lovely but not in an overpowering way, sits beautifully under make-up and can be reapplied on top without causing too many issues. Top marks to Kiehl's for robust, no-messing-around SPF 50 and PA++++ UVA protection too.
Ultrasun Super Sensitive SPF 30, £19
Ultrasun might seem a little steep, but when you factor in the fact it truly only needs applied once a day, suddenly those numbers start to come down. You can swim, towel dry, shower, do whatever you like and your SPF30 stays put - this is because the formula is based in hydrolipids, a molecule that can be fully absorbed by skin, so it can't be rubbed or washed off. Genius, especially for kids.
Clarins Sun Care Cream High Protection UVB/UVA 30, £20
Fancy treating yourself to a bit of premium sun protection this year? You could do a lot worse than Clarins Sun Care Cream High Protection UVB/UVA 30. It feels gorgeously nourishing on skin, but won't leave an oily film, smells delicious and, lets face it, will look pretty spiffy by the side of the pool.
Shiseido Expert Sun Aging Protection Lotion, £29
So much of skin ageing is caused by environmental factors, AKA the sun. Shiseido's Expert Sun Aging Protection Lotion is specifically formulated to give skin all-encompassing protection from UVA and UVB rays with it's 360 degree superveil technology. It's water resistant (although you'll need to reapply after a long dip) but it won't get rubbed off by sand!
La Roche-Posay Anthelios Dry Touch Gel-Cream SPF 50+, £16.50
Ask any dermatologist which high street sun cream they recommend, and there's a good chance they'll say La Roche-Posay. Anthelios Dry Touch Gel-Cream contains thermal water so skin is moisturised and silky-smooth, plus the anti-shine action means excellent protection without an oily face - result!