The £3.99 sell-out Aldi hot cloth cleanser that rivals Liz Earle's will soon be back in stock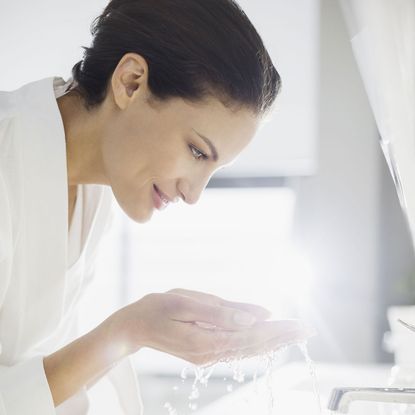 How often has Aldi saved the day? The budget supermarket seems to always have a game-changing products on its shelves.
Recently, they stepped it up another notch with theirAldi Hot Cleanser (opens in new tab). This particular product sent customers across the UK into a frenzy, as it was said to be very similar to Liz Earle's much-loved hot cloth cleanser - in terms of both its application and great results.
But in comparison, the Lacura Hot Cloth Cleanser costs just £3.99 - almost 85% cheaper than the £16, Liz Earle version!
However, the budget product proved so popular, it sold out almost as soon as it hit the shelves - leaving many customers disappointed.
It also enjoyed another sell-out success when it was re-released into stores on 1st March.
But great news - as the popular cleanser is soon to be come back in stock! Mark the date in your calendars, because this weekend, on Sunday 22nd July, the Aldi Hot Cloth Cleanser will be available again online. You can pre-order it here until then - or purchase it here on Sunday (opens in new tab).
However, if you'd rather pick yours up in store, they'll also be available in shops across the nation from next Sunday, 29th July.
Race you to the checkout!
Since the product was released, it's had a range of hugely positive reviews on the Aldi website. One enthused customer commented, 'LOVE LOVE LOVE this product! I would actually say that it cleanses more thoroughly than the Liz Earle version.'
While another agreed, 'Skin feels like had a mini facial. Smells beautiful and very good value for money.'
The best-selling Lacura cleanser is made with rosemary, chamomile, cocoa butter, white tea and eucalyptus oil. It promises to soften, tone and purify your skin, while removing all traces of makeup.
The cleanser also comes with a pure muslin cloth that gently exfoliates your face to leave your skin looking radiant. We're sold!
Aldi also have several other beauty products in their Lacura range, which have also been re-released. And given that the hot cleanser cloth has received such great reviews, it could well be worth checking them out. On offer, they have a Caviar Illumination Day Cream and aCaviar Illumination Night cream.
The day cream has an added SPF making it a must for any skin conscious beauty buyer. The cream is described as light in texture and long lasting.
Who knew Aldi could provide quality food, alcohol and amazing beauty products at such great value... Is there anything the German supermarket cannot do?
So will you be making sure to grab your very own hot cloth cleanser? Beat the queues and head there early - as it's sure to sell out again very quickly!
Jessica is a Senior Food Writer at Future and is an enthusiastic, self-taught cook who adores eating out and sharing great food and drink with friends and family. She has completed the Level 1 Associate course at the Academy of Cheese and is continually building on her knowledge of beers, wines and spirits. Jessica writes food and drink related news stories and features, curates product pages, tests and reviews equipment and also develops recipes which she styles on food shoots.