What is Centella Asiatica and how does it benefit your skin?
Our beauty editor's guide to soothing skincare hero Centella Asiatica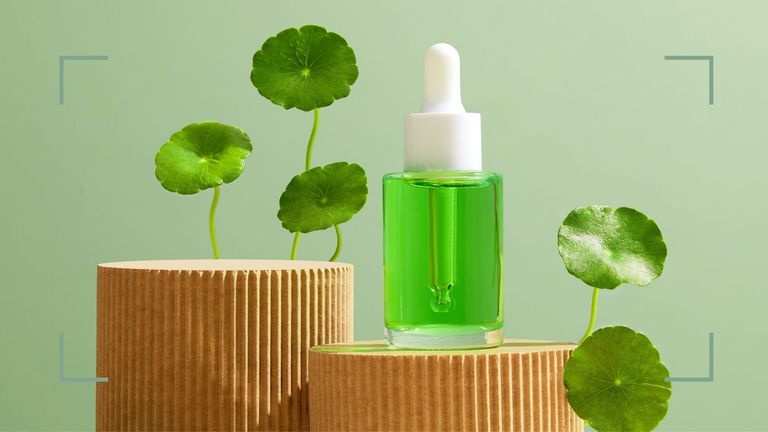 (Image credit: Future/Getty images)
Centella Asiatica is an Asian herb that has been finding its way into Western beauty products with increasing frequency in recent years.
It's no wonder this botanical ingredient, also known as cica or tiger grass, is so popular. It boasts multifaceted healing, soothing and protective qualities and can be slotted into almost any skincare routine without fear of a flare-up.
As well as being completely edible (and even a staple of Sri Lankan cuisine) Centella Asiatica is found in a number of skincare products, including soothing serums ideal for sensitive skin, anti-scarring creams, and the best toners to calm inflammation. It can also provide quick relief to people with psoriasis, eczema, and other problems that involve the skin becoming inflamed. If this calming natural skincare ingredient with powerful antioxidant properties has piqued your interest, welcome to cica skin school! Here's everything you need to know.
Your complete guide to Centella Asiatica
What is Centella Asiatica?
Centella Asiatica, also known as gotu kola, kodavan, tiger grass, Indian pennywort, and Asiatic pennywort, is an herb native to wetlands in India, Sri Lanka, China, Indonesia, and Malaysia. It has been used medicinally for centuries in the East, but only recently found its way to Western beauty products. It's rich in antioxidants and has a variety of healing properties.
Old Indian legends say that when tigers were injured, they would roll in patches of Centella Asiatica to speed up wound-healing, which is where the name tiger grass comes from.
Centella Asiatica benefits
"Cica is an anti-inflammatory ingredient, which helps protect your skin from environmental stressors," explains global skin and wellness expert, Marie Reynolds. "It contains amino acids, vitamins, minerals and triterpene saponins (a pre-curser to squalane), known to firm and tighten your skin's appearance."
"Plus, Cica is abundant in flavonoids, a powerful antioxidant agent which may help to regulate your skin's cellular activity and fight off free radicals. So not only does it support the lipid barrier by preventing the formation of bacteria, but it also protects the skin."
Because of its wide variety of uses and gentle action, Centella Asiatica is available in a wide variety of beauty products, including:
Nourishing creams
Skin replenishing serums
Gentle cleansers
Soothing skin toners
Sunscreens
Centella Asiatica is also used to help heal small wounds and prevent the appearance of scarring. This is why it's a common ingredient in treatments designed to help with how to get rid of acne or how to get rid of acne scars.
Does Centella Asiatica have side effects?
As a highly gentle and soothing ingredient, Centella Asiatica has very few known side effects, especially if you take it according to the manufacturer's directions. In fact, those with reactive skin conditions such as rosacea, eczema, and psoriasis often find this to be a highly beneficial ingredient in a skincare routine for sensitive skin.
However, any ingredient carries risks of a reaction, and this is no exception to the rule. When applying Centella Asiatica to your skin, if you experience symptoms of allergy such as irritation, redness, or stinging stop using it immediately.
When and how to use Centella Asiatica
Centella Asiatica is most tested in its skin-healing applications. If you want to harness its anti-inflammatory properties look for a leave-on product such as a cream or serum containing this ingredient. It works equally well on the body as it does on the face, so if you have scars or stretch marks, or just fancy using a soothing preparation top-to-toe, it may be worth adding Centella Asiatica to your body care routine.
There are no known drug interactions involving Centella Asiatica, which means it's generally safe to use with any other skincare products. If you know how to use retinol and want to combine your best retinol cream with a calming cream or serum, Centella Asiatica products can do just that.
There are a few situations where you shouldn't be using Centella Asiatica. It hasn't been tested on people who are pregnant or nursing, so it's best to avoid it if you are. Regardless of how you use Centella Asiatica, you should start seeing results within three to four weeks of using it. Some studies recommend applying cica for up to six weeks then taking two weeks off, although won't always be necessary—the joy of this powerful plant is that most of its power lies in how gently it works.
---
Our beauty editor's Centella Asiatica picks
Marie Reynolds London Reson8 | RRP: $51.37/£46
This gel-textured hydrator combines Centella Asiatica with natural extracts including green tea, arnica, and rosehip to calm, repair the skin barrier (opens in new tab), and nourish.

Dr Jart+ Cicapair Tiger Grass Calming Mist | RRP: $33/£16
This brand has made its name on excellent Centella Asiatica products, none as user-friendly as this deliciously soothing and hydrating facial mist. Keep it in your bag to top up as and when you please.
Erborian CC Red Correct | RRP: $41/£39
Centella Asiatica isn't just for skincare, this clever makeup hybrid not only dials down redness with green color-correcting pigment, but it also soothes with cica. Perfect for anyone with rosacea or who experiences flushing.
---
As woman&home's Beauty Channel Editor, Fiona Mckim has tried more products than she's had hot dinners and nothing makes her happier than raving about brilliant finds on womanandhome.com or her instagram grid (@fionamckim if you like hair experiments and cute shih-tzus). Fiona joined woman&home as Assistant Beauty Editor in 2013 under industry legend Jo GB, who taught her everything she needed to know (learn about ingredients and employ extreme cynicism). She has since covered every corner of the industry, from interviewing dermatologists and celebrities to reporting backstage at Fashion Week and judging the w&h Beauty Awards.