La Mer The Eye Concentrate review: A cool customer with luxury taste
La Mer The Eye Concentrate is the ultimate indulgence for skincare addicts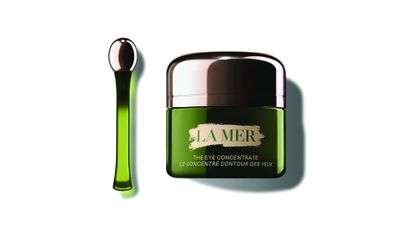 (Image credit: La Mer)
La Mer The Eye Concentrate is a lavish eye cream experience that encourages you to care for your eyes. It has a rich hydrating formula that smooths the texture and tone of your skin.
Reasons to buy
+

Luxurious experience

+

Rich formula

+

Hydrating

+

Cooling effect
Reasons to avoid
-

Contains fragrance and some other irritants

-

Skin stays quite slippy

-

It's expensive
The eyes are the first place we see the signs of aging, which is probably why we're always on the hunt for the next miracle eye cream. So, naturally, when the new La Mer The Eye Concentrate arrived, we jumped at the chance to try it.
Now let's remove the elephant from the room here. This product is more than expensive. Straight from the get-go, we didn't want to like it. And we were skeptical (perhaps like you are) that any cream could have such a steep price tag.
But from the minute we opened the box, La Mer The Eye Concentrate hooked us in. Alongside the chic pot of cream comes a stylish silver tool that you use to apply the product. The cooling tip helps glide the luxurious lotion on, which is helpful if you're never quite sure how to apply eye cream (opens in new tab). But it's not a frivolous addition, as it encourages blood flow and improves circulation, which brightens and tones the skin over time. Plus, it also helps reduce the appearance of puffiness and discoloration.
The experience of massaging the rich, silky cream under our eyes and over your lids is nothing short of dreamy. The formula is beautifully soft and full of ingredients that will help protect your delicate skin. Make-up also went on a lot more easily, looked smoother, and didn't cake like we thought it might due to the cream's slippy texture.
But is it worth it? Well, it's unlikely that the value of the lotion itself equals the amount you pay for it, but the experience of owning a brand like La Mer is a bit like eating a delicious steak in a five-star hotel. Granted, you could have a similar meal in an average eatery and still enjoy it, but you just wouldn't feel as fancy.
So, if money is no issue, we can very much see why you would buy this.
La Mer The Eye Concentrate formulation
Specifications
Targets: Dryness, fine lines, dark circles
Star ingredients: La Mer's signature concentrated 'Miracle Broth' and potent Algae.
Star rating: 4/5
It's crucial to know which ingredients to look for in eye creams (opens in new tab), and there is a lot going on in La Mer The Eye Concentrate's highly complex formula. The primary source of power comes from a highly concentrated version of La Mer's signature 'Miracle Broth,' which helps to quench parched complexions and strengthen the skin's outer layers.
It also uses potent algae extract, an ingredient that has been proven to give skin the support it needs to maintain a youthful-looking appearance. Algae is also excellent at enhancing our complexions' plumpness, as it is highly effective at increasing hydration.
Another key element is lime tea concentrate. This botanical extract is packed full of powerful antioxidants that protect our skin from harmful discoloration-inducing aggressors like pollution, meaning this could be one of the best eye creams for dark circles available.
Texture and Immediate effects
You'd expect such a rich nourishing cream to feel heavy on the skin, but even though it is packed full of nurturing ingredients, it somehow remains lightweight, and the effect is velvety and glorious. We found it intensely hydrating, and it made our skin feel beautifully soft and cared for.
You only need a tiny amount of cream to cover both eyes, as its silky consistency glides on, instantly moisturizing the skin and smoothing the texture. The application process is so sensory, and it lifts both your mood and the brightness of your skin. Bringing luminosity to the face, the cooling massage tool helps relieve tired and puffy eyes (opens in new tab), making you look and feel more wide-awake.
La Mer The Eye Concentrate consumer trials
87% of users saw a reduction in the appearance of fine dry lines & wrinkles

97% of women reported that their skin looked fresher and more rested
97% of women said The Eye Concentrate left the skin around their eyes feeling more supple and bouncy
Consumer testing after 4 weeks product use by 103 women.
Who should buy La Mer The Eye Concentrate?
If you're looking for an eye cream that will almost force you to care for your eyes, then this is it. The luxury formula will help protect the skin and prevent future damage, and the method of massaging it on will reduce fine lines and diminish the appearance of dark circles and puffiness.
All about beauty, Lydia House has been writing about creams and complexions for over a decade. Contributing to titles such as Women's Health, Grazia, Stylist and The Evening Standard, Lydia also uses her vast knowledge of the industry to consult leading health and beauty brands like Rituals, Tisserand and The Inkey List. Spending her working life obsessing over ingredients and formulas, Lydia believes that feeding your skin from within is just, if not more important, than the lotions you slather on. And even with a busy life and work schedule, she will always find the time to fit in a pampering session (or two).