Kate Middleton Hairstyles: The Ultimate Inspiration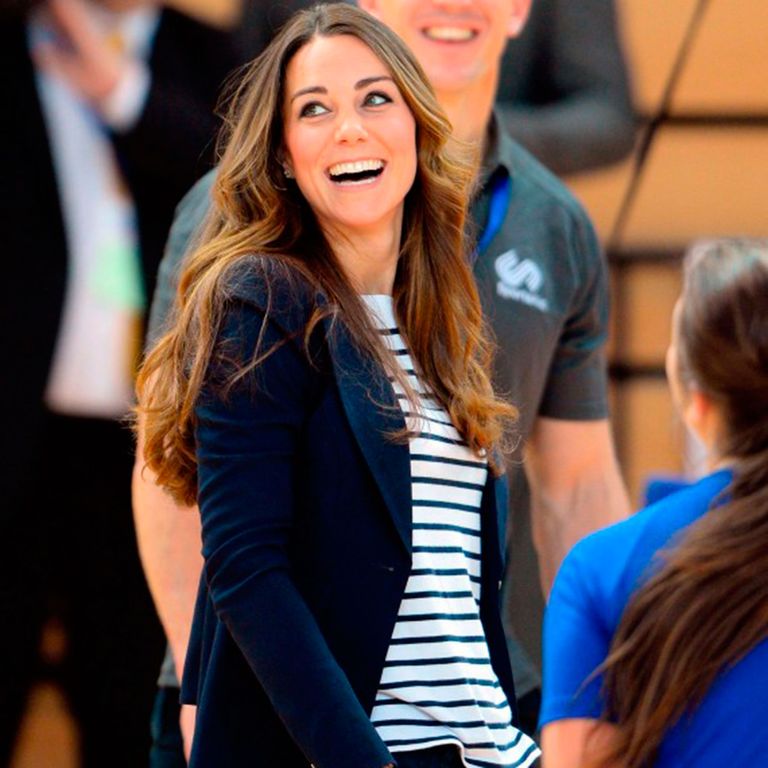 See all the glamorous hairstyles the Duchess of Cambridge has showcased over the last year
21 October 2013
By Lyndsay Conway and Natalie Cornish
The Duchess of Cambridge's hair is coveted the world over. Whether worn in those trademark tumbling waves (broken up here with a flattering caramel-hue highlight) or swept back in to a chic chignon for an evening event, the Duchess's hair always looks shiny, healthy and polished.
And, with news that Princess Diana's former hairdresser, Sydney-based Joh Bailey will be on hand to style Catherine's hair on next year's state visit to Australia, we're wondering whether she'll opt for a new style in Oz or recycle a trusty favourite (just like those LK Bennett shoes!).
Take a look back at the Duchess' best hairstyles here and find inspiration for your next salon visit...
Kate Middleton Fringe Hairstyle
Opinion was divided when Kate stepped out with a slight side fringe last November, but the style really complimented her green Mulberry shirt dress.
Kate Middleton Updo Hairstyle
Kate showcased a brand new updo hairstyle for the BOA Olympic Concert at Royal Albert Hall in May 2012. A striking departure from her usual loose waves, this is a great look for the Duchess. Discover Kate Middleton's favourite beauty buys
Kate Middleton Updo Hairstyle - Back View
Looking at Kate's hair from behind, we can see the intricate and delicately woven plaits in her classic updo hairstyle. Discover Kate Middleton's favourite beauty buys
Kate Middleton Short Curls Hairstyle
Kate's signature waves were given a twist when she visited Fortnum and Mason in March. Curled more tightly than usual, her bouncy locks were a touch more retro than usual. Discover Kate Middleton's favourite beauty buys
Kate Middleton Sleek Evening Hairstyle
Kate's hair always looks perfect, but she went ultra-sleek for a charity dinner in aid of the armed forces last year. With less curl and a more grown-up side parting, Kate's hair complemented her bespoke Jenny Packham dress perfectly! Discover Kate Middleton's favourite beauty buys
Kate Middleton Relaxed Blow Dry Hairstyle
When Kate dresses down, her hair is still immaculately groomed. With a less formal edge, her signature blow dry was relaxed and glossy for her visit to the Olympic Park in London. Discover Kate Middleton's favourite beauty buys
Kate Middleton Half-Up Hairstyle
The world was bowled over when Kate stepped out with this new half-up half-down hairstyle for a fundraiser for the new WWI Galleries at the Imperial War Museum. Discover Kate Middleton's favourite beauty buys
Kate Middleton Half-Updo - Back View
Seeing Kate's glossy new 'do from behind, we can see how the curls are longer and tighter than usual, giving her look a more glamorous, occasional feel. Discover Kate Middleton's favourite beauty buys
Kate Middleton Half-Up Straight Hairstyle
Oh the royal tour of Canada, Kate worked her half and half hairstyle almost a year before vamping it up for the fundraiser in London. Keeping her lengths straight and the front completely off her face, this is was a more demure, subtle take on a great Kate look. Discover Kate Middleton's favourite beauty buys
Kate Middleton Glossy Evening Hairstyle
Kate knows how to work a glossy evening 'do. Wearing her tumbling waves in a chic side parting, Kate looked seriously glam at the Sun Military Awards in December 2011. Discover Kate Middleton's favourite beauty buys
Kate Middleton Chic Retro Waves Hairstyle
When Kate touched down in Canada for the royal tour she turned up the glamour with 50s-style retro waves. With Higher curls and a chic off-centre parting, Kate brought the vintage look into the 21st Century. Discover Kate Middleton's favourite beauty buys
Kate Middleton Centre Parting Hairstyle
Moving away from her usual look, Kate parted her hair in the middle when she visited The Treehouse Hospice in Ipswich - but kept the thick, bouncing curls. Discover Kate Middleton's favourite beauty buys
Kate Middleton Blow Dry Hairstyle
The biggest, most voluminous look Kate has worked so far, this blow dry could be our favourite! Kate's hair is longer and the waves are looser, but it is still that signature Kate Middleton style. Discover Kate Middleton's favourite beauty buys
Kate Middleton 70s Waves Hairstyle
Channelling Farrah Fawcett at the BAFTA's Brits to Watch gala in Los Angeles, Kate reversed her waves and opted for 70s-style flicks, with another off-centre parting. Discover Kate Middleton's favourite beauty buys