How To Create The Ultimate Grown Up Ponytail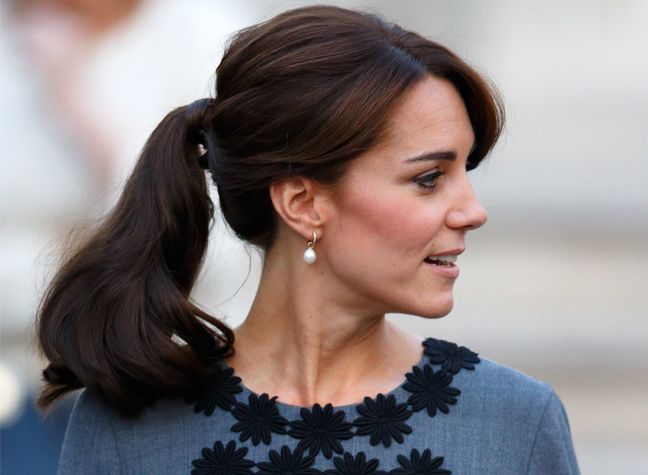 When did you last wear a ponytail?
A-Listers love a pony in all its height and style variants, but that doesn't seem to translate to real women, especially those of us who remember the 80s scrunchie ponytail trend. So what's stopping you? Well an aforementioned horror of the scrunchie, naturally, but also perhaps you think it's a bit too girlish? Maybe your hair is short or fine, or you think all a ponytail is good for is getting your hair out the way while you wash your face or exercise.
Well, you'd be wrong. Okay, sort-of right, if we're only talking about sloppy chuck-it-all up styles. But today's grown up pony, as loved by everyone from Kate Middleton to Kerry Washington and Jennifer Aniston, is sleek, sophisticated and so flattering it's worth giving over ten minutes of your morning routine to master it.
So, how to ensure your ponytail is of the 'grown up' variety? The key to any grown up ponytail is getting the right height, adding root lift at the crown to give a visual 'lift' to your face, creating flattering softness with loose tendrils and covering the band for a sophisticated finish. Watch our video with celebrity hairdresser Denise McAdam to see her super-simple grown up ponytail technique that you can achieve at home.
If you fancy trying a ponytail at home, there are a few tools that can help. A good tailcomb makes backcombing eminently easier and won't set you back more than a fiver, I loveDenman Dressing Out Brush, £4.29. Clear bands are a no-brainer,Hershesons Clear Snagless Hairbands, £6.50,shimmy over rather than stick on hair plus come in a cute tin so you won't lose them all over your carpet. For product, sling the shampoo as unwashed hair is the best way to ensure your pony sticks. If you always wash and can't go a day without, add 'day old' grip withBatiste Bare, £2.99,the classic styler without overpowering fragrance. Then, once it's all up and in position, simply fix with good old hairspray. My current favourite isPercy & Reed Reassuringly Firm Session Hold, £12.
Video
As woman&home's Senior Beauty Editor, Fiona Mckim has tried more products than she's had hot dinners and nothing makes her happier than raving about a brilliant beauty find on womanandhome.com or her instagram grid (@fionamckim if you like hair dye experiments and cute shih-tzus)

Fiona joined woman&home as Assistant Beauty Editor in 2013, working under legend Jo GB, who taught her everything she needed to know about the industry (clue: learn about ingredients and employ extreme cynicism).
In a previous life, Fiona studied journalism back home in bonnie Scotland and honed her skills as a magazine features writer, with a brief and terrifying stint on the showbiz gossip pages of a tabloid newspaper in between. She's a skincare fanatic who can't resist adding an extra step to her routine if it's all the rage in Japan, loves fragrance, has fun with makeup and never turns down the chance to test a new hair tool. Basically, she loves it all.

When not slathering herself in self tan or squinting at a tiny ingredients list on a moisturiser, you'll probably find Fiona enjoying something to do with food - cooking it, eating it, cajoling her friends into trekking across London to try a hyped pop-up in a dirty car park.