Ghd Duet Style review: is this new dryer-straightener hybrid about to change the game?
Our Beauty Editor's ghd Duet Style review has the lowdown on the innovative two-in-one hair tool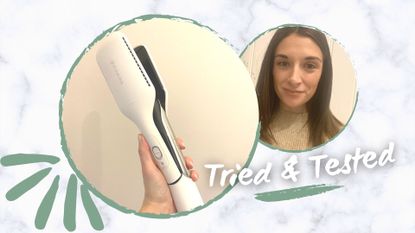 (Image credit: Future/Jess Beech)
If you're sick of juggling various different hair tools, then this 2-in-1 will have serious appeal. It will take time to get to grips with, but practice makes for perfectly sleek hair.
Reasons to buy
+

Negates the need for two tools

+

Minimizes damage

+

Leaves hair smooth and shiny

+

Possible to wave hair as well as straighten
Reasons to avoid
-

High price tag

-

Needs to be used on slightly dry hair
Why you can trust Woman & Home Our expert reviewers spend hours testing and comparing products and services so you can choose the best for you. Find out more about how we test.
If 13-year-old me had read this ghd Duet Style review, her mind would be blown.
Back then I had high hopes for grown-up life. I wanted to work for a magazine, own a Lancome Juicy Tube in every shade and what I really, really wanted was to have straight hair. My coarse, curly hair was a constant source of annoyance, especially given I spent a lot of my childhood with a jaw-skimming bob and full fringe (I'm still not sure why my parents thought this was a good idea).
SPECIFICATIONS
Watts: 410W
Warranty: 2 years
RRP: $431 / £349
I still remember the thrill of the first time my godmother straightened my hair (it took hours) and over the last 18 years I've owned countless pairs of straighteners, from ones that barely worked to ones so hot they singed my hair. At 30, I've just about cracked it (bi-annual keratin treatments are a game-changer) but I'm still on the lookout for anything that'll save me precious smoothing time and minimize damage.
Enter the ghd Duet Style. The lovechild of your best hairdryer and best straightener, the aim of this 2-in-1 hot air styler is to dry and straighten hair all at once. And – wait for it – the biggest claim is that this styler causes no damage at all compared to letting hair dry naturally. For straightener addicts like me who try and hide their split ends like a shameful secret, this is pretty exciting. So, what's the catch? I put it to the test to see if I could find one.
Our Beauty Editor's GHD Duet Style review
ghd Duet Style first impressions and technology
I'll address the elephant in the room first: the ghd Duet Styler is not a small tool. Let's just say that it makes the L'Oreal Steampod look streamlined. I think, unfairly, I was expecting it to look more like a straightener than a hairdryer, but when you consider the fact it's a hybrid of both, then it is probably a similar size (albeit a different shape) to my ghd hairdryer.
As I've alluded to, the ghd Duet Style looks, at first glance, like a big straightener – but it's much more than that. The magic starts with the swivel cord, where a filter draws air into the styler to fuel the drying process. That air is then propelled up the handle of the styler to the plates. There, instead of a typical double-plate design, there are four narrow plates (two on each side) with air vents between them where the heated air is blown onto the hair. There are also four narrow rows of vents on the outer edges of the Duet, which are designed to efficiently dry your roots.
The air in the styler reaches temperatures of 150°C, while the plates, which smooth hair at the same time as the airflow dries it, heat to 120°C. There's a second setting option too: the shine shot. When hair is fully dry, you can press the button on the side and wait four seconds for the motor to stop and the plates to heat to 185°C – which is the optimum temperature used across all the best ghd straighteners. You can use the shine shot between washes to smooth too, just like you would your normal flat iron.
How well does the GHD Duet Style perform?
Turning on the ghd Duet Style is a bit of a surprise. It makes a noise not unlike a tiny rocket about to launch as the motor kicks in, and there was a split-second where I did worry it would combust. It takes seconds to heat and, just like the ghd Platinum+, emits a chime to let you know it's ready.
The instructions say you can use the Duet on towel-dried hair, as long as you've soaked out the excess moisture. I did this, but my thick hair holds onto water like a dog with a bone, so if your hair is dense like mine, you'd want to air or rough-dry with a hairdryer first. On the sections I styled straight after towel-drying, it took six very, very slow passes through the hair until it felt fully dry. On the sections I had rough-dried first, it took two to three passes. I expected my damp hair to hiss and fizz on contact with the tool, but am pleased to report there was nothing of the sort.
As the styler is wider than average (even more so than the ghd Max hair straightener) it did take a little while to get the knack of using it. I struggled with the back of my hair and did find that I missed a few rogue sections. If you have a lot of hair you need to work methodically with the help of a sectioning clip to ensure you've caught every single strand.
But the attention to detail really does pay off. My hair came out of the styler super smooth and super straight. I'd say it took a similar amount of time to style my hair with the Duet Style compared to my usual hairdryer and straighteners tag team, but there is something very satisfying about knowing you've completely finished one section before moving on to the next. I didn't need to use the shine shot, and my hair stayed shiny and frizz-free until my next shampoo.
What's not so good about the GHD Duet Style?
On paper, my ghd Duet Style review was a success, but there was a moment post-styling where I looked at my rod-straight hair and wondered if ghd is 10 years too late with this innovation. Even straight-hair coveters like me have graduated to the idea of a soft wave instead of poker straight hair. ghd doesn't mention waving or curling hair with this product, but I thought I'd give it a go. Using the shine shot, I was able to add a subtle wave to my hair, which made my finished style feel softer and more modern. The plates are wide, so this wouldn't be possible on short hairstyles, just shoulder-length to long hairstyles and it takes a bit of practice to get the technique (even if you already know how to curl hair with a straightener)
I've already touched on a few of the ghd Duet's Achilles heels, but whether they're deal-breakers will ultimately depend on your hair type. I think anyone would agree that the styler is noisy to begin with (it does quieten as you use it) and it's not that easy to do the back of your hair. If your hair is thick like mine, trying to capture every single strand within the plates, as opposed to directing a wider jet of airflow at your hair with a traditional hairdryer, makes for a painstaking process. If your hair is fine and normally dries quite quickly, then this wouldn't be an issue.
ghd Duet Style review: My verdict
If you have what I would call easy hair (can get caught in the rain without fear of frizz and leave the house without heat styling) then the ghd Duet Style isn't going to set your heart on fire. But, if like me, you blow dry and straighten your hair every single time you wash it, then this is a really exciting launch.
The time it takes is equivalent to using a separate hairdryer and straighteners, but having one tool instead of two is easier for storage and travel. For me though, the biggest pro is the lack of damage. It feels like a big claim from ghd to say that this causes absolutely no damage (they have verified this on consumer testing of 142 women) but I'm inclined to believe it considerably reduces damage at the very least.
Instead of exposing my hair to the high heat of a hairdryer, followed by a straightener temperature of 185°C, the max it got to was 150°C (without the shine shot). My hair felt soft, healthy, and not-at-all frazzled after use. It's too early to say what my thoughts are long-term, but it's looking promising so far.
If you're serious about straightening and smoothing, but also serious about the health of your hair, I'd say the ghd Duet Style is worth the investment.
Jess Beech is an experienced fashion and beauty editor, with more than eight years experience in the publishing industry. She has written for woman&home, GoodtoKnow, Now, Woman, Woman's Weekly, Woman's Own and Chat, and is a former Deputy Fashion & Beauty Editor at Future PLC. A beauty obsessive, Jess has tried everything from cryotherapy to chemical peels (minus the Samantha in Sex and The City-worthy redness) and interviewed experts including Jo Malone and Trinny Woodall.