Four steps to prevent hair loss
Thinning hair can knock your confidence but these tips and treatments will help put the bounce back in your barnet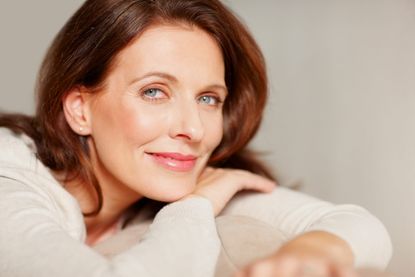 (Image credit: Getty Images)
Female hair loss is very common and we lose between 50 and 100 hairs a day, often without us even noticing. But as we get older and move towards the menopause, oestrogen levels drop and this can play havoc on our hair.
'Oestrogens are'hair friendly'and help to keep strands in their growth phase. They also offer a sort of buffer against androgens (male hormones), which are not very good for your scalp hair,' says Anabel Kingsley, Consultant Trichologist and brand president of Philip Kingsley.
A number of other lifestyle factors can also play a part in hair loss, including diet and stress. So if you're starting to worry about the number of strands you're shredding, there are simple ways you can help prevent loss and strengthen hair in the process.
Treat your scalp
A healthy scalp promotes healthy hair growth so it's worth giving it some attention. Plantur39 Phyto-Caffeine Tonic is a leave-in treatment that is applied directly to the scalp to energise your hair roots. Infused with caffeine to fight against the negative impact of testosterone, it contains hair vitamins niacinamide, zinc salts and bio-active substances for stronger hair growth. Use the dosage tip to apply to the scalp parting by parting. Massage in, and leave in briefly before combing and styling hair as normal. Best used in the morning, once applied it penetrates the hair follicle where it forms an active ingredient depot that delivers protection for up to 24 hours, building a caffeine reservoir for 24 hours. Perfect if you don't want to wash your hair every day, it provides 40 or 50 applications.
Switch up your diet
Lack of protein, Vitamin D or an iron deficiency can contribute to hair loss. Make sure you have a varied diet, and include proteins, omega 3 fats (oily fish), iron (red meat, nuts) and wholegrains (bread, cereal).
Get savvy with your styling
That polished pony may look smart, but could be putting stress on your strands. Avoid hairstyles that pull on the hair, cut down on heated styling tools and avoid harsh chemical treatments such as relaxers. If years of over-styling has left your hair thin and weak, Plantur39 Phyto-Caffeine Shampoo for fine and brittle hair has a Phyto-Caffeine complex that activates the hair roots during washing. Following years of research, its unique galenic formula is scientifically proven to help prevent menopausal hair loss.
Time to de-stress
We know it's easier said than done, but your hair is the first to suffer during stressful periods. It's important to realise how common female hair loss is and to remember you are not alone in experiencing it. Exercising can help reduce stress, so try yoga, Pilates or swimming.
Group Beauty Director Sarah Cooper-White has almost 20 years experience as a beauty journalist. She has written for many well known national magazines, newspapers and brands including Woman & Home, Woman, Woman's Own, Woman's Weekly, Boots, Tesco, ELLE, InStyle, The Mirror, The Sun, Prima and Top Sante.
The power of beauty, whether it be make-up, haircare, skincare or fragrance, to make someone feel more confident, happier and generally better about themselves fascinates Sarah and she's a strong believer that beauty and self care is not a frivolous thing but essential to better mental health, empowerment and confidence.