Best eye cream: our favourite formulas for every skin type
Hydrate, brighten and depuff with the best eye cream, from bargain buys to blow-the-budget treats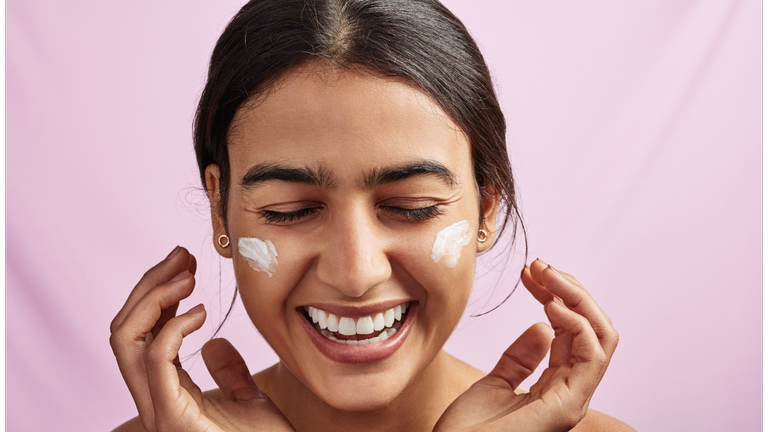 (Image credit: getty images)
Along with moisturiser, the best eye cream is one of the first skincare products most of us are drawn to. This probably comes down to the simple fact that the skin around our eyes changes noticeably before other areas - so we get dark circles, lines, puffy eyes and skin laxity. 
But just as even the best foundation can't transform an completely neglected complexion with the wave of a magic make-up brush, it's important to be realistic about what eye cream can do. No topical product can tighten up sagging eyelids or magic away deep lines, but picking a well-formulated cream that perfectly suits your skin's needs and using it consistently can help alleviate specific concerns. 
It's for this reason that Murad Vita-C Eyes Dark Circle Corrector is our best eye cream overall. This highly targeted product brings several effective brightening ingredients together, packaged stably and formulated to work in synergy for clinically proven results. 
However, if lines and texture are more of a concern for you, our best budget eye cream, The Inkey List Retinol Eye Cream, may be more suitable. If it's all-out luxury and powerful environmental protection you're after, 111Skin Space Defence Bright Eye Lift Gel could be worth the sizeable investment. 
The best eye creams you can buy right now 
1. Murad Vita-C Eyes Dark Circle Corrector
The best eye cream for most people
Specifications
Texture: Cream
Targets: Dark circles caused by poor circulation, sun damage and inflammation
Key ingredients: Vitamin C, niacinamide, algae, light-reflecting minerals
RRP: £56
Fragranced: No
Reasons to buy
+Powerful brightening ingredients +Stable formulation 
Reasons to avoid
-Pricey-Primarily focuses on dark circles
Let's not mess about here: If dark circles aren't a concern, then Murad Vita-C Eyes Dark Circle Corrector may not be for you. If they are, then I'd urge you to snap it up without delay (as long as you can afford to, that is) because it is the best eye cream for dark circles.
The key ingredient is ascorbic acid, the most potent form of vitamin C, kept stable and potent by the inclusion of another antioxidant called glutathione and a vitamin C derivative called tetrahexyldecyl ascorbate (THD). These three work in tandem to stop the dulling, collagen-degrading, pigmentation-causing effects of environmental damage in its tracks. It also contains niacinamide, another tone-brightener, plus plumping hyaluronic acid, two algaes and no artificial fragrance. 
The texture is lovely, if a little unusual; firmer than expected with a golden tone that instantly colour corrects and blurs. The air- and light-proof packaging is clean and clever for squeezing every last drop out, and in a clinical trial of 27 women aged 25-65, 85% saw a reduction in dark circles after six weeks. 
See our full Murad Vita-C Eyes Dark Circle Corrector review
2. 111Skin Space Defence Bright Eye Lift Gel
The best luxury eye cream
Specifications
Texture: Gel
Targets: Lines, dark circles, elasticity
Key ingredients: NAC y2 (antioxidant) formula, peptides, caffeine
RRP: £110
Fragranced: Yes
Reasons to buy
+Unique active ingredient +Fresh gel texture
Reasons to avoid
-Expensive-Contains fragrance
I know what you're thinking: At that price, there had better be something pretty darn special about 111Skin Space Defence Bright Eye Lift Gel. And do you know what? There is. 
NAC Y2 is a unique complex created by 111Skin founder Dr Yannis Alexandrides (who happens to be one of Harley Street's top plastic surgeons and aesthetic specialists) This combination of powerful antioxidants, amino acids and a vitamin C derivative was first used by Dr Yannis to boost post-treatment healing on his patients. But you don't have to have a medical-grade facial peel to enjoy the benefits. 
It turns out accelerated healing is a great thing on any skin, particularly so around the eyes, where environmental damage and collagen degradation take their toll, and so we get this ultra-powerful repair serum. It's got a very appealing refreshing gel texture that feels gorgeous on hot, puffy morning peepers. NAC Y2 aside, the formula also includes anti-inflammatory caffeine and skin-energising peptides. 
It sinks in swiftly without residue and gets to work, plumping lines, brightening and protecting against environmental damage, making it one of the best eye creams for wrinkles. The airless pump keeps every ingredient in peak condition and will look glamorous on your skincare shelf.  Sure, the price isn't for everyone and the inclusion of fragrance may be off putting to some, but otherwise there is very little not to love here. 
See our full 111Skin Space Defence Bright Eye Lift Gel review
3. Inkey List Retinol Eye Cream
The best budget eye cream
Specifications
Texture: Cream
Targets: Lines, uneven or rough skin, dullness
Key ingredients: Retinol, hyaluronic acid, shea butter
RRP: £9.99
Fragranced: No
Reasons to buy
+Great value+Powerful skin improver
Reasons to avoid
-Lacks glamour-Could irritate very sensitive skin
When considering The Inkey List Retinol Eye Cream, you might be put off by the old beauty myth that retinol and the eye area don't make for happy bedfellows. The truth is that, as long as your skin can tolerate it and you use products that are formulated with care, retinol can work wonders on texture, lines and cell turnover around the eyes.   
This cream takes 0.09% pure retinol – a pleasingly gentle dose – and delivers it with lovely nourishing things like shea butter, glycerin and seed oils. The retinol is also stable and slow-release, meaning it should be accepted well by most skin types. It spreads on efficiently, sinks in swiftly and gets right to work. I jumped right in with nightly use and didn't experience any tingling or redness as you might expect from a retinol cream. Sensitive types might want to begin using it a couple of nights a week and take it from there. 
This isn't a product you buy for glamour, show-off packaging or a lovely scent – it's all about results. Everything from the simple white tube to the plain-speaking instructions printed inside the box are designed with high functionality in mind. This is nicely formulated, targeted and easy-to-navigate modern skincare. Oh, and did I mention it is the best cheap eye cream because it costs less than a tenner? Can't argue with that. 
See our full Inkey List Retinol Eye Cream review 
4. Ole Henriksen Banana Bright Eye Crème
The best eye cream for brightening
Specifications
Texture: Cream
Targets: Tired-looking eyes, dark circles, dullness, rough texture
Key ingredients: Vitamin C, jojoba seed oil, soft-focus pigments
RRP: £32
Fragranced: Yes
Reasons to buy
+Both instant and long-term brightening+Works under make-up
Reasons to avoid
-Fragranced-Jar could destabilise ingredients
The first thing you'll notice about Ole Henriksen Banana Bright Eye Crème is its perky yellow tone. The fruity hue is based on banana powder, an old make-up artist's favourite for colour-correcting undereye shadows. Here, the pigment does much the same job, lightly counterbalancing dark circles and providing a smooth and even canvas for make-up to sit on top of. 
For long-term skin benefits, this packs in three types of vitamin C, a known brightener and powerful antioxidant (although it would be more stable in airtight packaging, rather than a jar). We also get softening jojoba and tamarind seed oils, and emollients shea butter and coconut alkanes, to trap moisture in the skin. 
The texture is absolutely beautiful – glossy, spreadable and a joy to apply. This adds a sense of enjoyment so often lacking in skincare, particularly when combined with that lovely hue and a fruity scent. If you're very sensitive to fragranced products, that perfume could be an issue, but most should find it unobtrusive enough and quite uplifting, too. 
See our full Ole Henriksen Banana Bright Eye Crème review 
5. Charlotte Tilbury Magic Eye Rescue
The best eye cream for dry skin
Specifications
Texture: Cream
Targets: Fine lines, puffiness, signs of fatigue
Star ingredients: Plant stem cells, algae, peptides
RRP: £42
Fragranced: No
Reasons to buy
+Plenty of active ingredients+Glamorous look and feel
Reasons to avoid
-Jar packaging-Rich texture
There are things we expect from Charlotte Tilbury – glamorous products with irresistible names and beautiful textures, yes. Products that look, smell and feel glorious, of course. But serious skincare to rival the clinically minded big boys? It doesn't feel like a seamless transition for the queen of colour cosmetics. Enter Charlotte Tilbury Magic Eye Rescue. 
Here we are with an eye cream that includes an impressive cocktail of active ingredients – things like cell-energising peptides, a retinol derivative for texture and lines,  brightening vitamin C, moisturising saccharide isomerate, plus Winter Daphne stem cells to boost the skin's barrier function. All of this comes without compromise on texture, either – think buttery and nourishing. Oily types or younger skin might find it a little bit too rich, but it would suit dryer skin types who like to really feel their products after applying. 
As with other jar-based creams, it would be remiss not to mention that vitamin C and retinol can be destabilised by light and air, but as part of such a complex cocktail, it is forgivable. And, oh, what a jar she is! Chunky and luxurious with rose-gold details, you certainly wouldn't hide this away in a drawer. You also probably wouldn't squeeze it into a gym or holiday bag, either, but in today's world, dressing-table allure trumps portability anyway. 
See our full Charlotte Tilbury Magic Eye Rescue review
6. The Ordinary Caffeine Solution 5% EGCG
The best eye cream for tired eyes
Specifications
Texture: Serum
Targets: Puffiness, dark circles, fine lines
Key ingredients: Caffeine, epigallocatechin gallatyl glucoside, hyaluronic acid
RRP: £5.80
Fragranced: No
Reasons to buy
+Very low price+Fights fatigued appearance
Reasons to avoid
-Could be confusing-Not luxurious 
It's worth starting by saying that The Ordinary Caffeine Solution 5% EGCG  isn't actually an eye cream; it's a serum. 
This will be very good news for anyone who finds rich textures a bit much in the easily overloaded eye area. It also means the smaller molecules sink in efficiently and get to work in the skin – and what work is that, you ask. The work of perking up signs of fatigue. The clue is in the name, with anti-inflammatory and vasoconstriction-boosting caffeine the star ingredient. It can reduce puffy eyes and boost microcirculation to bring fresh blood and nutrients to the skin's surface, helping create a bright, healthy skin tone.  
The EGCG bit of the product name is epigallocatechin gallatyl glucoside, a powerful antioxidant with all the pollution-busting and long-term collagen-boosting powers that entails. Plus, the formula includes nourishing glycerin and hyaluronic acid to hydrate, although owing to that serum texture, if you have very dry skin you may not find it quite nourishing enough. 
So, you get all this for under £6 – what's the catch? Well there's nothing particularly luxurious about this product; the texture is light but also a touch sticky until it sinks in, which is common for products containing hyaluronic acid. It also requires a bit of swotting up to understand what you're dealing with (The Ordinary's website is a helpful resource for this). If you aren't that interested in ingredients, the extra reading might be a bridge too far, but it's an effort worth making for this great-value, effective skincare buy.
See our full The Ordinary Caffeine Solution 5% EGCG review
7. Clinique Pep-Start Eye Cream
The best eye cream for oily skin
Specifications
Texture: Cream
Targets: Dehydration, signs of fatigue, rough skin
Key ingredients: Several peptides, squalane, algae, hyaluronic acid
RRP: £25
Fragranced : No
Reasons to buy
+Effective hydration and energising +Light texture
Reasons to avoid
-Applicator can waste product-May not suit very dry skin
Great all-rounder sounds like a wishy-washy accolade, but the brilliance of Clinique Pep-Start Eye Cream lies in its "little bit of everything" approach. It instantly hydrates and smoothes skin texture, then offers a whole variety of long-term benefits from peptides. These are cell-communicating ingredients that perform a whole variety of functions to re-energise the skin. In fact, you could call them the great all-rounders of the skincare world. It's a great thing, honestly. 
Pep-Start also includes hyaluronic acid and glycerin to soften and hydrate, skin-replenishing ingredient of the moment squalane, and light-reflecting mineral mica for a soft-focus effect. The texture is easy to get along with – light, easily spread and absorbed – so would work particularly well for those with oily skin. It also sits very nicely under foundation and concealer without separating or causing it to slide around, plus the applicator builds in a nice hands-free massage to help with depuffing. 
All this brings me neatly to the only real issue with this cream: That little massager has to be popped in and out to apply. Annoyingly, once you have finished and pop it back in, a tiny bit of cream shoots out the end, which feels a bit wasteful. Once you know it's going to happen, you can ensure you use the extra helping, but a tiny rethink of this mechanism would make 5/5 material of what is otherwise an excellent eye cream. 
See our full Clinique Pep Start Eye Cream review 
8. Remescar Eye Bags & Dark Circles
The best eye cream for instant effects
Specifications
Texture: Gel
Targets: Loss of firmness, puffy eyes
Key ingredients: Caffeine, peptides,
Fragranced: No
RRP: £29.99
Reasons to buy
+Visible tightening of skin+Good value
Reasons to avoid
-Effects are temporary -Only targets specific concerns
Remescar Eye Bags & Dark Circles comes with some pretty hefty claims - namely that it can instantly firm eye bags and reduce under eye shadowing. And do you know what? As long as you pay heed to some stipulations, it really does deliver. 
And what, pray tell, are these stipulations? Well, obviously, that an eye cream cannot permanently firm up of loose skin - no topical product can. What this can do is form a temporary tightening film over the undereye area that makes a noticeable difference to how it appears. If you follow the protocol this effect lasts for around eight hours, which if you feel particularly paranoid about eye bags, could be a game-changing confidence booster. There are some long term benefits on offer from energising peptides and anti-inflammatory caffeine, but the real selling point of this cream is undoubtedly that instant tightening effect. 
So, how does it work? There is a bit of a method here, which involves first applying a hydrating cream (not included - your normal moisturiser is fine) then take the perfect tiny amount of the gel, rub it between your fingers then smooth it under the eye from the inner to outer corner. You then sit expressionless for a couple of minutes while the product firms up over your skin, et voila! A tighter looking under-eye area for the best part of the day. 
I found the protocol fairly easy to follow, enjoyed the tightening sensation very much and noticed a real difference on the one puffy morning peeper I applied the Remerscar on. Using the right amount is critical - too much and the product shows as a white film, not enough and it won't have the strength to hoick the skin up. 
In terms of user experience, this is not luxurious sensorial beauty. It smells of basically nothing and feels slightly odd albeit pretty satisfying as it does its thing. If you're looking for long term effects you wouldn't want to use only this eye cream, as despite containing some skincare ingredients it really is more of a quick fix. But as a nice addition to your usual products, for special days or everyday if it makes you feel better, It more than deserves a place in this guide.  
9. Drunk Elephant Shaba Complex Eye Serum
The best 'free-from' eye cream
Specifications
Texture: Light cream
Targets: Lines, hydration, environmental ageing
Key ingredients: Niacinamide, peptides, natural antioxidants
Fragranced: No
RRP: £50
Reasons to buy
+Excellent ingredients+Clever packaging
Reasons to avoid
-Expensive-More cream than serum in texture
You've heard of the Fantastic Four, Famous Five and maybe even the Crazy 88 (Kill Bill fans, I see you) But Drunk Elephant Shaba Complex Eye Serum wants to make you aware of the suspicious six. Actually every product by Drunk Elephant does that, as this brand's philosophy is formulating without the six ingredients founder Tiffany Masterson believes are the root of all skin evil: Essential oils, drying alcohols, silicones, chemical sunscreens, fragrances/dyes and SLS. Whether that aligns with your own personal beliefs is up to you, but if the concept of an eye cream without any of the above appeals, then you could do a lot worse than Shaba. 
This brand is as good at creating desirable well-made skincare as it is infantile yet undeniably memorable names. That means this light-textured cream-come-serum packs in all sorts of good stuff - cell-energising peptides, niacinamide, a form of hyaluronic acid that's able to hydrate more deeply than your average HA. Plus, we get a cocktail of natural ferments and botanicals with powerful antioxidant properties. 
The texture is typical of your modern eye cream, which means it's light and easily absorbed with enough 'slip' to give yourself a good old massage should you choose. As with all Drunk Elephant products the packaging is exceptional, not only in terms of dressing table appeal but the experience of using it. The matte spearmint-tipped cuboid has the pleasing look and feel of a grown up Duplo block, with a unique twist-up head and airless pump dispenser. This means you get the perfect amount each time, every drop of product is prised out and, crucially, the ingredients are never exposed to air so have no opportunity to oxidise. 
Onwards we go to the reasons why you might not like this product. It is pricy, so that's the first blocker. If you are someone who prefers a very light liquid or gel texture you may find this too rich, especially considering it bills itself as a serum.  Maybe the brand's suspicious six schtick holds no truck with you and you're happy slathering on sensorial essential oils. Those considerations aside this is a cleverly formulated, highly appealing option from one of the industry's buzziest skincare brands.
10. Ecooking Eye Cream
The best natural eye cream
Specifications
Texture: Cream
Targets: Dark circles, dehydration, lines
Key ingredients: Algae, hyaluronic acid, antioxidants, aloe water
Fragranced: No
RRP: £50
Reasons to buy
+Natural yet high performance+Informative packaging 
Reasons to avoid
-Pricy-Traditional cream texture won't suit all
Not long ago, natural  products were almost guaranteed to become pigeonholed in some consumers minds. Sure It might smell and feel nice, argued the synthetic-sympathisers, but will it actually do anything? Yes of course I'm talking about myself here. Anyway these days there are plenty of clever brands around who have more than proven silly old me wrong, including Ecoooking. 
This Danish skin and bodycare brand is both naturally-skewed and efficacy focused - and this eye cream is a good example of what a killer combination that can be. It's got lovely natural extracts including algae, nourishing coconut and other seed oils plus moisture-binding, anti-irritant rice proteins. It's also filled with skincare hard hitters that you'd hope for in any formula, natural or not. I'm referring to tocopherol (a form of antioxidant Vitamin E)  hyaluronic acid for hydration and peptides to energise cells and stimulate collagen production. This makes for a very well-balanced cocktail that takes a multi-pronged approach to tackling eye concerns, particularly those related to environmental ageing.  
Texture-wise there is nothing unusual or surprising here, just the kind of light-ish cream that makes for easy patting into the thin skin around the eye. In terms of packaging, the tinted glass pump ensures ingredients are kept fresh and protected from UV light. And while the information-heavy label may not speak of high glamour it does suggest something many will prize above that - transparency. 
Essentially, this eye cream  is more of a crowdpleaser than first impressions may suggest. If you're keen on naturals, give it a go for its efficacy, if you're not, give it a go for its honesty. Either way, give it a go won't you?