This long-lasting eyebrow gel has had over 20k ratings on Amazon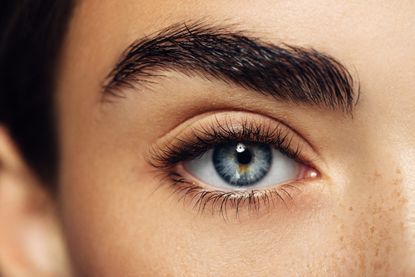 The WUNDER2 Wunderbrow gel is stacking up a huge fan base. With over 20,000 people taking to Amazon.co.uk to leave a raving review and a whopping 72% of customers giving it a 4- or 5-star rating.
We had to find out what all the fuss was about...
What is the WUNDER2 Wunderbrow Long-Lasting Eyebrow Gel?
SHOP NOW: WUNDER2 Wunderbrow Long Lasting Eyebrow Gel, £19.93 (opens in new tab)
This award-winning eyebrow gel can give you the effect of thicker and fuller-looking brows and is perfect for those who have gaps or thinning hairs.
It uses 'hair-like' fibres to fill and sculpt your arches and comes in five natural shades. The blonde colour, in particular, is hailed as the only light hue to mimic the same tones we find in our natural hairs.
Before & After pictures (Press the white arrow button to see brows before Wunder2)
The Wunder2 Wunderbrow reviews
Want to know why Amazon customers are so obsessed with this product? Read a selection of the reviews below:
"Could not be without it now. I have patchy brows due to chemotherapy, and I was looking for a product that would stay on while I swam on holiday and this is it. It can stay on for a few days. It takes longer to apply, but it's worth it."
"Best eyebrow product out there. This product is amazing, and I am going to continue using it forever. It took me a week or so to get used to how to apply, but once I nailed it, it takes minimal time. It's not cakey and looks natural once brushed through."
"Great to find a proper blonde eyebrow product and each bottle lasts me around 6 months."
"Best thing ever! I applied it with an angled eyebrow brush, and it does EXACTLY what it claims to do while looking amazing. £20 well spent. I am very impressed!"
"Wunderbrow is really buildable and can be used for a more natural look. It does feel a little weird and tight, but that feeling fades, and then the colour lasts all day."
"Favourite eyebrow product. It's long-lasting and defines my eyebrows nicely without making them look too drawn on. Note: less is more with this product."
Why is everyone talking about this long-lasting eyebrow gel?
Its best quality is that it doesn't budge. With fans loving that they can wear it in the gym, the swimming pool or even get soaked in the rain – and it still won't shift.
But we know what you're thinking, if the staying power is that strong, how easy is it to remove? Some customers say that a sweep of coconut oil and a cotton pad is NOT enough to swish it away and we found this to be accurate but wait a little longer and press the pad on for a few minutes and the oil should disintegrate the product better.
Cons? It can be tricky to put on. So, practice is needed. For this reason, it might not be for people who like to apply and go, but for those looking for a long-stay solution, it's worth adding in the extra time and effort to get it right.
Want more brow grooming inspiration? Read our guide to the best eyebrow makeup (opens in new tab) here, and discover our Beauty team's favourite low maintenance, low commitment brow perfectors.
What's your favourite brow product?
All about beauty, Lydia House has been writing about creams and complexions for over a decade. Contributing to titles such as Women's Health, Grazia, Stylist and The Evening Standard, Lydia also uses her vast knowledge of the industry to consult leading health and beauty brands like Rituals, Tisserand and The Inkey List. Spending her working life obsessing over ingredients and formulas, Lydia believes that feeding your skin from within is just, if not more important, than the lotions you slather on. And even with a busy life and work schedule, she will always find the time to fit in a pampering session (or two).