See Blake Lively's dramatic hair transformation while filming the controversial It Ends With Us movie
We can't stop looking at the star's new, fiery locks - and fans have thoughts...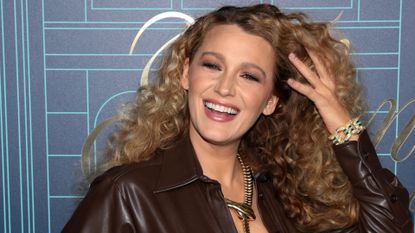 (Image credit: Getty Images)
Blake Lively has begun filming for the controversial It Ends With Us movie, also starring Justin Baldoni.
The upcoming It Ends With Us movie, based on the novel of the same name by Colleen Hoover (who was recently under fire for releasing a coloring book), has been met with mixed receptions from audiences, even despite the fact that the film is still only in its filming stage.
Back in January 2023, Colleen Hoover announced that Blake Lively would play protagonist Lily Bloom in the film, which again, was met with critique, with many fans saying that Blake, 35, is too old to play the character, who is supposed to be in her early twenties. Overall, however, supporters of the movie were excited to see Blake get cast in the highly-anticipated film, with many fans recognizing her from Gossip Girl, in which she played the iconic Serena Van Der Woodsen.
Recently, onlookers caught photos of the production team and cast filming the movie - and fans were shocked to see Blake's dramatic hair transformation.
She ditched her usual long, blonde locks for a fiery red shade, in keeping with the appearance of the character portrayed in Colleen Hoover's book.
While Blake's hair always looks enviable, fans of the movie aren't loving her looks so far - and have made no effort to hide their distaste on social media, with most citing that her look is inaccurate to fans' mental depictions of what Lily should look like.
"Did the person who did the casting and wardrobe for this movie even read 10 pages of the book!?" one user commented on an Instagram post of Blake's red hair.
One fan even noted that they felt Blake's physicality for the character to be so off-putting, that she wouldn't even be seeing the film when it eventually is released. "Literally would not have picked Blake for Lily, not the right character at all. Will not be watching. Lily was YOUNG in her early 20s with some scenes of her as a teen!" the fan commented under the same post.
The 2016 novel centers around Lily, who moves to Boston to start college life, but her world gets rocked when she unexpectedly falls in love with a 30-year-old doctor, Ryle Kincaid. We won't give away spoilers, but as fans of the book know, their relationship honeymoon phase doesn't last long, and Lily comes to discover some toxic behaviors (to put it lightly) that Ryle exhibits.
People are even saying that the choice to cast Blake affects the story, seeing as what made part of Lily's character arc interesting was her departure from youth and innocence. "Her youth being taken away by the relationship made it feel so much more fragile and heartbreaking," one user wrote, referring to the character of Lily," one user said on TikTok.
Madeline Merinuk is woman&home's US lifestyle news writer. She covers celebrity, entertainment, fashion, and beauty news but is also obsessed with internet trends - you can find her reciting trending TikTok sounds out loud at any given time.
After winning multiple student journalism awards for her investigative work, she graduated from Hofstra University in 2021 with a B.A. in Journalism. After graduating, she worked at today.com, the digital site for the Today Show, where she wrote pop culture news and interviewed big-name personalities like Emily Ratajkowski, Haley Lu Richardson, Emma Corrin, and more.
Her personal interests, in no particular order, are: cheese, Joni Mitchell, reading, hot yoga, traveling, having multiple chapsticks in every handbag at all times, and dancing to ABBA songs as if she were in the Mamma Mia movies.