You can smell like your favourite bath bomb all day long with Lush's new perfume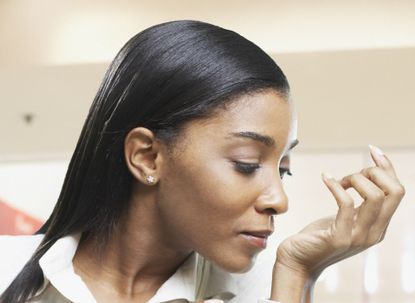 We have good news for Lush lovers as the store has launched a new perfume, Goddess, which has the same scent as a very popular bath bomb.
You can't walk past a Lush store without noticing the fresh scents wafting into the streets, so we trust the beauty retailer when it comes to making us smell good.
Read more:Spa hotels, England: the best spas for pampering breaks
The Goddess bath bomb has been a huge hit, with loyal Lush fans labelling it their favourite.
So what can you expect from their new perfume? According to Lush, The Goddess fragrance has rich notes with a hint of floral delicacy while the smoky sandalwood adds a dark warmth.
Lush posted a picture of their product on social media with the message, 'You sprayed and the goddess listened. A pantheon of deities has arrived to bestow gifts of oudh, sandalwood and jasmine. Are you ready to embrace your inner #LushGoddess?'
Customers have been going wild for the fragrance with one person saying, 'oooh it's super gorgeous' while another said, 'It's truly unique and perfect to wear on any occasion'.
Another reviewer said, 'Very strong when first sprayed on but dries down to something warm and comfortable with that lasting jasmine and rose, I even get a bit of lemon now and again.'
While we may have our own personal favourite scents, it's great to try something new! With 17 ingredients, this fragrance is warm and woody but also floral and fruity.
A 30ml bottle of Goddess costs £45 and if you fancy trying this exciting aroma, you can buy it from here (opens in new tab).
If you're a big fan of this scent, you're in for a treat because you can also buy the Goddess scent in the form of perfume oil and soap.
There's also two travel-friendly options for those of you who are always on the go. The Goddess wash card can be stored in your purse or wallet which saves the hassle of carrying around a slippery bar of soap. Or perhaps you'd like to try the solid perfume for a change?
However you fancy trying it, the Goddess range is not to be missed!
Rachel Howatson is a digital writer who works across a range of publications. Whatever your passion, whether it's hillwalking, cooking, gardening, running, socialising or even sleeping, she'll likely have written about it.