Candle season has arrived and we couldn't be happier about it - this is w&h Beauty Director's autumn edit
Make your home smell unbelievable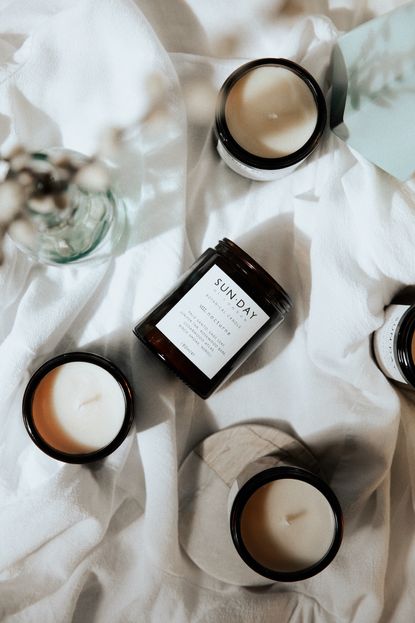 We're all spending a lot more time inside at the moment, so there's nothing like a finding one of the best scented candles to boost the mood in our homes.
One of the better things about the weather turning is that now it's perfectly acceptable to light a candle. Cosying down to watch the new season of Strictly wouldn't quite feel as snug without a flickering light dancing about the room too. It's the ideal remedy for cold-weather contentment. A beautiful aroma can have a powerful effect on your mood whether it's calming for bath times, uplifting for office hours or fresh and floral for living areas. And there's no denying that 2020 has been a difficult year but the simple act of lighting a candle can instantly lift your spirits. It's no wonder candles are popping up everywhere from supermarkets to fashion outlets - from a little as £5. Not only are they an irresistible treat for you and the home, but they make the ideal gift for that friend who has everything.
From essential oils to sunny citrus and woody aromas, these are the five scented candles we're lighting right now, including a new chic offering from H&M HOME.
Best scented candles for autumn
The mantlepiece accessory
Azalea Printed Vanilla Candle, £5 marksandspencer.com
Burn time: 35 hours
Usually you do get what you pay for but this breaks this rule. The Azalea candle not only gives off a characterful aroma with a burst of fresh vanilla beans butit's housed in a glass holder adorned with distinctive floral prints and birds, making it a statement homeware accessory that looks more expensive than just a fiver. Your home will become immersed in it's subtle aroma and we guarantee you'll receive compliments about its beautiful appearance.
To encourage Zzz's
Neom Bedtime Hero 3 Wick Candle, £46 neomorganics.com
Burn time: 50 hours
Perfect for this time of year when the night's start drawing in, kids are back to school and you have a new routine to get used to - so sleep is vital to function. This has been created for those who are 'anti-lavender', instead blended with dreamy chamomile, ylang ylang and cedarwood plus 9 other pure, essential oils. The smell is sweet, fruity and fresh, but has a relaxing effect on the mind and body, helping you to prepare you for a great night's sleep. Light before bed to allow the fragrance to fill the room as you inhale in the relaxing fragrance.
For cosying-up
SUN.DAY of London VII Memento Mori, £26 sundayoflondon.com
Burn time: 45 hours
There has never been a more apt time than now to support local brands like Hackney-based fragrance brand, Sunday of London. We're already obsessed with the smoky, grounding and earthy aromas wafting from the new candle collection, in particular theVII Memento Mori Candle, £26, which takes inspiration from salt water and driftwood. It's this beachy aroma that helps to relax and unwind - it also smells ridiculously sexy and is highly Instagrammable. Get it now before it's a sell-out.
The cultural hit
British Museum x H&M HOME Boxed scented candle, £12.99 hm.com
Burn time: 25 hours
Just like a designer handbag, an expensive candle flickering in your room is a status symbol. This candle has all the makings of being owning this status but without a hefty price tag attached. Part of a special collaboration between H&M HOME and the british Museum featuring the works of Mary Delany, an 18th-century English artist known for her botanical depictions,this scented candle sits in a glass holder with a beautiful floral print motif. Scent-wise your home will be filled with a sweet aroma with notes of tartness and acidity thanks to the soft bergamot.
The memory maker
Zara Fleur D'Oranger Aromatic candle, £15.99 zara.com
If you're lusting after a trip further than the back of your garden then light up this enchanting candle to be instantly transported overseas thanks to notes of orange flower, neroli and ylang ylang. Created as part of the Zara Emotions collection in collaboration with Jo Loves, the effortless offering of eight candles is filled with aromas to make your heart sing and evoke memories to make you smile. The Fleur D'Oranger sees Jo Malone CBE think about 'celebrations in the South of France full of moments of happiness.'
Charley Williams-Howitt has over 20 years of experience working in the beauty industry. As well as previously writing for lifestyle titles, such as woman&home, Woman and Woman's Weekly, Charley has worked for British institutions like Marks and Spencer, John Lewis, and Superdrug creating visual and editorial content cross-platform. Starting her career in the fashion cupboard at Cosmopolitan magazine, she eventually escaped the piles of clothes to discover a world of makeup, moisturizers, and models.