Avon's new anti-ageing solution promises seriously impressive results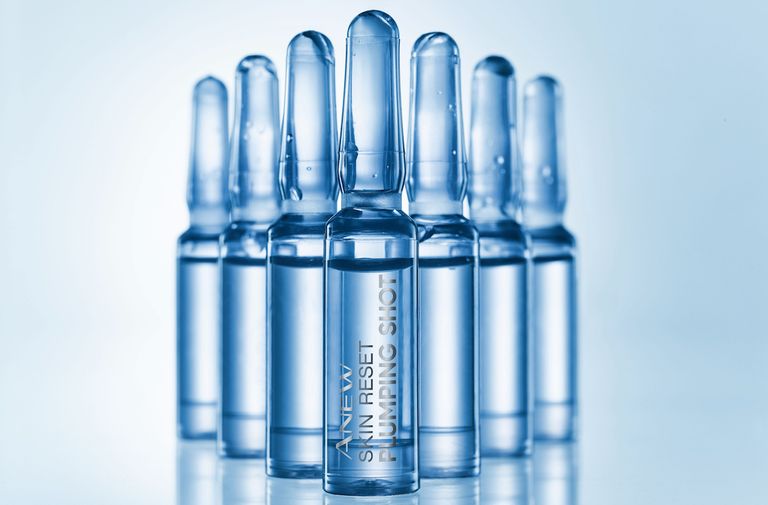 Lockdown has brought with it plenty of ups and downs - with some more trivial trends emerging too.
One of the big pluses of increased time at home is having time to delve into more reading, set aside moments for self care and relaxing face masks and of course tapping into the creative sides of ours minds with activities like sketching and colouring, knitting and baking.
But one of more trivial pursuits is a big increase in how much time we're all spending looking at our own faces. In no small part to the new go-to method of working and socialising - i.e. video calls.
With so many more hours looking at our own reflections, it's easy to end up distracted for a full 15 minutes pondering the size of your pores, or debating whether those laughter lines were always there.
It seems to us then that Avon's latest launch has arrived just at the right time.
Credit: Avon
Their Anew Skin Reset Plumping Shots are a 7-day anti-ageing solution that, after in-laboratory testing, promise to restore seven years of collagen loss in just seven days. Impressive eh?
And our interest was piqued even further when we found out they cost just £18.
How do Avon's Anew Skin Reset Plumping Shots work?
Now for the science part. Collagen is a structural protein that makes up nearly 80% of our skin. We are born with plenty of it, but after we hit our mid twenties, it starts to decline at a rate of around -1% per year.
A good way to visualise this is to compare the big, full cheeks of a baby to the skin of a 90-year-old. The younger you are, the easier it is for your skin to bounce back.
There are many different types of collagen, but the two we're focusing on here are collagen III, otherwise known as baby collagen, and collagen I, or adult collagen. We need both types for bouncy skin, and baby collagen provides the framework on which adult collagen is built.
Avon's new ingredient Protinol works by increasing the amount of baby collagen in the skin, which then increases the ratio of adult collagen. The result is plumper, firmer skin with less prominent lines, wrinkles and sagging.
SHOP NOW:Avon Anew Skin Reset Plumping Shots, £18
Who should use them?
Designed to tackle both early and more advanced signs of ageing, these little vials of serum are for anyone in need of skincare boost.
Use occasionally as a treat before a big event, or once a month to maintain a plump, healthy-looking complexion.
How should you apply the Anew Skin Reset Plumping Shots
Cleanse your skin as normal and pat dry with a towel.
Hold the vial so the product is collected at the body of the shot.
Snap off the cap. Don't be afraid to use a bit of welly here, but it should snap off easily in a clean line.
Each vial contains enough serum to comfortably cover your face, neck and décolletage. Massage across all three areas to fully reap the benefits. The neck and chest are often forgotten in our skincare regimes, meaning they're first in line to show signs of ageing.
Follow up with your normal moisturiser, but try to steer clear of any active ingredients such as retinol or AHAs to avoid overwhelming your skin. The plumping shots can be used day or night, but we'd recommend using them in the evening. Skin has more external aggressors like UV rays and pollution to contend with and distract it when we're out and about, so you'll reap more benefits overnight.
Shop from Avon's online store from 5th June.