This £19 hair product means you'll no longer need a trim to get rid of split ends
Say goodbye to split ends...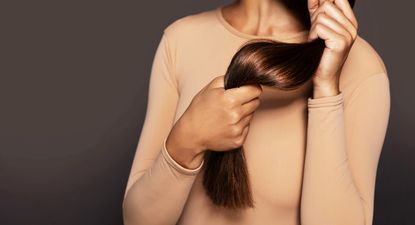 (Image credit: Getty Images)
We put our hair through a lot. Whether it is curling, brushing, straightening, dyeing, or bleaching, we do all sorts to our hair and as a result, we can be left with unwelcome split ends. Using the best hair dryer on a lower setting and always protecting the hair before styling can help, but there's another product that goes a long way when it comes to smoothing down and repairing split ends.
Nipping to the hairdressers to get rid of your split ends, and not to mention expensive, so it would be a lot easier if we could remove our split ends in the comfort of our own homes.
Introducing the affordable 'superstar' hair serum by Virtue.
Virtue's perfect ending split end serum promises to put an end to split ends and fans are going wild for the product.
The serum is so popular, it has sold out on the Cult Beauty website. But keep an eye out, because it will be returning to stock soon! What a relief!
The 20ml bottle costs £19 and a larger 50ml bottle costs £38. We'd say it is definitely worth a try!
The serum contains alpha keratin 60ku which according to Virtue, is a 'pure, whole, human protein' which 'is identical to the keratin in your hair, skin, and nails.' The special ingredient helps the healing and repairing process.
It definitely sounds like and intriguing ingredient!
Its users have deemed the product, which promises to protect against 'future fraying', a 'lifesaver'.
Customers have been giving the product rave reviews, sharing their positive experiences online.
One person said, 'It softens your ends and makes it look like you just got a fresh trim. I give credit to this product after seeing how long my hair has gotten from my ends being protected and mended. Love love love.'
The bottle may appear small but according to happy customers, a little can go a long way.
A customer said, 'I have very long hair and this product is a superstar! Puts an end to crispy, dry ends and leaves my hair silky smooth. Fantastic scent, too! I don't ever want to be without this product.'
Another customer agreed about the product's scent saying, 'The smell, the texture of my hair, the shine - everything has improved in just 2 washes. I'm in love with this whole line!
A final reviewer said, 'LOVE this. I put it on sometimes 2x a day, and its a great weightless serum that gives my hair hydration without heaviness. I love knowing that I am protecting my hair from getting more split ends.'
For such a reasonable price, and with such incredible reviews, this hair serum is definitely tempting!
Will you be waving goodbye to your split ends?
Rachel Howatson is a digital writer who works across a range of publications. Whatever your passion, whether it's hillwalking, cooking, gardening, running, socialising or even sleeping, she'll likely have written about it.