Which of these 3 women from the North West, North East and Yorkshire should win an w&h Amazing Women Award in 2020?
Voting is very quick and easy!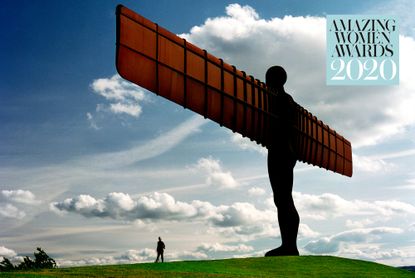 **VOTING HAS NOW CLOSED FOR THE AMAZING WOMEN AWARDS 2020. WINNERS WILL BE ANNOUNCED IN OUR NOVEMBER ISSUE (ON SALE OCTOBER). ANY VOTES NOW WILL NOT BE COUNTED. THANK YOU FOR TAKING PART, FROM THE W&H TEAM**
Back in March we asked you to nominate your Community Heroes – the incredible, inspirational women making a massive difference where you live in the North West, North East and in Yorkshire.
Here we present the shortlist of 3 finalists for the North West, North East and Yorkshire – selected in recognition of their enthusiasm, determination and dedication. (The other four regions are: Scotland and Northern Ireland, Wales and West Midlands, East Midlands and East Anglia, South West and South East).
You can see the details of all the other finalists here.
Votes close on the 31st of July 2020. Look out for the winners in our November issue (on sale October) and online.
Now all you have to do is scroll down and choose which of these fabulous women you'd like to see in the final line-up of the Amazing Women Awards 2020!
The 3 finalists from North West, North East and in Yorkshire
Linda Kirk, 60, from Tantobie
Elizabeth Costello, 57, from Astley
Sandra Link, 64, from Nantwich
1. Linda Kirk, nominated for offering help to domestic abuse victims
Linda Kirk, 60, from Tantobie, is the founder and director of the Just For Women Centre. She has supported over 3,520 women who are victims of domestic abuse. In 2019 she was awarded a British Citizen Award at the House of Lords.
Linda says: I thought I'd trial a women's centre to see if there was a need. Within three months I had over 75 women on the books. We now see 20-25 women a day and offer a variety of services including counselling and training to help women move closer to the job market.
Charlotte Glendinning, who nominated Linda, says: Her determination to help our community is shown during the pandemic, too, distributing personal hygiene and craft kits to help alleviate anxiety.
2. Elizabeth Costello, nominated for tackling loneliness and creating community spirit
Elizabeth Costello, 57, from Astley, Great Manchester, is the founder of the Leigh Film Society, a community cinema bringing film to groups of people, helping to prevent loneliness.
Elizabeth says: In 2012 I had a kidney transplant after five years on dialysis, and it made me address how I wanted to use the time I had left. I've always had a passion for film so I started screening films in a local cafe and quickly realised people really wanted this. Less than a year later I relaunched as the Leigh Film Society. We select films that can reach out to and connect with specific groups.
Barbara Caren, who nominated her, says: Elizabeth has worked tirelessly building partnerships that support the local community. Her passion and commitment know no bounds.
3. Sandra Link, nominated for supporting the homeless and those who live in poverty
Sandra Link, 64, from Nantwich, is a trustee of charity Chance Changing Lives, offering food, clothing and advice to the homeless. Sandra has overseen the launch of a Social Supermarket, engaging suppliers and supermarkets to provide stock and support.
Sandra says: When I retired I got involved with a project to give out sleeping bags and toiletries to homeless people. This grew to a Saturday night drop-in but I began to notice that many coming in for food weren't homeless, but couldn't afford to eat. So we established the Social Supermarket. Members are referred to us and pay £3 a week to get £15-£20 of food.
Marie Orrell, who nominated Sandra, says: She has made an amazing contribution to Crewe, an area that experiences extreme deprivation.
You can vote for women in the four other regions too by clicking on these links:
Votes close on the 31st of July 2020.
Miranda McMinn is the editor of woman&home magazine, the brand that prides itself on celebrating, supporting, and inspiring midlife women. Previously she has worked on magazines and newspapers including Marie Claire, Red, The Times, the Observer, and the Daily Mail.
A midlife warrior herself, Miranda has three children and has a passion for country walks, log fires, and winter swimming—she swims all year round in the Hampstead Ladies Pond and heartily recommends it—nothing like a dip in a 4 degree pond to get you ready to face the day!