W&H exclusively announce the shortlists for the Amazing Women Awards 2019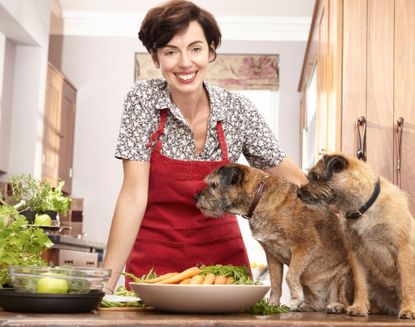 It's time to celebrate the brilliant women aged 50 or above inspiring us in every part of life.
The Amazing Women Awards 2019, in partnership with Hotter, debuted in April of this year. And inOctober woman&homewill present 10pioneering women over 50 with an Amazing Women Award in a glittering ceremony at London's glamorous Claridges.
First launched in 2018, the awards celebrate 50+ women in all walks of life from high-profile celebrities and role models at the top of corporate environments, to women doing exciting things and fulling their dream.
Last year we were blown away by the winners and shortlisted nominees – and we celebrated with a glittering ceremony in London's Claridge's, which we can say hand on heart was our best night out of the year – from moving speeches and rousing cheers to dancing round our handbags until the early hours.
MORE:Everything you need to know about the woman&home Amazing Women Awards 2019 in partnership with Hotter
DJ and radio presenter Jo Whiley, 53, acted as compere – just the kind of women who could feature on the Amazing Women's Award Shortlist – and dazzled the crowd with her confidence and approachability, adding to the already electric atmosphere.
This year's awards are set to be equally as exciting, and below we have listed the shortlistednominees for the first seven award categories – with three in each category – and each one is as amazing as the next.
Keep your eyes peeled for the reader nominated category shortlist, which will be featured in the August issue of woman&home. The reader nominated categories are the only ones the public vote on, so don't miss your chance to help decide the winner!
The Amazing Women Awards 2019 full category list:
Champions of the artsFuelling our passion for culture
Brand new directionsBrilliant entrepreneurs leading the way
Smashing the glass ceilingRole models at the top of corporate environments
Celebrities doing goodStars of stage and screen who also do great work for charity
Don't tell me I can'tWomen doing amazing things and fulfilling their dreams
Social and tech geniusesFrom Instagram influencers to app inventors
Changing our countryWomen in high places dedicated to making our lives – and lives of children – better
The Hotter Community Hero Awards (the reader nominated categories)
Please note, nominations for the reader-nominated categories are now closed, but votes for the winner will open in early August.
Caring for othersFrom nurses and doctors to carers at home
Improving the environment we live inLitter-pickers, beachcombers and campaigners to save the high street or the local library
Going to extra mile for charityWomen raising money, ramping up awareness for important causes
SOCIAL AND TECH GENIUSES AWARD
From Instagram influencers to app inventors...
1. Nadine Baggott, 56: the beauty journalist reaching thousands of women
Nadine created her channel to reach women over 50 who are too often ignored, neglected and treated like a minority. She has 96,000 YouTube subscribers, averaging 30,000 views per video. Her combined Instagram, Facebook and Twitter followers reach over 97,000.
Nadine says, "In our society and in the media, women are either in their fresh-faced twenties or they are grannies. There is no in-between. But in the next decade the percentage of the UK population aged 50+ will outstrip the percentage of those under 50. These women deserve respect and to be reflected back in the media and advertising.
MORE:Amazing shoes for amazing women: our fashion editor's pick of the summer's most stylish footwear
"I set up my YouTube channel because there was no one speaking directly and honestly to my generation. My success as an influencer is down to this. And I think my followers like me because they see I'm real. By embracing a young technology and owning it for my generation, I'm exploding the patronising myth that women over 40 can't find their way around the TV remote."
2. Anne Boden MBE, 59: the tech entrepreneur
Anne grew up in Swansea, the daughter of a steelworker and a department store worker. She showed flair for science, and studied chemistry and computer sciences at Swansea University. After starting out in banking in 1981, she rose to become COO of Allied Irish Banks in 2012.
During this stint as COO, Anne realised that banking needed to change and modernise, but that she wouldn't be able to achieve this in her current post due to entrenched ways of thinking. She founded digital-only Starling Bank in 2014 with one goal in mind – to disrupt and revolutionise the world of banking. In the past five years, Anne's mobile-based banking app has won over almost half a million customers and been named the UK's best bank for two years running, while Anne was recently awarded an MBE for her work.
Anne says, "I wouldn't have expected to have founded my own bank, but it needed to be done. Most people thought it would be impossible, but I had to do it.
"Gender diversity in the tech sector is changing but not quickly enough. People talk about it being 'a man's world' but many of the early tech pioneers were women. The ratio of men to women on the senior team at Starling is currently 60;40. I'd love it to be 50;50."
3. Lynne Meek, 57: the woman sharing fashion ideas
Lynne has amassed over 20,000 Instagram followers and a further 5,000 on Facebook and Twitter. Her aesthetically beautiful feed showcases Lynne's great style – boho harem pants, bold prints and stylish separates.
Lynne says, "I've been a personal stylist since 2012 and worked in retail before that, so I just love fashion. However, I would never have dreamt that I would have a career as a social media influencer. I've been amazed how these great platforms can encourage, inspire and build confidence.
"I feel part of a wonderful community because my followers are really engaged. Post-menopause, we women tend to lose confidence, and there's this unwritten rule that we should fade away and not wear attention-drawing clothes. But proper styling empowers women – and ifI can help women try new ideas and make pieces work for them, thenI'm happy. Starting my account was the best decision I have ever made.
"Within a year I'd hit 10,000 followers. Since then things have snowballed and my site has such great traction I've been able to open my online store. My husband has even wound up his business to work with me full-time."
DON'T TELL ME I CAN'T AWARD - THE HOTTER AWARD SPECIAL
Women proving that anything is possible…
1. Alice Morrison, 53: the adventurer
Alice, a former CEO of a creative media company, decided to become a full-time adventurer after being made redundant. Since then she has completed the world's longest bike race, Le Tour d'Afrique, trekked from Africa's highest point to the Atlantic Ocean and run the gruelling Marathon Des Sables. Having moved to Morocco to train, she settled in the Atlas Mountains, securing a BBC series on her voyage from Morocco to Timbuktu, and a second following her as she became the first woman to walk the length of the country's Draa river.
Alice says, "It's never too late to recreate yourself. I was woefully unprepared for Le Tour d'Afrique, but somehow I managed the 8,500 miles from Cairo to Cape Town, and in doing so, discovered the joys of freedom, of pushing my body to its limits and digging into my emotional reserves.
"I knew I was hooked when I signed up to run the Marathon des Sables. I fell in love with Morocco – I was only supposed to stay a few months, but five years on I'm still here. My life is as far removed as it could be from my corporate existence."
2. India Gill, 54: the 50+ model
India, a psychotherapist, is represented by Mrs Robinson Management, an agency established in 2015 to champion the classic elegance and beauty of older women.India has been on the agency's books for the past two years and is in huge demand for editorial campaigns.
India says, "I always wanted to be a model, but I grew up in a working- class Indian family and my parents did not approve of modelling as a career path. Plus life got in the way – I got married, had children, developed wobbly bits and thought my chance had passed. But things changed in my late forties. My children left home and I got divorced. I approached my fifties with a positive mindset and when I read about Mrs Robinson, I thought 'why not try?'.
"The agency took me on and I'm having a fantastic time. I think older women make great models – we're more comfortable in our skin and we exude an easy energy. There's a thriving market for older models now, and the industry has woken up to the fact that older women don't want to slide into old age, they love fashion and have great style – so this is my time."
3. Cathy Kangas, 54: the woman who got seal hunting banned
Cathy is a staunch supporter of animal welfare around the globe. In 2006 she managed to persuade the Canadian government to shut down the Canadian seal hunt. In 2014, she established the first animal protection summit on the island of St Martin, to push for more humane treatment of stray dogs across the Caribbean. In addition, she has rescued hundreds of horses from kill pens in Mexico, worked to tackle the stray dog population in Puerto Rico, and set up her own eponymous foundation to rehome healthy dogs and cats in animal shelters.
Cathy says; "I've made it my life's mission to give animals a voice. When I created PRAI Beauty, I wanted to build a brand that went beyond just cruelty-free skincare products. I saw an opportunity to save the lives of animals everywhere. Each PRAI Beauty sale contributes to my namesake foundation, the Cathy Kangas Foundation for Animals, which helps shelter animals."
CHAMPIONS OF THE ARTS AWARD
Meet the women fuelling our passion for culture
1. Debbie Horsfield, 64: the award-winning producer and screenwriter
Debbie has just finished work on the BBC's smash hit series Poldark. Among her other TV writing credits are Age Before Beauty and Cutting It. Her theatre work includes Red Devils, True Dare Kiss and Sex, Chips & Rock 'n' Roll, The Musical. Debbie's next project for the BBC is the adaptation of a well-known classic novel.
Debbie says, "I've always written about women. I'm from a family of five sisters, and I have some great females in my friendship circle, so I'm writing about the thing I know inside out – groups of females, the bond between them, the potential for drama and conflict, but ultimately for mutual support and care.
"It's important to me that I write about strong, multi-layered complex women from all walks of life. I also like to support and encourage new talent. I mentor students in educational establishments and people often write to me for advice. It's important to demystify the screenwriting process for others. The great thing about writing is that age is not a barrier, and can enhance your ability to create authentic voices and characters."
2. Marice Cumber, 57: the charity founder
Marice founded Accumulate, a charity incorporated organisation that aims to help and support young, homeless people through arts-based programmes.
Accumulate collaborates and partners with major creative institutions such as the Barbican, Tate Modern, the V&A and Somerset House to offer courses, and has a scholarship scheme with Ravensbourne University in London.
Marice says, "We help young people who are homeless and living in hostels. These people have not been given opportunities in life. When you feel you have nothing to offer, it's easy to succumb to violence, anti-social behaviour and substance abuse. Through our programme we can prevent the slide into negative behaviours, and help young people develop skills and further themselves. We collaborate with major institutions to offer workshops in art, photography, film, fashion, sculpture and ceramics.
"We also fundraise for scholarships so participants can access courses and go into further education. The long-term results are amazing but change starts with the smallest step – a step towards increased self belief, which can take them anywhere they want to go."
3. Linda Hirst, 70: the opera house founder
Linda is an acclaimed mezzo-soprano and founder of the intergenerational and all-female opera company HERA, which she founded to champion and perform work by female composers. Linda works across genre boundaries and leads the field in experimental collaborations, working with everyone from Judith Weir (first woman to hold the title of Master of The Queen's Music), to Scottish poet Ivor Cutler, and iconic rock group The Who.
Linda says, "While there are many female opera singers in the classical sector, they work in a male-dominated industry. In fact, currently only 2.5 per cent of composers that are selected for performance by UK's publicly funded opera companies are women. However, there is no shortage of female- composed opera. Women have been composing throughout history, but many great female composers were quite often stopped from working or eclipsed by their more famous husbands. Fanny Mendelssohn, for example, and Clara Schumann.
"These women were great composers in their own right and their music exists as proof. In the 20th century you have Rebecca Clarke and Grace Williams, and today, we have the likes of Hannah Kendall and Cassandra Miller. Introducing audiences to these composers is important, not just because it's music written by women, but because it's magical. Female composers are wonderful at drawing on life experience and emotions, such as nurturing and loss to bring a warmth to music.
"Classical music might seem less accessible than other genres, but it's very relevant – contemporary composers tackle modern issues and events of real universal interest, such as Tansy Davies who composed an opera about 9/11. Listening to opera can also be very rewarding. It doesn't matter if you don't understand the words – it's about feeling."
CELEBRITIES DOING GOOD AWARD
Stars using their fame to get things done for causes they care about
1. Shirley Ballas, 58: CALM and Comic Relief
Shirley lost her brother David to suicide in 2003. The Strictly judge supports CALM (the Campaign Against Living Miserably), a charity leading the movement against male suicide – the single biggest killer of men under the age of 45 in the UK.
Shirley recently took part in Comic Relief, climbing Kilimanjaro in order to raise awareness of the issues around men's mental health.
Shirley says, "I think if we'd been able to put my brother David in touch with a fantastic organisation like CALM he might have been saved. When he died 16 years ago, there was a culture of men not sharing their feelings. I think, however, that things are on a positive track.
"People are less frightened to talk, and there are organisations like CALM, poised to offer support. It was too late for my brother, but if through raising awareness even one life is saved, then I will have honoured his memory."
2. Kate Garraway, 52: the NHS and Royal College of Nursing
Kate has been lending her support to medical professionals, local hospitals and the NHS over the past 20 years. To help fundraise, she has run the London Marathon and climbed the Three Peaks, among many other escapades. She has campaigned with midwives and is an ambassador for the Royal College of Nursing, which celebrates the achievements of nurses.
Kate says, "I have had many personal experiences with the NHS and it's imperative that we keep shouting loudly about our country's unsung heroes."
3. Fay Ripley, 53: breast cancer care
Fay supports Breast Cancer Care and is heavily involved in their annual Afternoon Tea campaign. She also learned about the breast cancer storyline for her character in the hit series Cold Feet.
Fay says, "There are 691,000 people in the UK living with breast cancer, and Breast CancerCare is there to make sure no one faces it alone. By getting your fundraising kit and hosting an Afternoon Tea this summer, you can raise money while eating cake with your friends and family – it's truly win-win. Visit breastcancercare.org.uk/cuppa"
BRAND NEW DIRECTIONS AWARD
Inspiring entrepreneurs who have followed their dreams
1. Henrietta Morrison, 51: the pet food guru
Henrietta quit the final stages of a garden design course and remortgaged her house in order to get her natural, nutritious pet food company off the ground.
The idea for Lily's Kitchen came about when Henrietta's Border terrier, Lily, became ill and refused to eat. Henrietta began cooking meals for Lily using fresh meat and vegetables dug from her own garden. From seven initial products for dogs, she now has 90 in her range, and is now stocked through Ocado, Waitrose, Tesco, Sainsbury's and Pets at Home.
Henrietta has 67 employees and enjoys an annual turnover of £40 million. The company has recently been granted the Royal Warrant and has become a B-Corp – a business striving for positive social and environmental impact.
Henrietta says, "When I started out I knew nothing about the pet food sector, so it was a big risk, but I was propelled by a sense of urgency through my experience with Lily. We were the first pet food company to use real meat in pet food, and I love breaking conventions, making a difference to the pet food category, choosing suppliers with high ethical standards and continuing to innovate."
2. Claire Harris, 58: the party planner
Claire left a corporate career with iBM to launch partyware company, Talking Tables, from her home in south London, back in 1999. At that time, millennium celebrations were being planned all over the country, but although there were a few companies ordering to cater and dress large-scale events, there was nothing for informal gatherings at home. Clare spotted a gap in the market for sophisticated, stylish party accessories. She has since grown the business to a £16 million turnover, and her products are stocked in large-scale retailers, such as Selfridges and John Lewis & Partners.
Clare says, "My business came from a love of bringing people together and seeing how the little extras changed the dynamics of a gathering, literally getting the table talking.
"During my corporate career, when I had an off day, I would always think 'I want to run my own business', but through my twenties and thirties, I enjoyed the perks of being in a salaried job, with a company car and great colleagues. However, my father was a business owner and I always felt that one day I would be too. I think my success is down to the fact that I noticed a gap in the market and acted on it – I think women make great entrepreneurs precisely because they can identify new markets born out of their own lives and passions.
"I also had the strength to follow my belief that if I wanted something, then others would want that product also. The party product sector had, until then, assumed cheap and cheerful was key, but I was certain that others, like me, would pay a little more for something that really looked great – and I was right. It's never too late to start a business. If it remains a dream and passion and you still have the drive, stamina and willingness to learn, then age need not be a barrier."
3. Jane Atherton, 58: the menopause mentor
Jane worked as a nutritionist and ran a clinic helping women deal with the changes the menopause brings. A member of the British Menopause Society, she currently offers advice and support to over 95,000 women struggling with menopause symptoms via her Facebook page. Having noticed there wasn't a skincare company addressing the issues women experience with their skin during and after menopause, she created Phytomone skincare, which directly addresses the cause of menopausal skin ageing.
Jane says, "We do change during the menopause. I always advise women that adjusting – rather than trying fruitlessly to recapture your old self – makes for an easier transition. You have to think of this as an upgrade; eating healthily, exercising and scheduling 'me time' so you can enjoy life to the fullest.
"I am very proud to have revolutionised the skincare industry for women in midlife. Mature skin should never be treated like young skin. It requires different ingredients to be able to reach its full potential. My brand, Phytomone, is a specialised collection of products based on phytoestrogen technology to address the main cause of skin ageing – hormonal decline."
CHANGING OUR COUNTRY AWARD
Working to improve our lives and those of our children
1. Patrice Lawrence, 51: the author promoting diversity
Patrice worked in the voluntary sector for 20 years before coming up with the idea for her debut novel. Orangeboy (Hodder) is about a young black teen sucked into a spiral of bad decisions, and deals with hugely topical issues, such as gangs and drugs. It won the Waterstone's Prize for Older Children's Fiction and The Bookseller's YA Book Prize. Patrice's latest novel, Rose, Interrupted, is out in July.
Patrice says, "I was a compulsive reader and writer as a child. I never believed I could be an author though because people that looked like me just couldn't be, could they? And children that looked like me could never be protagonists in their own stories.
"I never read the Enid Blyton boarding school series, for example, because I knew I'd never see anyone like me in them, so I'm excited and honoured to have been asked to enroll a black girl in the school in the Malory Towers reboot.
"I aim to write books where there's hope. A schoolboy recently said one of my books had given him flashbacks because his life in care so closely mirrored that of my character. The fact that young people like him can recognise themselves in books feels incredibly important to me."
2. June O'Sullivan: the woman securing great childcare for all
Jane, who is in her fifties, is CEO of London Early Years Foundation, the largest social enterprise nursery group in the UK. Under her leadership, the charity's annual turnover has increased from £2 million to £22 million. June was awarded an MBE in the Queen's Birthday honours in 2013 for her services to children.
June says, "As a young single parent, my first experience of nurseries was positively unkind. It left an indelible mark on me and I vowed that I would do something to create nurseries that were wonderfully inclusive places for all children, but especially those from poor and disadvantaged families.
"We are now the largest social enterprise nursery group in the UK, with 37 nurseries currently providing for 4,500 children, 40 per cent of whom access subsidised places. We continue to develop and grow, and show that our model can change the world one child at a time."
3. Chantal Hughes, 51: the woman fighting abuse
Chantal is Chief executive ofThe Hampton Trust, which supports victims and tackles offenders in domestic relationships. Chantal and her team design and implement courses and interventions aimed at breaking the cycles of abuse, o ending and exploitation. This includes the CARA (Caution Against Relationship Abuse) initiative, which is the first of its kind; it has been so successful, it has been rolled out to police forces across the country.
Chantal says, "My first career in banking wasn't really a considered one, but an incident there led directly to my new path. A young woman in my team suffered trauma following the kidnap, rape and murder of her best friend. Management, disinterested in the empathy she needed to recover, tasked me to dismiss her.
"Instead I dismissed myself, studied psychotherapy and began work in the charitable sector, leading projects for care leavers, young o enders, sex workers and domestic abuse survivors. I went to The Hampton Trust to cover a maternity post in 2006 and, 13 years on, I'm now CEO. My role provides opportunities to work more creatively in the area of domestic abuse and criminal justice. The best days are when my team sits around the table sharing ideas. I love it when our ideas become deliverable interventions and we start to make a difference on the ground."
SMASHING THE GLASS CEILING AWARD
Defying expectations to reach the top leadership roles
1. Minette Batters, 50: the Farmer's Union President
Minette is the current President of the National Farmers' Union and the first woman to hold the post. A tenant farmer in Wiltshire, she began farming in 1998 with just 20 suckler cows. She now has 300 beef cattle, a small flock of pedigree sheep, an arable rotation and a wedding venue. Minette co-founded the campaigning initiatives Ladies in Beef and Great British Beef Week.
Minette says, "I grew up on the family farm and was in love with it, but my father was very resistant about me taking over. He thought farming wasn't for girls, but the more I was told I couldn't do something, the more I wanted it. My brother did not want to farm so I was determined to get to the tenancy back. I first got involved with the NFU because I saw it as the only way to drive change, not just with government but with the food industry too."
2. Jo Whitfield, 50: the Chief Exec for Co-op Food
Jo is Chief Executive for Co-op Food. Jo has been in the post at the Co-op for four years, and has worked her way up from Retail Finance Director to be the first female CEO in the grocery industry, and led Co-op's buyout of Nisa.
Jo is passionate about nurturing talent. She is an Ambassador for teen mentoring organisation Girls Out Loud, and has recently pioneered a new network for the grocery industry, launching Grocery Girls.
Jo says; "There still aren't enough women at the top in business. More needs to be done to nurture female talent. It's important boardrooms reflect the diversity of society and the customers they serve. Attitudes are slowly changing, helped by women in senior roles who act as great role models."
3. Cally Palmer CBE, 61: the woman leading the fight against cancer
Cally is Chief executive of The Royal Marsden NHS Foundation Trust, a specialist cancer centre rated outstanding by the Care Quality Commission. In 2015, she was also appointed national Cancer Director for the NHS. Cally has led a number of initiatives to improve survival and quality of care for patients, ensuring the early detection of cancer through rapid diagnosis and assessment, and new facilities. She speaks regularly on women in leadership, and mentors senior women and doctors in training.
Cally says, "I am very proud to work for The Royal Marsden and the NHS, where we have seen the most incredible advances in our ability to diagnose and treat cancer successfully, particularly over the past decade. The quality of expertise I see every day and the commitment of our staff, who do the very best for our patients, is humbling and inspiring."
Look out for future updates on our Amazing Women Awards 2019, in partnership with Hotter. Next up, you'll hear about the incredible women in our three reader-nominated awards shortlists.
Sign up to our free daily email for the latest royal and entertainment news, interesting opinion, expert advice on styling and beauty trends, and no-nonsense guides to the health and wellness questions you want answered.
Kelly is the former Digital Editor of womanandhome.com. She joined the brand in 2015 and left in March 2022. With over 15 years of experience in digital and print journalism, Kelly has worked for some of the UK's most prestigious publishers, including The Guardian, Shortlist Media, Time Inc, and now Future Publishing. She specializes in women's lifestyle and has been nominated for two PPA awards throughout her career. In the past, she had provided expert advice and comment for the BBC and Channel 4 about fashion and feminism. Kelly also guest lectures at the London College of Fashion about digital fashion media.