This plum chutney is great with cold meats, especially duck or pork. Also try it with strong cheeses or a pork or game pie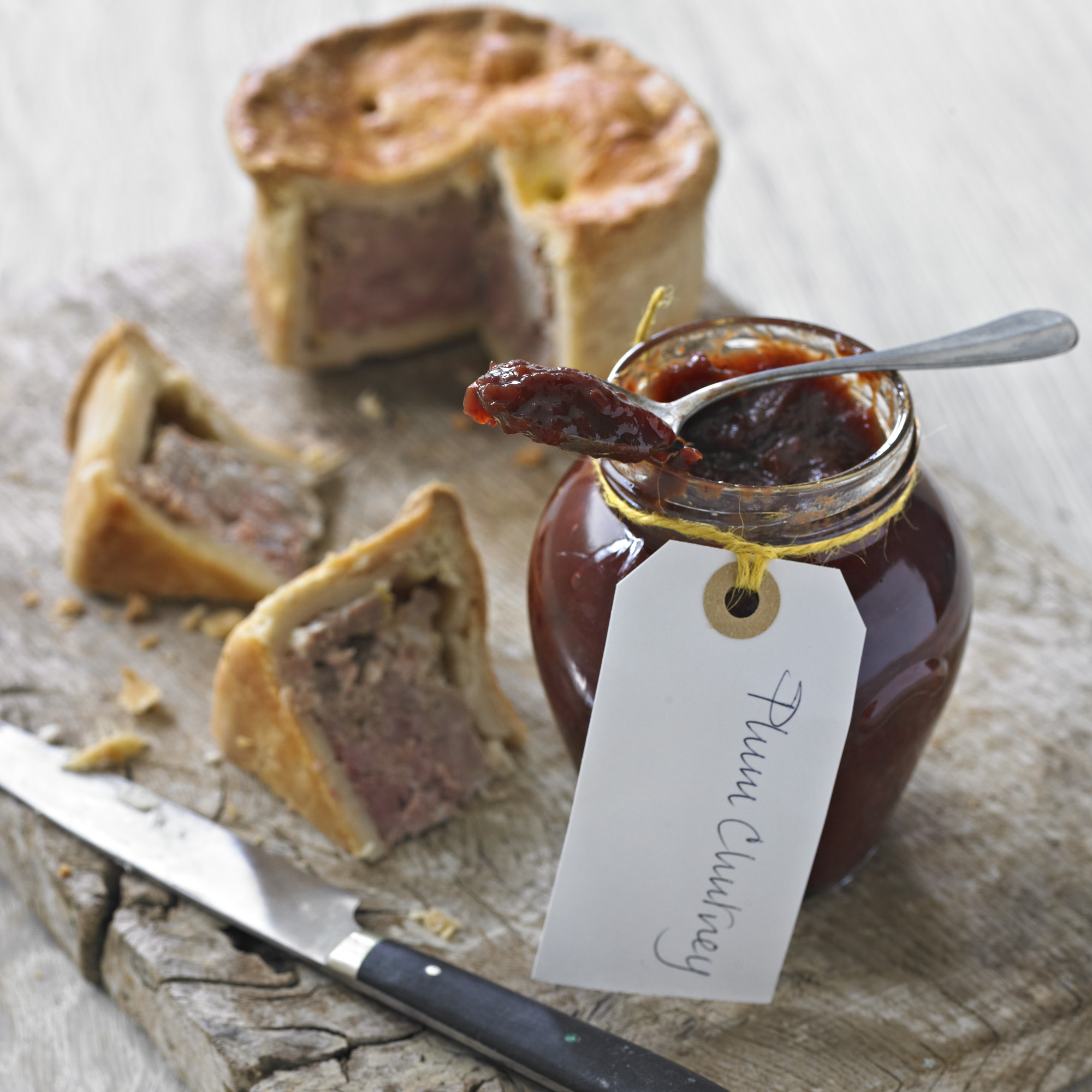 Ingredients
1kg plums, halved and stoned
2 medium sized Bramley apples (approx 350g, 12oz), peeled, cored and chopped
250g onions, chopped
150g raisins
250g light muscovado sugar
500ml red wine vinegar
1 cinnamon stick
1 heaped tsp ground ginger
1tsp ground allspice
2tsp salt
You will need:
A preserving or non corrosive pan
Sterilized jars
Vinegar proof lids
Tip
Remember that chutneys become thicker when cold. Always label the jars when cold so that the labels stick.
Preparation
Plum chutney is a great way to use up a glut of plums if you've got a tree in your garden, or just a really lovely weekend project when plums are in season and you can buy them in abundance in the supermarkets. This chutney recipe goes really well with cold meats and strong cheeses which makes it ideal for a dinner party or even to serve up with some leftovers for a speedy dinner that you can pick at.

This recipe needs at least a month to mature before it's ready to be consumed, so it's perfect to make when plums are in season around August, September and October so it's ready for around Christmas time. If you put it in nice jars and wrap it in ribbon, it makes a lovely edible gift that's all the more special for being homemade.

This is such an easy plum chutney recipe that you'll find yourself making year after year and it's well worth the wait!


How to make Plum Chutney
Put all the ingredients in the pan on a medium heat and bring slowly to the boil, stirring occasionally until the sugar has dissolved. Turn the heat down to a simmer and leave to cook until well reduced and thick, stirring often as it thickens so that it doesn't catch on the bottom.

Pot into hot sterilized jars and seal. Leave the chutney to mature for at least a month before eating.
Daily Email
Get the best entertainment news, recipes, fashion, beauty and wellbeing advice for you. For FREE.
Sign up