Weekly horoscope: Monday 6th April - Sunday 12th April
Curious to know what the week has in store for you?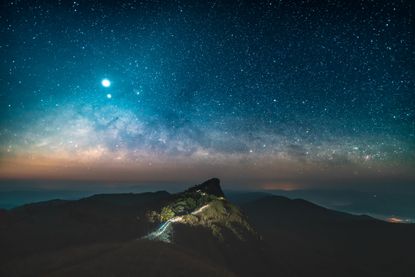 (Image credit: Getty Images)
Read your weekly horoscope from our expert astrologer Sally Morgan, and discover what's in store for the week ahead...
Our weeklyhoroscope will help you plan your next seven days with our astrological updates. Our resident world-class psychic astrologer forecasts for every star sign on love, family, career and more. So check back weekly for our free forecast!
Weekly horoscope, Monday 6th April - Sunday 12th April
Weekly Horoscope: Aries
You'll feel like an adrenaline junkie this week, as you find a new lease of life. You'll be inspired to do more when it comes to doing something health related.
Weekly Horoscope: Taurus
Pushing yourself forward will have great outcomes for you in terms of gaining a new start somewhere or concerning a promotion at work.
Weekly Horoscope: Gemini
It's all about love and romance for you. Get ready for a new start or look to brighten up an old situation by setting romantic dates that will win you favour.
Weekly Horoscope: Cancer
Try not to bury your head in the sand over a situation that you need to really face. Sticking to your gut instincts will lead you to a successful outcome.
Weekly Horoscope: Leo
Two heads are better than one when it comes to making an important decision. Sharing something with someone close will help you to decide what to do more easily.
Weekly Horoscope: Virgo
Don't run out of steam this week, as concentrating on getting fit will lead to amazing health rewards. Treating yourself to a new outfit will keep you motivated.
MORE:Energising wellness retreats in the UK under £250
Weekly Horoscope: Libra
Let your imagination run wild, Libra, as a new idea may well bring you success. Look into taking up a creative activity and show others just how skilled you are.
Weekly Horoscope: Scorpio
Money matters or investments are ripe for the picking this week. A shrewd judgement will bring a welcome injection of cash. Be sure to spend it wisely though.
Weekly Horoscope: Sagittarius
Time to showcase your abilities. Your quick wit and charm will please the boss, and you will be given some food for thought regarding your career.
Weekly Horoscope: Capricorn
It's a great week to research what's on offer in terms of a break. Something different grabs your attention, so you may need to convince someone it's a good idea.
Weekly Horoscope: Aquarius
Having faith in your choices is a must this week, and you will not be disappointed when everything comes together for you. A great time to follow your heart.
Weekly Horoscope: Pisces
A little bit of pruning may be required by letting go of things that no longer suit you or your lifestyle. A change in style or outlook will brighten your expectations.
Sally Morgan is Britain's best-loved psychic. She was just four when she reportedly saw her first spirit and since then has developed her skills to be one of the top 5 psychics in the UK. She even read for Princess Diana for four years.