The Queen visited by Lady Louise as her recent health woes remain of concern
The Queen's spirits are no doubt being lifted by her granddaughter who was said to be very close with Prince Philip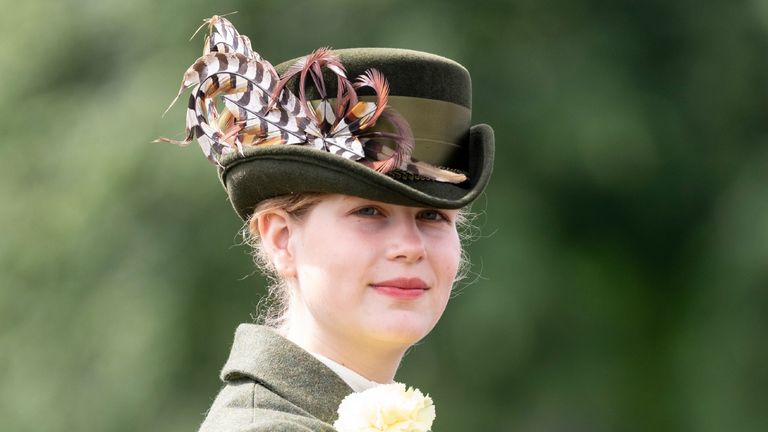 (Image credit: Photo by Mark Cuthbert/UK Press/Getty Images)
The Queen was visited by Lady Louise at home in Windsor, where she's taking some much-needed rest. Photographs of the young royal, out horse riding with her uncle the Duke of York, on the grounds of Windsor Castle, show her in great spirits.
The Queen has taken a step back from royal duties to rest at Windsor Castle, following a hospital stay.
Photos of her youngest granddaughter Lady Louise out horse riding on the estate's grounds have many believing she's receiving visitors.
The Queen's youngest granddaughter Lady Louise, who reminds the Queen of herself as a young woman, was spotted making the most of the October sunshine on Windsor Castle estate.
Lady Louise, who has become the 'royal family's secret weapon,' was photographed out horse riding alongside her uncle the Duke of York and a female groom. It appeared, despite reports that Prince Andrew has no way back to royal life as his family will 'never let it happen,' that he's in good spirits.
The photos, published in the Daily Mail, come as the Queen missed church for the first time in years, as fans worry about her health. Her absence added to concerns following the revelation from Buckingham Palace that the Queen spent a night in hospital.
Their statement read, "Following medical advice to rest for a few days, the Queen attended hospital on Wednesday afternoon for some preliminary investigations, returning to Windsor Castle at lunchtime today, and remains in good spirits."
Those good spirits are no doubt bolstered by a visit from Lady Louise, who is understood to have had an especially close relationship with her majesty and her late husband, Prince Philip. She not only shares the late Duke of Edinburgh's love of carriage driving but also took part in the Duke of Edinburgh Award.
Discussing her relationship with the award and her grandfather, during the Prince Philip documentary she said, "There was certainly an element of making my grandfather proud and honoring him by taking part in the award that has been so much of his life's work. I definitely hope I have made him proud."