The incredible unforeseen connection Prince Harry and Meghan Markle's daughter could share with Princess Diana
This would be special...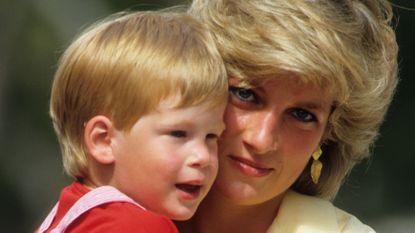 (Image credit: Photo by Georges De Keerle/Getty Images)
Prince Harry and Meghan Markle's baby daughter may turn out to share an incredible connection with her grandmother, Princess Diana, when she is born.
---
On Valentine's Day this year, the Duke and Duchess of Sussex confirmed that they are expecting their second child.
In March, the couple announced that the second Sussex baby is a girl, during their Oprah Winfrey interview, also telling her that the second addition to their brood will be the last. With Meghan due to give birth in the summer and it's likely that her and Harry's little girl will arrive on July 1st - which was Princess Diana's birthday.
Prince Harry and Prince William's late mother would have turned 60 on July 1st this year, so it will be an especially poignant day if Meghan and Harry's daughter makes her arrival then.
Meghan is thought to be due to give birth in mid to late June or early July, so it's fairly likely that Princess Diana's granddaughter could share a sweet connection with her by having the same birthday.
It's also expected that Harry and Meghan will include Diana's legacy in their daughter's name, using Diana for either a first or middle name for their baby.
Meanwhile, royal fans have predicted that they will name her Lily, after Queen Elizabeth II.
It is generally royal tradition to use Royal Family names when naming children.
Meg, I was there at your wedding to witness this love story begin, and my friend, I am honoured to capture it grow. Congratulations to The Duke and Duchess of Sussex on this joyous news!#remoteshoot #shotonipad #shotbymisan pic.twitter.com/3iSYjydVj9February 14, 2021
See more
Princess Eugenie recently paid tribute to Prince Philip when she named her son, August Philip Hawke Brooksbank, and Zara Tindall did the same with her newborn son, Lucas Philip Tindall.
Harry and Meghan also honored Prince Philip and the Windsor name with their son Archie Harrison Mountbatten-Windsor's moniker.
For their new daughter, they may even decide to stray from names associated with Prince Harry's royal roots, in light of their current tensions with the family.
Prince Harry returned to the UK earlier this month for the first time since stepping down from his role as a senior royal, leaving pregnant Meghan back in LA as she was advised not to fly.
It was the first time Harry was reunited with his family since his and Meghan's globally-watched Oprah Winfrey interview.
While it was hoped that the trip home for Prince Philip's funeral would help to build bridges, it's been reported that Prince Harry was given "frosty" treatment from some relatives and he is allegedly set to decide not to attend Princess Diana's memorial with Prince William in the summer.