The Queen's criticism at the Duke and Duchess of Cambridge's wedding revealed by lip reader
There was one thing the Queen didn't seem happy about...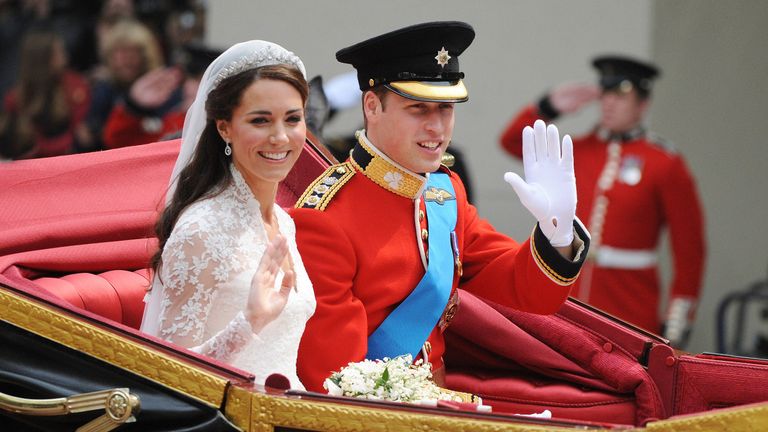 (Image credit: Photo by Samir Hussein/WireImage / Getty Images)
A 'disapproving' comment made by the Queen on the Duke and Duchess of Cambridge's wedding day has been revealed by a lip reading expert. 
A criticism made by the Queen at the Duke and Duchess of Cambridge's wedding has been revealed by an expert lip reader. 
Her Majesty is thought to have made a 'disapproving' comment as Kate and William rode away in their horse-drawn carriage after the ceremony. 
This royal news comes after it was reported that the creators of The Crown are struggling to cast one particular royal for season five of the Netflix smash hit. 
---
Prince William and Kate Middleton married at Westminster Abbey in April 2011 and will mark their ten year anniversary later this week, with a special BBC documentary about their first decade of marriage set to air.
The huge royal wedding was watched by millions across the globe as Duchess Catherine stunned in her famous wedding dress, designed by Sarah Burton for Alexander McQueen.  
And there was one comment that Her Majesty the Queen was seen making on the big day that has been deciphered by pro lip reader, Tina Lannin.
Tina, who was born deaf, has worked for police forensic teams helping to uncover unheard comments for years, so she was able to suss out what was being said during moments of the royal wedding the public couldn't hear on TV, according to CBS News. 
While Prince William's grandmother was seen turning to Prince Philip and saying "it was excellent" after the wedding ceremony, she reportedly didn't hold back on airing one particular criticism as the newlyweds rode away in their fairytale-esque carriage.
In a moment of disapproval about the couple's choice of ride, the Queen is believed to have said, "I wanted them to take the smaller carriage."
Duchess Camilla of Cornwall then chipped in, reportedly adding, "It all went very well."
Some sweet remarks and cheeky jokes from the wedding have also been uncovered, with Prince William being believed to have told Catherine's father, "We're supposed to have just a small family affair," while surrounded by the couple's 2000 guests. 
The Duchess of Cambridge's sister Pippa Middleton, who recently welcomed a baby girl, was seen telling Kate, "You look amazing," as she made her way to the Abbey. 
As she arrived at the altar to meet Prince William, the future king was seen telling his wife-to-be, "You look lovely... You look beautiful."