Kate Middleton's heartbreaking parking lot phone call when Prince William made this major decision
Kate Middleton and Prince William's fairytale romance had a blip back in 2007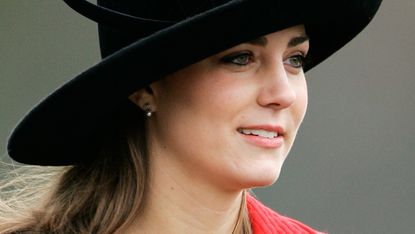 (Image credit: Photo by Tim Graham Photo Library via Getty Images)
Kate Middleton's heartbreaking parking lot moment that occurred during her and Prince William's 2007 break up has been detailed by her former colleagues.
Kate Middleton and Prince William briefly called time on their romance back in 2007, just a few years before tying the knot at Westminster Abbey in April 2011.
Kate suffered a sad moment in her work parking lot when she and William had a particularly heartbreaking phone call, according to her former coworkers.
This royal news comes after Kate's clubbing outfits from her pre-royal party days went viral online.
---
Kate and William share one of the most famous love stories in royal history and are parents to Prince George, Princess Charlotte and Prince Louis, living happily between Kensington Palace and Amner Hall.
However, it wasn't always smooth sailing for the loved-up Cambridges, who were first introduced when they were young university students.
The Duke and Duchess of Cambridge met at St Andrews University in Scotland way back in 2001 and quickly became close friends before their relationship blossomed.
After graduating, Kate went on to work as a fashion buyer for Jigsaw, while William pursued his military career and the relationship began to feel strained, with the couple even splitting at one point.
And one of Kate's former colleagues recounted witnessing devastated Kate have a phone call with William as the pair agreed to end things.
"It was clear it was William - and definitely a tiff. Around the middle of the day, she was pacing the car park outside the office on her mobile. A few people noticed because it's a pretty unusual thing to do. She'd deliberately gone outside to take the call because she didn't want to be overheard," the insider reportedly told The Mirror at the time.
"Kate was walking up and down and looking upset as if she was having an argument. But she didn't cry. Word went round that it was William and they were having problems," the royal insider is said to have added, before saying, "When she came back to the office she didn't say a thing and disappeared for the rest of the day."
While the parting of ways for Kate and William was short-lived, it's believed that Kate was distraught by the split.
The Duchess even touched on it during her and the future King's iconic 2010 engagement interview, confessing that the time apart was good for her.
"I think at the time I wasn't very happy about it, but actually it made me a stronger person," Kate admitted.
"You find out things about yourself that maybe you hadn't realised, or I think you can get quite consumed by a relationship when you are younger and I really valued that time for me as well although I didn't think it at the time. Looking back on it."