Lady Gaga goes makeup-free and we can't get enough of her stunning natural look
Fans are gushing over Lady Gaga's makeup-free, natural look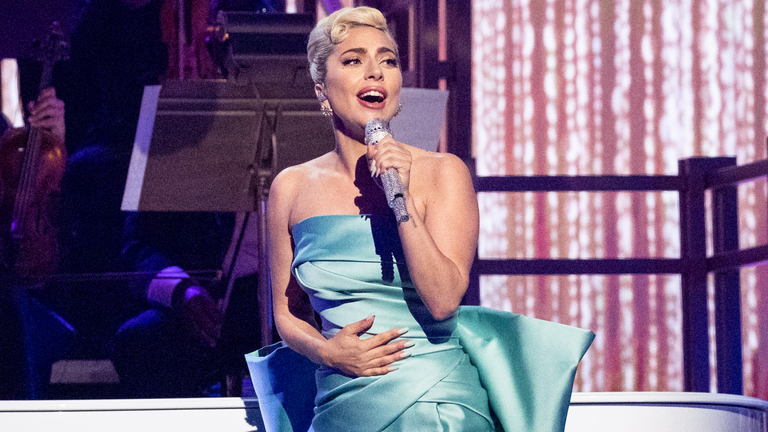 (Image credit: Emma McIntyre / Staff)
We're not used to seeing Lady Gaga not dolled up, which is why when the 36-year-old singer gives us a glimpse of her natural look we all, well, go gaga over her.
In a new video posted on her Instagram story earlier this week, Lady Gaga, who was snubbed at Oscars 2022 but reacted perfectly to the slight, showed off her makeup-free, natural look while lounging around her home.
Lady Gaga makeup free selfie. Can your fav? Yeah, I didn't think so . . . pic.twitter.com/CNWHgHYRWwApril 21, 2022
See more
---
In the clip, fans were also able to dissect Lady Gaga's loungewear. The gray shorts and cream-colored bralette are in stark opposition to the grandiose ball gowns and eccentric outfits that the multiple Grammy award winner is known for.
Earlier that day, Lady Gaga also posted an actual photo of herself from what we assume to be her own gold marbled bathroom. "Happier than eva... wishin u joy so excited for tour, ready to live that stadium life again," she wrote in the caption to the photo, in which she poses with a gray shorts-and-sweater set and black sunglasses.
Although it doesn't happen often, Lady Gaga has previously shown off her beautiful, natural look to the delight of all her followers. Who can forget her February 2019 photo donning Tiffany & Co.'s iconic, 141-year-old yellow diamond while in a towel and with no makeup on?
But Lady Gaga shines bright off social media as well. Although she was not nominated for her stellar performance in House of Gucci at this year's Oscars, she did manage to leave viewers in tears when she helped Broadway legend Liza Minnelli present the Best Picture award during the ceremony.
During the appearance, 76-year-old Liza seemed to get frustrated by her prompt cards and teleprompter. To settle her confusion, it seems, Lady Gaga spoke about Liza's illustrious career all while holding her hand.
The star also got emotional back in November, when she posted a sweet Instagram tribute to House of Gucci co-star Adam Driver for his birthday. The two actors clearly became friends while on set of the much talked-about movie. "Happy birthday to someone I feel so proud to know," she wrote on Instagram about Adam back then. "I hope you have the best day, I'm the lucky actress who got to learn from you and lead with you every day."
With or without makeup, on or off the stage, Lady Gaga is clearly a class act and a beacon of beauty.
Anna Rahmanan is a New York-based writer and editor who covers news, entertainment, lifestyle, culture, food, travel and more. Read more of her work at annabenyehuda.com.