The surprising thing that hotel housekeepers wish you wouldn't do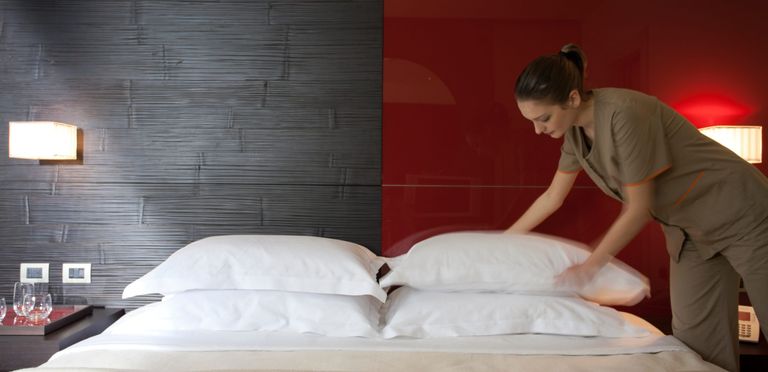 A hotel chambermaid has revealed that guests' making their beds perfectly before checking out is actually not as helpful as you might think.
The reason for this is that they have to change the sheets to get ready for the next guest(s) anyway, so it's easier if it looks like it's been slept in. Speaking to Insider, the former worker at an Australian hotel had this to say.
"If you've slept in your bed, you don't need to make it when you leave. If we think you haven't used the bed at all, we may not change the sheet. So it's better if it looks slept in."
We know it might seem like the polite thing to do, as we all (usually) make our beds in the morning, but it can actually be pretty unhygienic if the sheets are left unchanged.
MORE: 8 dreamy adults-only hotels to escape the summer crowds
There are definitely things you can do to help though, if you want to. Another housekeeper shared their thoughts on what guests can do to make their job easier.
"It's not necessary or expected, but it's really sweet when a guest takes apart their bed before they leave because you have to clean so many rooms in a certain amount of time. It helps a lot. Also, put all your used towels in a pile together on the floor."
So ironically, it's more helpful to leave your room messy with all your bedding stripped and towels on the floor, instead of trying to make things look pristine. It might feel strange doing it, but don't worry, you'll be helping!
MORE:10 luxurious London spa hotels worth splashing out on
We all try to be the courteous hotel guests, so why not try this simple thing before you check out? Your hotel will thank you for it.
If you love jetting off on luxury breaks whenever you can, there's also an amazing chance to become a paid spa reviewer.
The competition ends today though, so get your entries in fast if you think you'd be the perfect fit. We're not jealous at all…