Divine diffusers to scent your home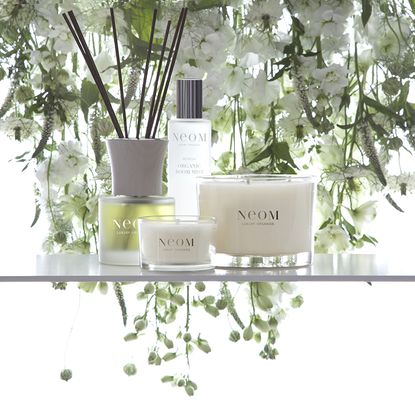 Infuse your home with the most delicate of aromas with a luxury reed diffuser - it's the perfect accent for any stylish interior
Fragranced reed diffusers are a thoroughly modern way to scent your home and are becoming more and more popular. With a wide selection of the most gorgeous smelling perfumed oils available they make a stylish interiors accent.
All the bottles are beautiful enough to display throughout the home and you can control the fragrance intensity by the amount of reeds you use and how often the reeds are turned over.
Made from the highest quality blend of pure essential oils, Neom's organic buchu, nutmeg & ginger reed diffuser (right) will tempt you to invest in the whole collection. £35 from Neom (opens in new tab).
By Theoda Solms Iles
Jo Malone The Orange Flower Scent Surround Diffuser, £56
A brand new and exciting collaboration between Jo Malone (opens in new tab) and Michael Angove produced this gentle scented and beautifully illustrated diffuser.
Bahoma London Jasmine Luxury Fragranced Reed Diffuser
Jasmine was used in the Old World to perk up the spirit and as an aphrodisiac. Here Bahoma captures this sweet natural flower scent designed to help you bring fragrance to all your personal living spaces. £29.95 for 100ml from Bahoma
Cochine Vietnamese Rose & Delentii Diffuser
A delightful freshness makes this another favourite diffuser combining top notes of rose and bergamont with slight hints of violet, rosewood and the special orchid, delentii. £49 from Cochine (opens in new tab)
OKA Scent For Living Diffusers
Choose from a fabulous selection of wonderful home fragrances and make it your own by choosing a luxury holder suited to your interior style and tailored for each room. We love the shagreen-look ones or the coloured glass vases to hold the reeds and perfumed liquid. £38 from OKA (opens in new tab)
Diptyque un Air de Diptyque
Highly fragranced air is breathed through this beautiful ceramic and metal diffuser. A new innovation to scent your home with note-perfect sealed capsules in five favourite fragrances from the Diptyque family. £240 from Diptyque (opens in new tab)
The White Company Blanc Set Diffuser
Blanc is a crisp and spirited floral scent, blended with notes of white geranium and juniper berries. A truly modern and carefree home fragrance. £35 from The White Company (opens in new tab)
Linari Finest Fragranced Diffusers
A collection of perfect scents: Scuro, silky wood and fruit notes. Rubino, a soft floral bouquet. Avorio, delicate Mediterranean florals. Presented in elegant Italian glass bottles with maple wood lids. £75 from Amara (opens in new tab)
Dr Vranjes Fuco Warm & Animated Diffuser
The ultimate in diffuser quality this brand is a real favourite amongst those in the know. The Fuco scent combines lemon flowers, cloves, sandalwood, patchouli, vertiver and with essences of nutmeg and ginger, diffuses a real sense of warmth. An ideal choice for the winter months. £28 from senti (opens in new tab)
ESPA Aromatic Bergamot & Jasmine Reed Diffuser
Recreate a calming spa experience at home with ESPA fragrance blends designed to do just that. Top notes of bergamot will rejuvenate your senses while jasmine and the hint of cedarwood will revitalise your home. £35 from ESPA (opens in new tab)