Carnaby launches first 360° virtual tour so everyone can enjoy their Christmas lights
We can now enjoy Carnaby Street's spectacular installations at home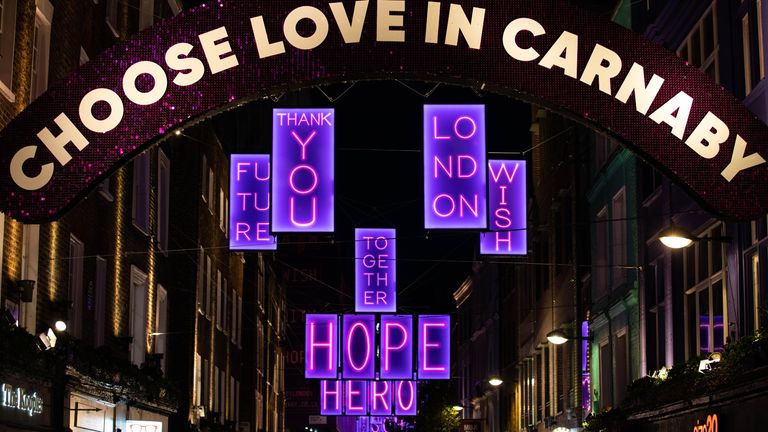 (Image credit: Dave Parry)
Carnaby Street's stunning light-up installations are always a highlight of the festive season. This year's are no exception and they were unveiled last week. Now with lockdown restrictions in full force, Christmas shoppers won't be enjoying the spectacle on the street until at least 2 December.
But for those of us that can't bear to wait for these stunning Christmas light installations to brighten our days, we no longer have to.
Now Christmas lovers across the globe can get the full experience all from the safety of their own homes.
How can we view the Christmas light installations at home?
Now we can all experience the festive installations with the newly launched 360° online tour. This amazing new feature is available exclusively at Carnaby.co.uk. For anyone sadly unable to spend the run-up to Christmas with their nearest and dearest, the tour even has a live function.
The live feature allows users to join up with someone else from anywhere in the world to take the tour together. This is a heart-warming way to share this one-off Christmas experience and make this challenging festive season all the more special.
What can users expect to see in the Carnaby 2020 virtual tour?
As soon as they join the tour, users will be taken under the world famous Welcome to Carnaby Street arch. They are then given the option to choose whether to walk down and experience the tour at street level or 10ft high in the air.
With this stand-out option, users can glide through the giant pink Christmas light installation like never before and make some truly spectacular memories.
This year's Christmas installation theme is 'Choose Love in Carnaby' and is in collaboration with aid organisation, Choose Love. The series of pink neon light boxes are suspended all down the length of Carnaby Street and feature words that spread a message of love and unity.
These include words such as believe, heal, brave, love and family. Each empowering word sends a message of hope and pays tribute to the strength and courage of both Londoners and the whole of the UK.
After exploring the installation on Carnaby Street itself, users can then take a turn into nearby Kingly Court which is covered in thousands of sparkly Christmas lights. A visit to the pretty cobbled Newburgh Street with its pink festoon lights is well worth a visit. And Ganton Street's giant pink lightbulb installation is the perfect addition to this magical tour.
The Choose Love installation campaign
Choose Love ambassador Dermot O'Leary has spoken of the powerful meaning behind the installations this year.
He said, "Each year the Choose Love shop comes to Soho giving shoppers the chance to do something beautiful for their fellow humans as winter approaches, buying things like blankets, hot meals and kids coats for refugees and displaced people across the world."
Dermot added that, "This year it will be magical to see Choose Love in lights on Carnaby street too. It's been a tough year for so many people so this message of solidarity, hope and connection is now needed more than ever before."
The Choose Love pop up is set to return to Carnaby Street this December after lockdown restrictions ease.