Amanda Gorman steals show from JLo and Gaga with powerful message about unity in the US
The 22-year-old US Youth Poet Laureate is the highlight of the Biden-Harris presidential inauguration.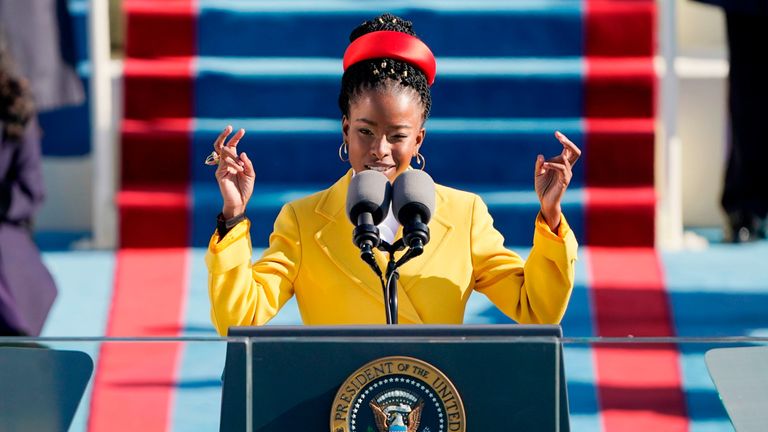 (Image credit: PATRICK SEMANSKY / Getty Images)
Amanda Gorman, the 22-year-old Poet Laureate of America, completely stole the show from Lady Gaga and Jennifer Lopez when she performed her original poem 'The Hill We Climb.' 
Lady Gaga and Jennifer Lopez both performed at the 2021 inauguration, setting the bar for excellence extremely high. 
Lady Gaga's voice was enchanting as she sang "The Star-Spangled Banner," fans gave as much attention to her remarkable outfit as her amazing voice. Gaga wore a ballooning red skirt and enormous golden bird brooch with her hair tied in a halo, plaited around her head. 
Read more from Woman & Home:
Jennifer Lopez also stunned in an all-white number as she sang a rendition of "This Land Is Your Land" mixed with "America the Beautiful" and, unexpectedly, her song, "Let's Get Loud." J.Lo made a powerful statement with this monochrome outfit as white is the color of the suffragettes and this ensemble acted as an important reminder about women's equality in the U.S. 
But then came Amanda. 
Amanda Gorman instantly became the star of the show with her powerful poem "The Hill We Climb."
The original work from Gorman contained a powerful message about race relations and civil unrest in America. 
Gorman discussed the Capitol riots in her poem, saying, "We've seen a force that would shatter our nation rather than share it, would destroy our country if it meant delaying democracy. And this effort very nearly succeeded. But while democracy can be periodically delayed, it can never be permanently defeated."
Race and identity are also featured heavily in Gorman's poem as she described "a skinny black girl descended from slaves and raised by a single mother [who] can dream of becoming president, only to find herself reciting for one." 
Her performance has been celebrated by spectators who claim that she is following Maya Angelou's footsteps.
Oprah Winfrey wrote on Twitter, "I have never been prouder to see another young woman rise! Brava Brava, @TheAmandaGorman! Maya Angelou is cheering—and so am I."
Amanda Gorman made history as the youngest presidential inauguration poet and just the sixth to perform at an inauguration ceremony. 
She was also the first person in the US to hold the title of Youth Poet Laureate after she won the title in 2017 against 5 other finalists. 
Gorman was named Youth Poet Laureate of Los Angeles when she was just 16. She then became the National Youth Poet Laureate while she was studying at Harvard three years later. 
Michelle Obama took to Instagram to celebrate Amanda Gorman's performance and her "Black girl magic." She stated, "With her strong and poignant words, @amandascgorman reminds us of the power we each hold in upholding our democracy. Keep shining, Amanda! I can't wait to see what you do next."
Fellow writer and performer Lin-Manuel Miranda gushed, "You were perfect. Perfectly written, perfectly delivered. Every bit of it." 
Sarah Jessica Parker also took to Instagram to write,  "@amandascgorman "A new dawn blooms..."Thank you for putting in glorious prose and exquisite and generous spirit."
Gorman was raised in California, has a twin sister named Gabrielle, and was raised by her single mother Joan Wicks, who she referenced in her inaugural poem. 
Like President Biden, Amanda Gorman also suffered from a speech impediment as a child, she also suffered from an auditory processing disorder that makes her hypersensitive to sound.
It is speculated by the Los Angeles Times that the poet was selected by the new FLOTUS, Dr. Jill Biden. The Los Angeles Times explains, "The first lady, Jill Biden, is a fan of her [Amanda Gorman's] work and convinced the inaugural committee that Gorman would be a perfect fit."