The best food processors—slice, dice, and shred in seconds with these top models
The best food processors help to make chopping vegetables, whizzing baby food, mixing dough and baking a doddle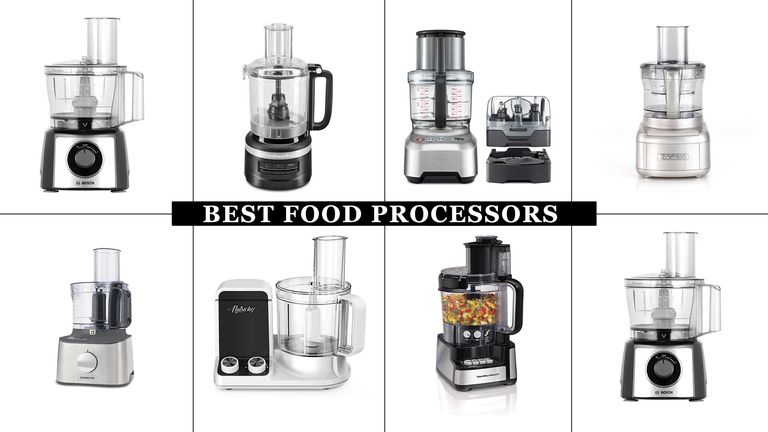 (Image credit: Future)
Food processors are the ultimate time-savers in the kitchen—doing everything from whisking, slicing, shredding, and pureeing, to even kneading dough for cakes and bakes. But as it goes with most kitchen appliances, there is so much choice. Enter our guide on the best food processors, designed to help you find the perfect match for your needs and budget.
These handy kitchen gadgets can be instrumental in helping novice and expert chefs to prepare delicious, healthy dinners from scratch. With a food processor, you can make everything from salsa to nut butter, bread, falafel, and even hummus—as well as finely chopped herbs, spices, and nuts. So if you're looking for a brand new food processor or an upgrade, we've done the legwork for you by selecting and testing the best food processors for every budget.
Overall, we tested our range of food processors factored in functionality, from the instruction manual and the variety of settings offered. We also assessed cleanability, assembly, how easy each model is to store, and how easy the controls are to use.
Included in the mix, excuse the pun, is the KitchenAid 2.1L food processor, which topped our tests to be crowned as the best food processor overall for its innovative design and powerful performance. We also love the versatile Bosch MultiTalent 3 MCM3501MGB food processor: a budget-friendly appliance that rivals high-end contenders.
How we selected and tested the best food processors
In order to bring you the very best food processors, we looked at machines from a varying range of price points, from both the biggest and most popular brands, as well as some more niche brands, to ensure we had covered every possible option.
When it came to testing, we made sure to evaluate each model based on a few different factors including size and design, ease of use, how well each of its functions and attachments worked, its power, how easy it was to clean, and value for money. We made sure to test each one thoroughly, making popular household recipes in them, to see how well they worked, and to assess any potential niggles, so we could inform you of anything you need to know before purchasing.
What to consider when choosing the best food processor for you
Size and capacity: Even the best food processors can be bulky, so it's really worth considering how much worktop or cupboard space is available in your kitchen. Compact models are a good option if space is limited, but they can still have a bulky kit to store. It's also good to consider the bowl/cup capacity of the food processor—e.g how much food they can mix at a time. Generally, a 2.5L capacity is more than enough for the average household.
Any attachments you might need: There are many food processor attachments available—most models come with a multi-purpose chopping and mixing blade, a dough blade, and usually two reversible discs for slicing and shredding, but some have even more. There can be a whisk attachment or disc, chipping discs (great for making fries) a grinder for spices, as well as personal smoothie cups and blades. Consider which ones you need/want.
Cleaning: Once you've worked out how to use your food processor, you don't want it to be a chore to clean up. For easy care, look for models with dishwasher-safe parts. Or, if you're cleaning by hand, choose a streamlined design that has as few places as possible where food debris can gather. Our rule of thumb: your food processor should be as easy to clean as your best non-stick pans. (And if you need some of those, we got you covered on the types of pans you'll need for kitchen tasks.)
Wattage: Wattage is a good indicator of a food processor's power. Most are between 400-1,000 Watts. However, anything with a wattage of over 500 should be plenty for brilliant processing. It's important to note that wattage doesn't always indicate how well the food processor will work—the general build of the machine is important to consider here too. And small food processors will generally have a smaller wattage.
Budget: Finally, think about how much you want to spend. The best food processors can vary hugely in price, similar to the best induction pans and best blenders. Around £100/$100 is a good minimum, although some can come close to the £1,000/$1,000 mark. So set your budget and stick to it—because spending more doesn't necessarily mean a superior model.
The best food processors as reviewed by our experts
Best overall food processor
Specifications
Speeds: 2
Tools: 3 discs, multipurpose blade, dough blade
Guarantee: 2 years
Wattage: 250W
Reasons to buy
+Twist-free design+Tools store inside+Very powerful
Reasons to avoid
-Moves about a little bit on worktop when mixing
Assembling a food processor can be a pain, especially if there are multiple parts to slot together, or if lids don't lock in place easily. The KitchenAid 2.1L food processor eliminates these problems as one of the best kitchen gadgets. Its bowl simply drops onto the base and the lid hinges neatly on top—saving your wrists from all that wrenching. Another benefit of this hinged-lid design is that it removes the need for extra worktop space (on which to set the lid while you're scraping out the contents of the bowl). Together, these features serve well for organizing a kitchen.
The KitchenAid 2.1L food processor also comes with plenty of power for chopping and mincing—so much so that during testing it did have a tendency to shuffle around on the worktop, meaning you may need to keep hold of it while it's in use. That said, everything we processed went through without any struggle, and while the bowl is slightly too compact for an average loaf, the dough we made in it did rise and bake well. Smartly designed and powerful to boot, this is a solid buy for everyday use, which is why it's one of our best food processors.
Looking for a bargain? Check out our guide on the best KitchenAid deals.
See our full KitchenAid 2.1L food processor review
Best luxury food processor
Specifications
Speeds: 1
Tools: 6 discs, dicing system, multipurpose blade, dough blade, mini bowl with blade
Guarantee: 3 years, plus 30-year motor guarantee
Wattage: 2000W
Reasons to buy
+Multiple tools and accessories+Has ability to peel+Has a handy timer function
Reasons to avoid
-Expensive-Heavy
If time-consuming peeling, chopping, and dicing are what keeps you from preparing home-cooked meals, let Sage's The Kitchen Wizz Peel & Dice lighten the load. This food processor comes with a dizzying array of features to tackle everything from peeling to dicing vegetables, packed into a double-level storage box. There's also a mini bowl and blade for small quantities, plus a "quad" blade that provides additional fine chopping capabilities (when compared to the double blade you'll find with most other processors). It's certainly a pricy piece of kitchen kit, so it's important to consider this one as more of an investment.
In our tests, it made short work of almost everything—the chicken was minced in seconds, while the dicing system turned carrots into neat cubes quickly. It also did a sterling job making and kneading bread dough, but when it came to peeling potatoes, the results weren't the seamless, clean prep we'd hoped for—peel missed and indentations in the flesh meant we had to finish the job by hand. Overall, it's a comprehensive piece of kitchen kit that makes short work of most meal prep.
See our full Sage the Kitchen Wizz Peel & Dice food processor review
Best budget food processor
Specifications
Speeds: 2
Tools: 2 shredding/ slicing discs, whipping disc, multipurpose blade, dough blade, blender, mini chopper/ grinder
Guarantee: 2 years
Wattage: 800W
Reasons to buy
+Some accessories store inside+Good value+Multipurpose machine
Reasons to avoid
-Not all parts are dishwasher safe-Noisy on high speed
For a multipurpose machine that won't blow your budget, look no further than the Bosch MultiTalent 3 MCM3501MGB food processor. While it's a relatively compact appliance, it still manages to pack in a roomy 2.3-liter bowl (with space to whisk up to six egg whites) and enough accessories to serve 50 functions, so you're unlikely to ever be stuck without the right tool. Its one-liter blender jug is great for keeping on hand for soups and smoothies, plus the mini chopper/grinder is sure to get plenty of use for all those smaller jobs that don't require a full-sized processor bowl.
In tests, it performed well, slicing through carrots and chicken with ease, and kneading dough without any problems, making it one of our best food processors to buy. Our only niggle was that the high-speed setting could be a little whiny. However—small but mighty, in a compact kitchen, this machine does a great job. And needless to say, its size is certainly convenient if you're scouring for kitchen storage ideas.
See our full Bosch MultiTalent 3 MCM3501MGB food processor review
Best food processor for families
Specifications
Speeds: 2
Tools: 2 discs, multipurpose blade, dough blade, mini bowl and blade
Guarantee: 5 years
Wattage: 350W
Reasons to buy
+Two bowls+Lightweight and portable+Great for families+Very versatile
Reasons to avoid
-Clunky controls-Awkward to clean-Noisy on high speed
While the smaller version of this makes our pick of the best mini food processors, the larger version is one of the best food processors out there because of how versatile and useful it is. The addition of a smaller bowl that nests inside the larger one is what makes the Cuisinart Easy Prep Pro food processor so great. What's special is that the mini bowl has its own blade and has a seal around the rim, meaning that you can whizz up small amounts of food without getting the main bowl dirty. In short, this expedites kitchen cleaning down to a science.
The food processor equivalent to a Russian doll, this miniature feature is perfect for everything from chopping a handful of herbs, to making a quick batch of hummus or freshly prepared baby food. In tests, it handled making bread dough without any issues, and also worked its way through meat and vegetables easily. The push-button controls can be tricky to get the hang of, plus the spindle is static so has to be cleaned in situ but other than those small irritants, it's one of our best food processors and should prove to be a worthwhile investment.
See our full Cuisinart Easy Prep Pro food processor review
Best food processor for baking
Specifications
Speeds: 2
Tools: 3 discs, multipurpose blade, dough blade, mini chopper, blender, whisk attachment, two lidded smoothie cups, weighing tray, spatula
Guarantee: 1 year
Wattage: 800W
Reasons to buy
+Multiple tools to help with all sorts of tasks+Built-in scales+Compact size
Reasons to avoid
-Heavy-Noisy at high speed
Much like the best cookware and portable induction hobs, the Kenwood FDM312SS MultiPro Compact+ is undeniably versatile. It won't just be your food processor, it'll also be your full-sized blender, mini chopper, personal blender, hand whisk, and scales.
That's because, as well as a whole box of attachments and tools, its base can be used to weigh out ingredients as you go. This means that it's great for bakers—as you can make doughs, batters and other recipes that little bit faster, as well as saving space on your worktop.
Fortunately, alongside all this extra functionality, the basics haven't been forgotten and the Kenwood FDM312SS MultiPro Compact+ still works well as a great food processor, with a 2.1L bowl and a compact footprint that won't hog workspace. It handled all its meat and vegetable processing tasks well (although there were some scraps leftover from slicing carrots), and kneaded bread dough with ease. We did note, however, that the higher speed was very whiny. But, with its multitude of attachments, this machine is a baker's best friend.
See our full Kenwood FDM312SS MultiPro Compact+ food processor review
6. Magimix 5200XL Food Processor
Best food processor for quiet operation
Specifications
Speeds: Multiple
Tools: Main 3.6L bowl, Midi 2.6L bowl, mini 1.2L bowl, knife blade, egg whisk, dough blade, slicing discs, grating discs, blender mix ring, citrus press, and spatula
Guarantee: 3 years, plus 30-year motor guarantee
Wattage: 600W
Reasons to buy
+Quiet+Great 30-year guarantee for the motor+BlenderMix attachment
Reasons to avoid
-Lots of attachments to store-Pricey
If food processors department stores, this model would be Harrods. It's a stylish, quality design, with a price that reflects that. But you do get a lot for your money. With the main bowl, midi bowl, and mini bowl, along with what feels like a zillion attachments, the world is your oyster when it comes to how you want to chop, slice, knead and dice with this machine. A blender attachment means it works just as well for soups, milkshakes, and smoothies as it does for dough, so you'll always have everything you need for all sorts of different recipes from the best cookbooks available.
The reason this has made it to our best food processor round-up is that it is ultra-quiet. Whether you're pulsing or blitzing ingredients, it's as quiet as a mouse, making it a great pick for those who might need to cook at odd hours or simply want their cooking to be as unobtrusive as possible. Overall, this is a luxury operation that's worth the investment if you can afford it, given its huge range of attachments and whisper-quiet operation.
7. NutriChef Multipurpose food processor
Best food processor for versatile function
Specifications
Speeds: Pre-set speed function
Tools: Six attachment blades and 12 cup set includes slicer/shredder & masher blade disc, chopper, dough kneading, & emulsifying blades, & citrus juicer
Guarantee: 1 year
Wattage: 600W
Reasons to buy
+Quiet, but powerful 600w motor+Easy to clean+Great value+Can do a lot of different things
Reasons to avoid
-Sometimes difficult to lock in
The NutriChef Multipurpose food processor reigns over the market for its sleek, compact design that can still be loaded to the brim. This kitchen essential touts a 2L capacity: it can hold up to 12 cups of dry ingredients and nine cups of liquid ingredients (that's a lot of food). And if the tedium of food prep bores you, this food processor harnesses the power of a time-efficient 600W motor, designed to save you both time and energy.
One feature we particularly liked is its electronic overload feature, which prevents and protects the motor from overheating. This food processor also has a handy silicone rubber bottom, a feature that means you can easily suction the machine to your countertop to strengthen your hold on it and ensure it doesn't slip around.
8. Kocbelle Electric Small food processor
Best mini food processor
Specifications
Speeds: One
Tools: One mini chopper motor, a glass bowl, a scraper, a set blades, and a USB charger
Guarantee: 1 year
Wattage: 150W
Reasons to buy
+One-touch on-off function+Rechargeable and portable+Easy to clean+Includes a USB Android universal charging cable
Reasons to avoid
-It could do a better job at blending
Just because it's petite, doesn't mean this compact food processor isn't robust. With just one touch of the on/off button, the Kocbelle Electric Small Food Processor chops chilies, vegetables, baby food, garlic, and even meats—yes, you read that correctly—in mere seconds. Having said that, the detachable, stainless steel blades are the true heroes, as they can grate, slice, mince, and blend at different angles for even texture. Not to mention, they're easy to clean, dishwasher safe, and don't rust easily.
Another noteworthy perk is its rechargeable function that means you don't need to bother with annoying cords—a great feature for kitchens with limited space. We also love its fun and unique sage green color. Note: It should be charged every three months to prevent damage if you don't plan on using this device frequently.
9. Hamilton Beach 12-Cup Stack & Snap Food Processor & Vegetable Chopper
Best large food processor
Specifications
Speeds: Two
Tools: Bowl, lid, S-blade and reversible slice/shred disc
Guarantee: 1 year
Wattage: 450W
Reasons to buy
+12 cup capacity+Large feed chute+Dishwasher-safe, stainless steel blades and bowl and lid
Reasons to avoid
-Food sometimes gets stuck at the bottom
The large-in-size Hamilton Beach food processor is a crowd-pleaser for bringing convenience and ease to the otherwise overwhelming food prep process. This gadget has earned a laundry list of bragging rights: a patent-pending design to eliminate difficult twisting and locking; a big mouth feed tube; a sealed bowl, and many more. For easy assembly, the bowl fits directly on the base, sans twisting, while the lid snaps on securely. From there, all you have to do is use the provided locking clips.
The S-blade is ideal for chopping hard-to-grind items, like nuts, meat, garlic, onions, peppers, celery, herbs, bread, and crackers. It even mixes salad dressings, purees soups and sauces, and grates cheese. The reversible shred disc slices foods like cucumbers, squash, mushrooms, tomatoes, firm cheeses, and more. If you have space for a large food processor in your home, this is a great pick.
Is a food processor worth buying?
If you do lots of cooking from scratch and find that you spend a lot of time preparing (e.g cutting, chopping, and blending ingredients) you might find that a food processor is one of the ultimate kitchen essentials well worth having.
The best food processors can help you to do all sorts of cooking tasks, from grinding nuts to chopping herbs or slicing up vegetables such as onions, peppers, and mushrooms. Food processors can also assist you with more unusual kitchen prep, such as making breadcrumbs, sauces, and even things like dough and batter.
So if you often find yourself frustrated at having to do these things manually, or find they take up a lot of time, a food processor could be the perfect purchase to make your cooking much easier and more efficient. They can certainly be a great way to save time and automate the cooking process. Overall, we reckon that one of the very best food processors is well worth buying for busy cooks.
How much should I spend on a food processor?
It's no secret that food processors are not impulse buys—the shopping journey requires research and a fair investment money-wise too. The best food processors vary in price, ranging from $100/£100 at a minimum, to $500/£500 at a general maximum. It may seem costly, but for many people, the spend is a no-brainer, given how quickly and easily food processors can help you to prepare delicious and healthy meals.
Naturally, you may have to spend more or less, depending on what you're looking for. Generally, you will pay more for a bigger machine from a better-known brand (think Magimix or Kitchenaid), and a higher price tag can sometimes equal a wider variety of attachments and accessories too, such as discs for slicing and grating foods, and juicers, all suitable for multiple projects. However, this is not always the case—it's important to know that sometimes you needn't pay over $200/£200 for a great machine that has all the attachments you could wish for. For example, the KitchenAid 2.1L food processor is our best overall food processor pick and retails for around $130/£130.
However, it is worth noting that many of the much more affordable options are smaller and therefore can mix and chop less food at a time—which is perfectly fine if you cook for one, or cook small amounts at a time, but may be limiting if you have a bigger family or cook lots of food at once.
What size food processor do I need?
The first thing to consider when thinking about what size food processor might work best for you is the space you have in your kitchen. Some food processors can be big and bulky, whereas others are small, slimline, and designed for smaller areas. If you have plenty of counter space to spare, feel free to consider all of the above options. However, it's worth noting that if you have limited space, one of the smaller processors—such as the Cuisinart, or the Kitchenaid—might work better.
When it comes to the capacity of the mixer, the decision again depends on how you plan to use your food processor. Most food processors measure their size in their bowl capacity or cup capacity (e.g, how many cups of food would fit in there). If you cook a lot, and for a big family, you'll need a larger size of both/either of these things. But, if you're a solo cook, cook only for a couple or a small family, or plan to use your food processor only on occasion, you won't need such big sizes. Generally, a 2.5L bowl capacity will be more than enough for most cooks, though you can go smaller if you prepare food for fewer people. An 11-cup size food processor is usually also a great option for most people. However, it's worth bearing in mind that if you only plan on doing small tasks with your food processor—such as whizzing up herbs or nuts—you'll likely only need a lot less.
It's also good to check that your food processor has a wide feed chute, to fit all manner of food in there. Having a wider chute in your machine means that you won't need to do as much food prep (e.g chopping vegetables into smaller pieces) before actually using it.
What food processor attachments do I need?
Regardless of brand and price, the most common food processor attachments include:
Main blade knife: This generally comes in two sizes, suitable for small and large bowls. They're double-sided and sharp, blitzing and pureeing tough food particles to create smooth sauces, soups, dips, and dressings.
Shredding disc: The shredding disc, often referred to as a grating disc, sits on top of the bowl and grates items that come through the feed tube located on the lid. This blade is exceptional for cutting cheese and vegetables.
Slicing disc: Similar to the shredding disc, this attachment is placed on top of the food processor to cut items passed through the feed tube. It's great for thinly slicing vegetables, potatoes, and other dense ingredients.
Dough blade: This short, blunt plastic blade will pull, tear, and knead the dough. As a result, the dough will rise faster since it's already slightly warm. It's great for helping you prepare bread, cake, scones, and pizzas.
Egg whisk: Albeit designed to beat egg whites and whole eggs, this attachment also whips cream and mashed potatoes. It also saves space in your kitchen, as you won't need to purchase a separate electric whisk.
Most food processors come with these attachments as a minimum—but some include many more and others might only have a few of those mentioned above. Make sure you check to see what is included in the food processor you are considering buying, to ensure you have the attachments you will need for both cooking and baking.
Do I need a processor with variable speeds?
Most food processors only have one or two speeds at a maximum, so there's no need to go hunting around for mixers with multiple speeds or more speeds than that.
That being said, speed determines your appliance's ability to mix, emulsify, and prepare food. For that reason, choose a food processor with a high-speed setting. Most food processors with high-speed settings operate at around 1,700 to 1,800 revolutions per minute (rpm). Newer models even feature multiple speeds, ranging upwards of 3,700 rpm. These food processors expedite food prep, making the process far quicker and easier. More basic models, however, often run slower at around 275 to 800 rpm.
Generally, though, the attachments are where you'll find the most variations.
Rachel Ogden is a UK-based freelance journalist with more than 20 years' experience of writing, editing and sub-editing. For the last 13 years, she has worked exclusively in interiors, writing about everything from extending your home to kitchen worktops, flooring, storage and more.
She has worked for a huge swathe of brands, including Woman & Home, Ideal Home, Elle Decoration, Real Homes, Grand Designs, Living Etc25 Beautiful Homes, The Evening Standard, The Independent and many many more. She was also shortlisted for Lifestyle & Interiors Journalist of the Year in the 2018 Property Press Awards.