AEG AX9 600 Connected air purifier review
Discover more about this AEG AX9 600 Connected air purifier with a striking design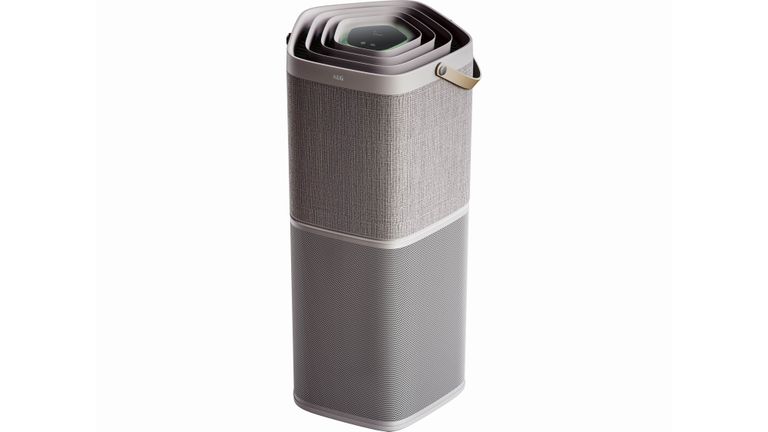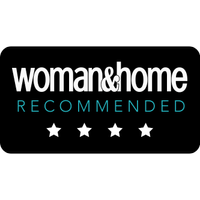 (Image credit: AEG)
A large air purifier that's a little like Marmite: you'll either love or loathe its unusual design and simplicity
Reasons to buy
+

Smart controls

+

Striking looking

+

Carry handles
Reasons to avoid
-

Large

-

Love-or-loathe design

-

Simplistic control panel
On first sight, the AEG AX9 600 Connected is a large and striking-looking air purifier with smart controls. Of all the best air purifiers that we tested, in order to bring you a guide to the best one out there right now, this is certainly the largest. But does this machine's size correlate with its air-cleaning capabilities?
How we tested the AEG AX9 600 Connected air purifier review

When reviewing each of the models that we were considering to find the best air purifier on the market right now, we didn't just read the specs from the manufacturers. No, we tested each air purifier fully, with a little additional input from an expensive high-end industrial air-quality meter, the Met One Instruments Model 804 Handheld Particle Counter. We tested the room's initial air quality, tested it again after the air purifier had been used at its top setting for an hour, then compared the two sets of results to establish how well the air had been cleaned. We focused on the PM10 and PM2.5 figures, because these are the ones the World Health Organisation uses as benchmarks of air quality. These are particles measuring no more than 10 microns and no more than 2.5 microns respectively.
Design
The AEG has a love-it-or-loathe-it design. It's the largest air purifier on test, a fraction taller than the Philips Air Purifier Series 3000i. But where the Philips is a discreet cylinder that seems to want to disappear, the AEG's striking industrial design wants to be noticed. It might be grey, but the top features a set of curvy, concentric pentagons and there are two tan, leather-style straps, which are handy if you want to move this air purifier between spaces with ease. It's well-considered design that won't look out of place in a contemporary home, but not everyone would love this look.
Measuring an imposing W31.5 x D315 x H72.5cm, you might not be inclined to move this air purifier too much – if you do want to, though, those handles we mentioned mean it's not a challenging task. The design works much like the Philips. The grey fabric covering the top half of the air purifier's body is merely aesthetic; the work takes place in the bottom half, where air enters and is filtered. The AEG air purifier is designed to draw in air in an efficient spiral, pulling it in from the whole room.
A panel on the top is home to touch controls, and coloured lighting around this indicates the current air-quality levels. This measure of PM2.5 fine dust particles shows up a little like an extended traffic-light system: green (good), then down through yellow, orange and red, with purple and maroon for the very worst air quality. The colours are pleasingly intuitive – you understand them with little need for explanation.
Controls
The touch controls on top of the AEG air purifier are elegant but a little different to some other models. Rather than simply choosing turbo, auto or sleep, you can either choose smart (automatic) controls or manually adjust the filtration level (which also dictates how loud the machine is). Pick the level with a tap on a sweeping curved line, which offers nine different levels. As with the colours that indicate the air-quality level, it's very intuitive, with no need for icons or words. There's also a child lock.
Unusually, the colours are the only feedback on air quality. There's no numeric display. If you want stats, you must download the AEG Wellbeing app. It's very easy to download and set up, and gives you stats galore on screen: graphs of the built-in sensor's results for PM1 particles as well as PM2.5 and PM10, total VOCs, humidity and temperature. You can zoom into these graphs to analyse them over hours, days or even months.
The app also adds not just remote control but also lets you turn the ioniser on and off, to improve particle filtration. You can't control the ioniser on the machine itself.
Filtration
The AEG boasts five stages of filtration and is designed to remove dust, animal hair, dust mites, mould spores and pollen. First the mesh filter retains larger dirt particles. Then an antibacterial protective layer neutralises bacterial enzymes at the cellular level, eliminating up to 99.9% of bacteria found in the home and preventing further bacterial spread. Next comes a fine dust filter – ultra-fine fibres retain 99.5% of even the smallest dust particles. Then activated carbon pellets absorb VOCs, eliminating odours including those from cooking, pets and household chemicals.
There's also a built-in ioniser: its electrostatic charge makes microscopic particles clump together for more effective filtration in the first two layers. This works alongside the HEPA filter to make it more effective – this combination of the two technologies is something you'll also find in the smaller Blueair Blue Pure 411.
The filter cartridge has a smart tag, so even if you remove it, the machine will remember how much life it still has left.
Unusually, you can choose between three different replacement filters in the AEG shop; the Breeze360 Complete is the best all-rounder, good for most people; the Breathe360 Pollen is best if hayfever is your priority; and the Fresh360 Odour is specially designed to tackle smells. You only need one of these filters, not all three, and they are priced at around £70-80.
Performance
The AEG's Clean Air Delivery Rate (CADR) is stated as 400m³/h. This means that the air in your room can be changed five times an hour, in a space with a volume of up to 80m³. (In essence, with a standard ceiling height of 2.5m your room can measure 32m²). AEG claims this model is capable of cleaning the air in much larger spaces, but that wouldn't be with five air changes an hour, which is the gold standard.
During testing, the AEG performed very well; on its top setting, it removed 95% of PM2.5 particles and 99% of PM10 particles in an hour. For comparison, these results are very similar to that of the Philips air purifier that we tested.
The AEG's (lack of) noise is impressive; its quietest setting is an impressively low 17dB, and even at its loudest it's only 46dB max. That's superb for such a powerful air purifier, though we still found the top setting to be too loud to ignore. At the lowest setting, however, it's inaudible.
Energy consumption is 41W.
Ongoing
AEG hasn't published the lifespan of the filter cartridge, but we do know that the app will alert you when it's coming to the end of its life. Aside from that, you simply need to vacuum clean the air-quality sensor every four weeks.
Summing up… the AEG AX9 Connected air purifier
The AEG has a striking design. It's perhaps more elegant than its rival, the Philips Air Purifier Series 3000i, but it's also less discreet. The Philips essentially disappears into the fabric of a room, this design does not.
The AEG is quiet and pleasant to use, with intuitive controls. There's a lack of detailed feedback on the air purifier's display, but the colours do give you the basic feedback clearly, and any techy measurements you require are easily accessed on the app.
If your a lover (rather than a hater) of the AEG's design, and don't mind its size, then this air purifier is a good buy. Shop around and there are definitely some good deals to be had.
Caramel Quin is an experienced tech journalist who tests technology for newspapers, magazines and online. She prides herself in real-world testing and translating geek speak into plain English. Her pet hates are jargon, pointless products and over-complicated instruction manuals.
A self-proclaimed 'gadget girl', Caramel started out as an engineering graduate and has gradually become less techie ever since. After spending the nineties on the staff of various computer and gadget mags, including launching Stuff magazine in both London and New York, she's been freelance for over a decade. In 2006 she won Best Writer in the BlackBerry Women & Technology Awards. And in 2011 she won the CEDIA award for Best Technology Feature, for a piece in Grand Designs magazine.
Caramel's specialist subjects are gadgets, technology and the environment, often reviewing homeware gadgets including everything from coffee machines to vacuums. Her work appears regularly in publications including the Evening Standard and Ideal Home. She has appeared as a technology expert on the BBC, Sky News and GMTV, and done countless radio interviews. She has interviewed everyone from film stars to Nasa astronauts, and written on subjects as diverse as hi-tech rosaries and Japanese trainer collectors—but her favourite gig was testing ice cream makers.
Caramel lives in east London with her two children, dog, two cats and a number of rescue hens. Even her chicken coop is hi-tech and sits next to the robotic lawnmower. The children and dog are highly skilled at helping her destruction-test home electricals for us. Follow Caramel on Twitter @Caramelquin and read more of her work at gadgetgirl.co.uk