Blueair Blue Pure 411 air purifier review
Small and cute, this is the perfect bedroom air purifier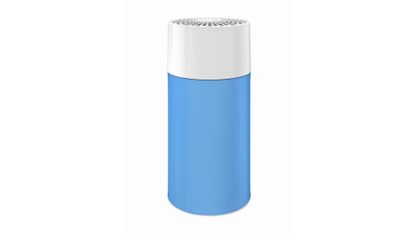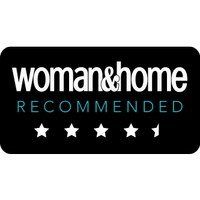 (Image credit: Blueair)
Great value and perfect for cleaning the air in one room, the only thing this Blueair lacks is smart controls.
Reasons to buy
+

Compact

+

Affordable

+

Simple controls
Reasons to avoid
-

No smart controls

-

For single room, 15m²

-

No air quality sensor
Why you can trust Woman & Home Our expert reviewers spend hours testing and comparing products and services so you can choose the best for you. Find out more about how we test.
woman&home newsletter
Sign up to our free daily email for the latest royal and entertainment news, interesting opinion, expert advice on styling and beauty trends, and no-nonsense guides to the health and wellness questions you want answered.
Thank you for signing up to . You will receive a verification email shortly.
There was a problem. Please refresh the page and try again.
As a contender for the best air purifier (opens in new tab) the Blueair Blue Pure 411 is the smallest and most affordable that we tested. A good-looking machine that's perfect for a bedroom or living space, it's actually small and light enough to move around the home as and when it's needed. In terms of capability, in a single, good-sized room (specifically one measuring up to 15m²) that it's designed for, it does its job well. It isn't, however, powerful enough for a large, open-plan space.
At the time of writing, the Blueair Blue Pure 411 was priced £135 (opens in new tab)on the brand's own website, where you can also subscribe to six-monthly filter delivery with a discount. Shopping around, online retailers – including Amazon and John Lewis – sell it for £129, as does the specialist retailer BreathingSpace (opens in new tab), which has good prices for replacement filters too.
Read more...
Blueair Blue Pure 411 air purifier design
The Blueair Blue Pure 411 is compact… well, about as compact as it can be for a machine that can scrub the air in a room effectively. In previous tests we have found smaller air purifiers to be ineffective, so this was something we were watching out for – more of this later. This model is housed in a white plastic cylinder (measuring W20.3x D20.3 x H42.4cm) but you can give it a more colourful appearance as its first layer of filtration is a replaceable fabric mesh cover.
The machine we tested came with a blue fabric cover, but they're also available in red or dark grey (£9 each). As the filter is washable, buying a spare is a good idea, so you're never without this air purifier if it's needed.
Compact and modern, this small machine takes up very little space in a room; you could put it in a corner, or at the bedside, and forget it was there. There's no handle but it's small and lightweight enough that it would be easy to move from room to room.
Blueair Blue Pure 411 air purifier controls
The Blueair's controls are pretty simple. There's no app or remote control for it, nor is there an automatic setting. You simply tap the circle on the top to cycle between off and levels 1, 2 and 3, and three white lights indicate what setting it's on.
The only feature this air purifier really lacks is smart controls – such as an app or measure of air quality. Some people think this a tad gimmicky anyway, so you may be fine without them. A more important downside to this machine is the fact that it can't adjust levels automatically, meaning it's not able to intuitively respond to any changes in air quality. In a bedroom then, you might want to turn it on a bit before bedtime on a high level and then turn it down low for the night to maintain good air quality quietly.
Blueair Blue Pure 411 air purifier filtration
There are three stages of filtration. The first, as we said, is the fabric pre-filter, which catches large particles – such as pet hair and dust – on the way in and helps to extend the life of the other filters.
These next two layers – particle and carbon – are combined in a single cartridge which needs replacing every six months. The particle filter removes airborne particles, such as pollen, dust and pet dander. The carbon filter uses a layer of activated carbon to filter light household odours from pets, cooking, smoke and Volatile Organic Compounds (VOCs).
As a whole, the filter uses a technology which Blueair calls HEPASilent (opens in new tab). This combines electrostatic and mechanical filtration to remove airborne contaminants as small as viruses, bacteria, mould spores and allergens. The tech is quieter and more energy efficient than traditional HEPA filters.
Blueair Blue Pure 411 air purifier performance
Its Clean Air Delivery Rate (CADR) is stated as 200m³/h. This is broken down to 180m³/h for smoke, 200m³/h for dust and 220m³/h for pollen. So if you want the air in your room to be changed five times an hour, your room can have a volume of up to 40m³. That's why Blueair suggests it's ideal for average-sized rooms measuring up to 15m².
The Blueair's test results were superb for its size and price; on its top setting it removed 96% of PM2.5 and 99% of PM10 particles in an hour, so it's great at cleaning all the air in a 15m² room on a budget. (We'd say 16m², based on a standard ceiling height of 2.5m)
Awarded the Quiet Mark, when in use this air purifier's noise levels range between 17-46dB. Level 1 is so quiet that you don't notice it's on. You can't really hear it above the background hum of life (if you hold your hand over the top you can feel that clean air is coming out of the air purifier, though). Level 2 is audible. It sounds like a fan. You will soon get used to it, but you can hear it, even from across the room. Level 3 is like a loud fan – you tune it out after a while, but it never goes away. It would be ok overnight if you actually like dozing off to white noise though.
Energy consumption is really low at 1.5-10W, so keeping it on all the time isn't really going to have a huge impact on your electricity usage (or budget).
Blueair Blue Pure 411 air purifier care
This machine's filter cartridge needs changing every six months and it does alert you when it's due for a change. At the time of writing, refills cost £23 each or you can subscribe (and enjoy a small discount – £21 each) so cartridges are automatically delivered when they're due.
There are no smart controls though, so if you don't use the Blueair much then you could change the filter less frequently... but do change it, as the machine won't be effective if the filter gets clogged up.
The fabric pre-filter should be cleaned "occasionally" with a vacuum cleaner to remove dust. Or you can easily remove it and hand- or machine-wash it instead. There's no other regular maintenance necessary.
Summing up...the Blueair Blue Pure 411 air purifier
For a larger space, or if you'd like smart controls, then consider the MeacoClean CA-HEPA 76x5 Wi-Fi (opens in new tab). Not everyone is bothered about apps but it is good to see what your air quality is like, and an auto setting is handy – especially if you want a lower-maintenance machine that adjusts itself to control air quality without wasting energy or making more noise than is necessary.
If you want an air purifier for a single room, however, and you don't need smart controls then look no further. This is the most affordable way to clean the air in an average-sized room. We'd buy it and put it in a bedroom, for example. It's great value, looks good, offers excellent performance and is compact enough to be portable.
Caramel Quin is an experienced journalist and author who tests technology for newspapers, magazines, and online. She prides herself in real-world testing and her pet hates are jargon, pointless products, and over-complicated instruction manuals.
A self-proclaimed 'gadget girl', Caramel started out as an engineering graduate and spent the nineties on the staff of various computer and gadget mags, including launching Stuff magazine in both London and New York. In 2006 she won Best Writer in the BlackBerry Women & Technology Awards. And in 2011 she won the CEDIA award for Best Technology Feature, for a piece in Grand Designs magazine.