Best waterproof hiking boots—for all walking levels and budgets
Our round-up of the best waterproof hiking boots will help you stay dry, so you can go the distance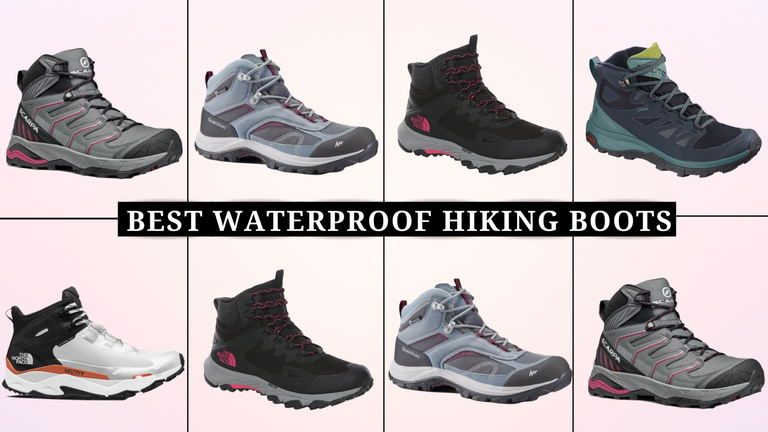 (Image credit: Future)
Finding the best waterproof hiking boots is essential if you're tackling tricky terrain in wet weather. Our guide has something for everyone, with affordable, breathable and lightweight options.
Whether you're new to hiking or are looking to take your walks to the next level, a pair of the best women's walking shoes is a must-have for keeping you safe and comfortable. But, is it really necessary to invest in a waterproof pair? If you're planning on hiking in rainy locations, we think so. 
"Waterproof generally means the boots can be submerged in water, up to the height of the waterproof membrane," says Jeremy Stevens, footwear buyer for Ellis Brigham Mountain Sports. "You should be able to see the membrane inside the boot—usually covering the tongue and coming up to the ankle. This indicates the depth of the puddle or stream you can safely step into."
As well as looking for the usual features all good walking shoes should have, such as support, grip, comfort and fit, picking the right outer material is also key to finding good waterproof hiking boots.
"Broadly speaking, boots fall into two camps—full-grain leather or fabric/suede uppers," says Jeremy. "Classic full-grain leather and nubuck uppers give reliable and durable waterproofness. Fabric and split-leather uppers tend to be lighter, more flexible and less expensive, but have less inherent waterproof properties."
We've put popular brands to the test, including Salomon and The North Face, to bring you our round-up of five of the best waterproof hiking boots on the market right now. Armed with a pair of the best boots and one of the best walking poles, there's no stopping you! 
How we tested and selected the best waterproof hiking boots
We put each pair of hiking boots through its paces, in a range of weather conditions and across different terrain. 
We tested them on everything from damp grass and tarmac to earthy, rocky trails, and assessed them not only on how well they kept our feet dry in wet conditions, but also how well they fit, how much support they provided us with, and how comfortable they were as we hiked. 
We've tested lots of different hiking boots at w&h, and not every product we test is featured. You can rest assured the waterproof hiking boots in this guide really were the best. 
The best waterproof hiking boots as chosen by our experts
1. Salomon Women's Outline Mid GTX
Best waterproof hiking boots overall
Specifications
Size range: US 5-12 / UK 3.5-10.5
Sole: Rubber
Upper: Textile / synthetic
Weight: 760g per pair
RRP : $150 / £135
Reasons to buy
+Easy to put on +Great fit+Stylish 
Reasons to avoid
-Lacking a little cushioning-Slightly stiff at first
If you want to make a style statement on the trails, these Salmon hiking boots are available in three fun colors. But, it's not all about style with this pair. Whether you're walking for weight loss or just enjoying a casual stroll in the park, these boots do an excellent job of keeping your feet safe and dry on trails and in wet weather.
They lack a little in cushioning compared to other hiking boots, but they make up for it when it comes to fit and style. The laces draw the boot in snugly to your foot, and the long ankle cuff ensures you're well protected as you hike. Despite the high ankle cuff, they're easy to get on and they're lightweight, too. 
Salmon certainly knows a thing or two about good grip, combining a sleek look with a very technical shoe. The lug pattern of the Contagrip sole has been designed to keep you stable and safe on any terrain. 
Are they waterproof? Absolutely. The Gore-Tex membrane makes these hiking boots ready for all wet-weather excursions. They might be one of the more expensive boots on the market, but we think they're a sound investment.
2. The North Face Women's Ultra Fastpack IV Futurelight Mid Boots
Best luxury waterproof hiking boots
Specifications
Size range: US 5-11 / UK 3-9
Sole: FastFoam
Upper: Mesh with TPU Overlays
Weight: 706g per pair
RRP : $165 / £150
Reasons to buy
+Lightweight+Breathable+Comfortable 
Reasons to avoid
-Tricky to get on-Expensive
While The North Face hiking boots are a little trickier to get on and off than other options, once they're on they're a superb fit. The laces allow you to adjust to the fit you want, while the ankle cuff offers ultimate protection if you're trekking on uneven ground. Thankfully, all this protection doesn't add any extra bulk and these boots are relatively lightweight, too. 
Boasting a Futurelight membrane, these hiking boots are waterproof but breathable, and the specially coated woven mesh provides protection against debris, while the Vibram Megagrip outsole helps keep you steady on wet and rocky terrain. Although the sole feels a little less flexible than some of the others, they will provide great support on challenging terrain. 
The only real downside to these hiking boots is the price. We think they're worth the investment, but might be best suited to a serious trekker who's happy to invest in boots they'll use for years to come.  
3. Quechua Women's Mountain Walking Waterproof Shoes MH100
Best budget waterproof hiking boots
Specifications
Size range: US 5.5-10.5 / UK 3-8
Sole: Rubber
Upper: Polyurethane, polyester and leather
Weight: 790g per pair
RRP: $65 / £45
Reasons to buy
+Great value+Good fit
Reasons to avoid
-Slightly rigid-May need re-waterproofing later
If you're looking for affordable hiking boots that are breathable and supportive, the Quechua boots could be the one for you, 
The brand has focused on ensuring the boots are snug and comfortable, which will keep your feet protected as you hike. While the ankle cuff of the boot is slightly rigid at first, it softens up the more you wear them. Top tip: wear your hiking boots around the house to break them in before you hit the trails! 
These hiking boots are waterproof, but breathable—making them ideal for all weathers—and stones and tree roots won't be a problem either, thanks to the protective rubber guard. What's more, the rubber sole offers good traction on dry or muddy ground. 
The only downside to this pair is the cheap price tag, you may find these boots need re-waterproofing after lots of wear in rainy conditions. But, for newbie hikers or those who have just started their Nordic walking journey, they're a great option. 
4. Scarpa Maverick GTX Hiking Boots
Most supportive waterproof hiking boots
Specifications
Size range: US 5-10 / UK 3-18
Sole: SuperGum rubber
Upper: Synthetic leather and polyester mesh
Weight: 829g per pair
RRP: $169 / £160
Reasons to buy
+Great traction +Very supportive +Super comfortable 
Reasons to avoid
-Slightly big fit 
For a comfortable, supportive and stylish waterproof hiking boot, look no further than the Scarpa Maverick GTX Boots. 
Whether you're tackling tricky trails or walking the dog, the Scarpa boots do an excellent job of keeping feet dry. Thanks to the Gore-Tex membrane, these boots keep water out but still allow sweat to escape so you stay comfortable and dry as you walk. 
We found the sole, made with SuperGum rubber and featuring 4.5mm deep lugs, provided great traction and kept us stable as we climbed hills and navigated rocky terrain. Best of all, the Scarpa hiking boots are made from synthetic leather and polyester mesh, making them a vegan-friendly option. 
The mid-rise cuff made these boots easy to put on and take off, however, we did find the fit slightly big so recommend sizing down half a size or wearing a pair of the best walking socks with this style. 
5. The North Face VECTIV Exploris FUTURELIGHT Boots
Best lightweight waterproof hiking boots
Specifications
Size range: US 5-11 / UK 3-9
Sole: VECTIV technology
Upper: Cordura mesh
Weight: 714g per pair
RRP: $169 / £155
Reasons to buy
+Super lightweight +Comfortable +Supportive 
Reasons to avoid
-Tricky to clean 
We love the North Face VECTIV Exploris Futurelight Boots for long treks. They are easily the best lightweight waterproof hiking boots of all the options we tested. The Futurelight material is waterproof and breathable, which will keep you cool and dry in all weather.
The 4mm lugs, Ortholite foam footbeds and VECTIV midsole offer great support when taking on steep terrain, with just the right amount of cushioning for comfort. The boot is available in a range of colors, and also comes in a standard shoe style as well as the traditional mid-top boots. 
The only downside to these hiking boots is the Cordura mesh upper is tricky to clean, so it's best to opt for one of the darker colors if you're worried about mucking up your boots. 
Leather versus Fabric options
Leather shoes
Reasons to buy
+They provide great weather resistance, especially with a Gore-Tex lining+Leather will last longer if looked after correctly+They generally have less stitching so have fewer areas of weakness for wear and tear, meaning they're likely to last longer+They're more supportive+Better suited for mountain or winter climbing
Reasons to avoid
-They need to be well looked after in terms of keeping clean and being reproofed-Leather styles tend to be a bit heavier-They take longer to wear in
Fabric shoes
Reasons to buy
+Generally best for 'out the box' comfort+Most likely to have a 'trainer' style fit if that's your preference+Easy to look after+Generally lighter than a full leather boot+More options available in a range of colors and styles+Generally cheaper than leather shoes and boots
Reasons to avoid
-May not last as long as leather boots-Not as protective-Not as naturally supportive as leather
Faye M Smith is an award-winning journalist with over 15 years experience in the magazine industry. Her continued work in the area of natural health won her the coveted title of theHealth Food Manufacturers' Association (HFMA) Journalist of the Year Award 2021. 
Currently Acting Health Editor across several brands including woman&home, Woman and Woman's Own, Faye specialises in writing about mental health, the menopause, and sex and relationships. In fact, having previously been the go-to sex columnist for Now magazine, there isn't much she won't discuss when it comes to women's health. This makes her the best person to review must-buy sex toys, describe how to have a mind-blowing orgasm or explain how to navigate sex in the shower without it ending in a medical emergency. 
While not anti-gym, Faye's fitness routine is more focussed on finding inner balance rather than burning excess calories. An advocate of mindfulness, she loves power breathing, yoga and plenty of walking in nearby woodlands rather than a sweaty HIIT class. Follow her @fayetuned