The 5 2 Diet: the ultimate intermittent fasting plan
We look at the 5 2 diet plan in depth and share delicious, low-cal recipes to enjoy while on it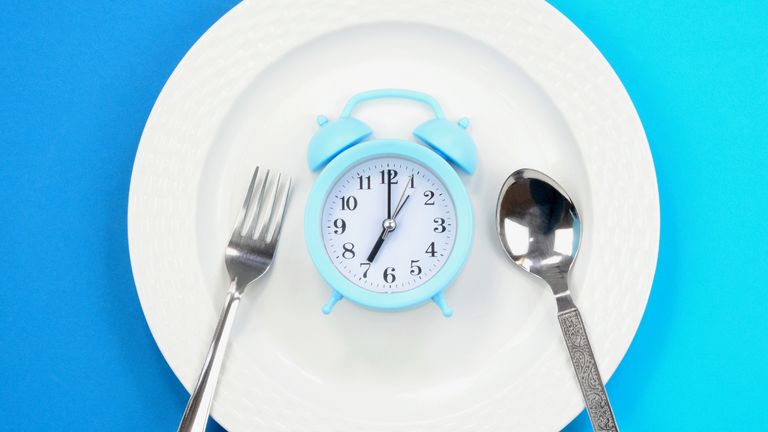 (Image credit: Getty Images)
Introduced in 2013, the 5 2 Diet took the weight loss world by storm, and to this day dieters everywhere continue to pledge their allegiance to its intermittent fasting concept.
There are so many diets out there, from the plant-based diet to the smoothie diet, but have you heard of the new 5 2 diet?
Intermittent fasting comes in many guises, including the popular 16:8 Diet, but the 5 2 Diet might just be the most popular fasting diet in the world. This healthy eating plan promises that you'll see serious weight loss and health results that actually last.
The NEW 5 2 Diet: what's involved?
Developed by Dr Michael Mosley, a former doctor, weight loss expert and BBC presenter and food journalist Mimi Spencer, the 5 2 Diet plan sees dieters live off a restricted calorie intake for two days. When the plan was initially introduced this came in at 500 calories a day for women and 600 calories for men.
Then during the rest of the week, dieters could eat whatever they wanted - it's that straightforward!
But in 2014 Dr Mosley, also the creator of thefast800, updated the plan changing the calorie limit for fast days to 800 calories for both sexes, keeping the rest of the plan the same.
Explaining the reason behind this decision, he said," When I came up with the 5:2 diet, intermittent fasting was a radical idea, but one that really resonated, but one thing that has become clear is that 800 appears to be a 'magic' number when it comes to weight loss, based on studies which show people find it easier to follow, but they still get the same weight loss advantages. And studies suggest it's the amount of weight you lose in the first month that predicts the long-term success of losing weight."
5 2 diet results
On fast days your body enters a state of ketosis, where the body responds to having a lack of glucose for energy by burning fat instead. This process a produces a chemical called ketones - an alternative energy source for your body.
The 5:2 diet has been helping weight watchers around the world shed those unsightly extra pounds. In fact, you could lose as much as one pound per week on the diet plan.
According to Dr Mosley fasting for two out of seven days will also see those on the plan experience a number of other fasting benefits including the following:
Increased levels of Brain-Derived Neurotrophic Factor (BDNF). In brain cells, higher levels of BDNF are linked to greater resistance to age-related damage; lower BDNF levels, by contrast, are linked to depression and Alzheimer's.
Decreased inflammation, lowering the risk of an array of chronic diseases including arthritis, raised cholesterol, and atherosclerosis. On study even revealed it could cut the risk of heart disease.
The 5 2 Diet recipes
But how do you stick to 5:2 fast of 800 calories a day two days a week without keeling over for lack of energy? Believe it or not, there are a wealth of healthy, calorie-controlled dishes out there that will help you get the energy you need without ruining your 800 calories a day diet.
From breakfast to dinner, we've got the options covered for every meal so you don't have to worry about planning ahead when you're eating just 800 calories a day. There's no need to feel deprived or lacking in energy when you kick start your day with a strawberry smoothie or banana oat muffin. And how about a spicy Mexican bean burger for lunch before finish off your 800 calories a day plan with a crunchy Thai salad? Delicious, low-cal and nutritious.
Just click and pick the best fasting meal solutions to suit you from the options below. And if you're in need of more ideas take a look at our range of low calorie recipes - all under 300 calories each.
5 2 Diet: Fast Day Breakfast - Porridge
Per Serving: 197 cals. A simple and hearty breakfast that's full of slow release energy. Make 40g of porridge oats with water, and top with a handful of fruit. For example, 145g of blueberries equals 37 cals. Great for the colder mornings. For a few extra calories, you could mix in flavored protein powder, as we all know the benefits of protein powder for weight loss and building strength.
5 2 Diet: Fast Day Breakfast - Banana Oat Muffins
Per Serving: 219 cals. If you can cope with not eating lunch, these banana oat muffins are the perfect start to your fast day and ideal for resisting the barista shop goodies on the way in to work. Try this banana oat muffins recipe taken from The Ultimate 5:2 Diet Recipe Book by Kate Harrison (£6.99; Orion).
5 2 Diet: Fast Day Breakfast - Smoked Salmon on Ryvita
Combine hits of protein and fibre for a satisfying breakfast.
Per Serving: 284 cals
Ingredients:
Smoked salmon, 112g
1 plain Ryvita
1 egg poached
Method:
Poach the egg in boiling water for 2 minutes and serve with a plain Ryvita with smoked salmon.
Save yourself 90 calories by removing the egg, or replace it with 1tsp of light cream cheese (11 cals).
5 2 Diet: Fast Day Breakfast - Strawberry Smoothie Recipe
Per Serving: 217 cals
Ingredients:
1 x banana (around 100g)
100g fresh strawberries
100g low-fat yoghurt
Method:
Biltz in a blender and serve.
5 2 Diet: Fast Day Lunch - Spicy Mexican Bean Burger Recipe
Per Serving: 244 cals. Don't miss out on the barbecue just because it's a fast day. Substitute a fat-laden beef burger for this tasty spicy bean burger. Try this spicy mexican bean burger recipe taken from The Ultimate 5:2 Diet Recipe Book by Kate Harrison (£6.99; Orion).
5 2 Diet: Fast Day Lunch - Courgette and Ricotta Frittata Recipe
Per Serving: 274 cals. This courgette and ricotta frittata recipe takes just minutes to whip up and is surprisingly filling. Serve with a plain green side salad if you want to bulk up your meal without increasing the calorie count too much.
5 2 Diet: Fast Day Lunch - Pea, Feta, Mint And Soya Bean Salad Recipe
Per Serving: 116 cals. A refreshing lunch time salad that will barely make a dent in your fast day calorie allowance. Try this pea, feta, mint and soya bean salad recipe.
5 2 Diet: Fast Day Lunch - French Tuna Nicoise Pasta Recipe
Per Serving: 300 cals. A deliciously classic salad that will fill a gap during fast day. Ditch the egg to save yourself some extra calories, and avoid unnecessary dressings. Try this French tuna nicoise pasta recipe.
5 2 Diet: Fast Day Dinner - Crunchy Buttermilk Chicken With Balsamic Tomatoes And Courgettes Recipe
Per Serving: 325 cals. Crunchy buttermilk chicken on a fast day - surely not? Well that's where you're wrong. This delicious recipe is surprisingly low calorie, so you can look forward to some guilt-free tastiness. Try this crunchy buttermilk chicken with balsamic tomatoes and courgettes recipe Taken from The Ultimate 5:2 Diet Recipe Book by Kate Harrison (£6.99; Orion).
5 2 Diet: Fast Day Dinner - Asparagus Caesar Salad Recipe
Per Serving: 250 cals. This moreish asparagus caesar salad recipe still has that classic combo of croutons, parmesan and gem lettuce, plus a light, yet creamy dressing. Yum!
5 2 Diet: Fast Day Dinner - Sweet potato nduja soup Recipe
Per Serving: 234 cals. This warming sweet potato nduja soup recipe has three portions of your five-a-day and is a definite crowd pleaser. If you've got calories to spare at the end of the day, serve it with a small hunk of sourdough bread.
5 2 Diet: Fast Day Dinner - Beef Stir Fry Recipe
The Asian flavours really come through in this tasty, yet light, salad.
Per Serving: 307 cals. Designed to serve 2. Recipe provided by thefast800.com.
Ingredients:
1 tbsp olive oil
250 g beef sirloin, cut into strips
5 button mushrooms, sliced
1 cm fresh ginger, grated
½ tsp chinese five spice
1 garlic clove, peeled and crushed
200 g broccoli, cut into small florets
1 red pepper (capsicum), chopped
1 bunch pakchoi, chopped
1 ½ tbsp tamari sauce
sea salt
black pepper
Method:
Add half a tbsp of olive oil to a large wok and place over a medium heat for approximately 2 minutes. Add the beef and brown it, then remove from the wok and set aside.
Heat the remaining olive oil and add the mushrooms, ginger, five spice and garlic and cook for approximately 4 minutes.
Next add in the broccoli, capsicum and pakchoi and cook for an additional 5 minutes.
Re-add the beef strips and stir in the soy sauce and cook for an additional 2 minutes or until warm.
Divide in two and place half of the stir-fry into an airtight container and refrigerate.
Place the other half of the stir-fry into a serving bowl, season with salt and pepper and enjoy!
5 2 snacks
If you have still yet to hit your 800 calorie total, see what 200 calories equates to in food. Or why not try these healthy, yet satisfying snacks under 200 calories?
Miriam is a regular contributor to womanandhome.com, with specialisms in all things health and wellness. She has worked with the brand for over five years now, and previously worked on the women's lifestyle magazines Woman and Woman's Own.