The Most Stunning Chanel Gowns At Haute Couture Fashion Week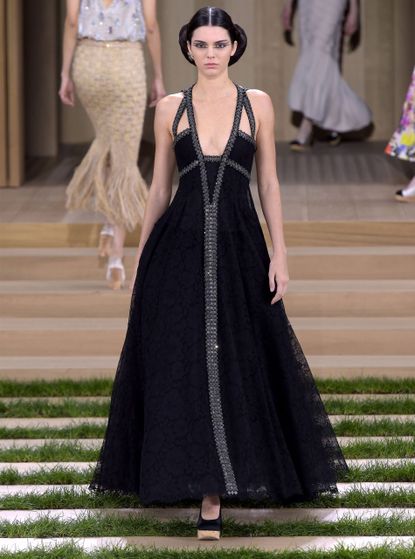 (Image credit: Rex Features (Shutterstock))
Few events on the sartorial calendar quite reach the levels of high octane glamour than that of Paris Haute Couture Fashion Week. The most luxurious creations by designers such as Chanel, Versace and Dior are presented to a small handful of the fashion industry's elite, aristocrats and celebrities. The biannual show features some of the most impressive, custom garments that are made entirely by hand and come with astronomical price tags.
Featuring some of the world's most well known models including Cara Delevingne, Gigi Hadid and Kendall Jenner, Chanel's front man, Karl Lagerfeld debuted a futuristic collection with a distinct Star Wars vibe. Highly structured, intricate gowns were on display, accessorised with Princess Leia style buns and dramatic eye make-up
Haute Couture translates into French simply as 'high sewing'. The dresses are crafted from expensive, unusual fabrics, and are often made especially for a particular client. Well known starlets can sometimes be seen gracing the red carpet in a custom made Haute Couture gown. The term is not used lightly, as it is protected by law and can only be used by designers who get the stamp of approval from the 'chamber syndicale de la haute couture' - the regulators who determine which fashion houses are eligible to make a Haute Couture collection.
Scroll down to view our favourite looks from this season's impressive Chanel collection.