The Duchess of Sussex's super chic £45 sunglasses are back in stock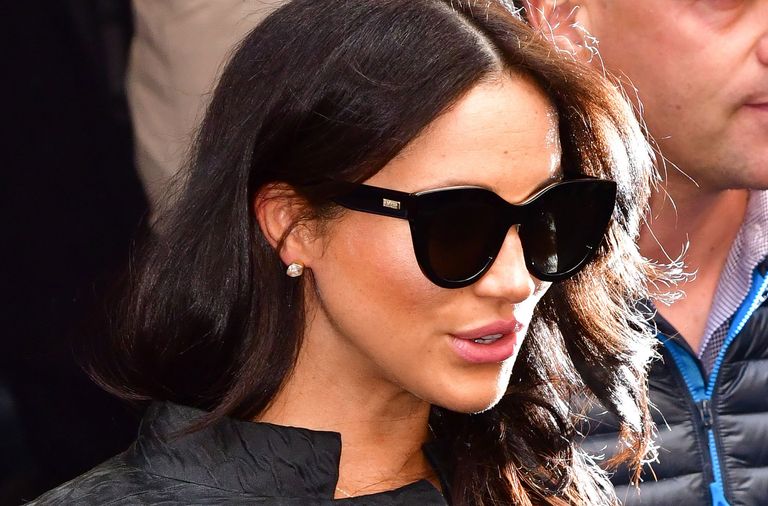 In February this year, the Duchess of Sussex jetted across the pond to New York to celebrate her baby shower.
As always, the 38-year-old Duchess was photographed sporting a multitude of stunningly elegant outfits, but it was one accessory in particular that topped off her chic looks.
The former Hollywood actress stepped out as she headed to lunch, covering her baby bump with a textured black cape coat teamed with a pair of black slim fit jeans and a pair of nude court heels.
Crowning the outfit with some serious style, Duchess Meghan wore a pair of bold, black, cat eye sunglasses.
Although the mum-of-one is often seen in pieces at the higher end of the price range, this pair of sunglasses by French brand Le Specs are actually rather affordable at a price under £50.
Thanks to their reasonable price tag and the 'Meghan effect', the sun specs sold out online in a matter of days - but now they're back!
If you head over to Net-a-Porter, you can add the 'Air Heart' in glossy black acetate with gold accents to your basket and add some Duchess inspired glamour to any outfit for just £45.
If the style of the Duchess of Cambridge is more up your street, then the good news is you can now get your hands on the stunning white dress Duchess Catherine wore to Wimbledon this year.
Although the not quite so good news is that you'd have to splash rather a lot of cash for the pleasure.
The gorgeous Flappy Wiggle dress by Suzannah comes in at a rather expensive £1,850 and can take up to six weeks to be delivered, meaning by the time it gets here we'll be well into boots and scarves season.
If you still want to try out the signature style without parting with quite so much of your bank account's contents, we've found a couple of alternatives that won't be so harsh on your credit card.
French Connection's Southside Belted Dress, for £95, will give you the same relaxed look of the white button-up dress and the linen will keep you comfortable in the upcoming heatwave.