How To Embrace The Layering Trend This Season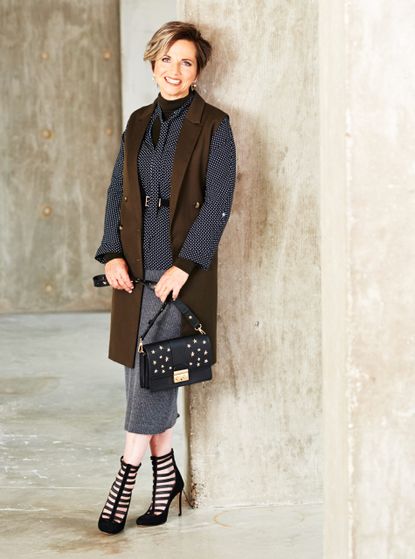 Layering is a top trend this year, and as Brits we should be familiar with piling on a few extra layers throughout our prolonged winters.
Layers are everywhere at the moment, but sometimes it's hard to look on trend without looking bulky. However if you get it right, you'll look well put together and effortlessly chic - not to mention you'll be prepared for the unpredictable British weather. So if you need to take off a layer for an unexpected sunny afternoon you can!
Follow these simple steps and you'll be layering like a professional.
Keep It Tonal
Sticking to the same tone but playing with different shades is an excellent way to get into layering. Grey is the perfect colour to do this with, as head-to-toe grey outfits always look elegant and expensive. Streamline your layers with a belted sleeveless coat and slim cut trousers. Rolling up your sleeves and adding a belt can also help add definition to your waist.
Tunic sweater, £89, s-l, Les 100 Ciels. Coat, £198, 6-16, Jigsaw (opens in new tab). Belt, £69, Maje (opens in new tab). Stole, £89, Gray & Willow at House of Fraser. Chain watch, £2,850 (opens in new tab), Chanel at Ernest Jones (opens in new tab). Ring, £110, Sally Lane. (opens in new tab) Trousers, £120, 4-14, Reiss. Shoes, £50, Aldo.
Keep Print Minimal
Stick to Breton stripes or polka dots in neutral tones. Colours such as khaki, grey and black always work well together but try adding hints of metallics to give your outfit a glamorous highlight. Metallic accessories are big this season and are perfect for making any outfit look instantly more dressed up. To complete the look enhance your shape with a cinch-me-in belt.
Roll-neck, £89, xs-l, Jigsaw. Blouse, £58, xs-l, Abercrombie & Fitch. Belt, £65, Reiss (opens in new tab). Sleeveless jacket, £120, s-l, Second Female. Skirt, £55, s-l, Paisie (opens in new tab). Pearl, 18 carat gold and diamond earrings, £2,370, Sammie Jo Coxon (opens in new tab). 9ct gold triple ring, £229 (opens in new tab), H.Samuel (opens in new tab). Other rings, Ann's own. Bag, £19.99, New Look. Shoes, £325, LK Bennet.
Mix Texture
Lace, leather, denim - more is more when it comes to layering. Make that summer biker jacket work harder by layering shearling over the top as autumn arrives to make it work all year round. Try to avoid overdosing on the leather and switch it up by adding suede boots.
Lace top, £165, 10-14, Set at Fenwick. Leather jacket, £595, 4-14, Reiss. Shearling gilet, £695, s-l, The White Company (opens in new tab). Jeans, £24.99, 6-18, New Look (opens in new tab). Earrings, £81, CARAT. Leather gloves, £89, Dents. Boots, £65, Debenhams (opens in new tab)

Layer Under And Over
Make sleeveless shift dresses work for autumn with a fine knit roll neck layered underneath. Burgundy and red are key colours this winter so why not try experimenting with them for a bang on trend look? Adding jewellery will also give the effect of another layer, try wearing slim sleeves if you want to show of a statement cuff.
Roll-neck, £35, s-xl, Wallis. Dress, £295, 6-14, Joseph at Harrods. Shawl, £175, 8-12, Maje at Harrods. Necklace, £70; cuff, £95, both Lola Rose. Bag, £145, LK Bennett (opens in new tab).Ring, £168, Serefim London (opens in new tab). Tights, £6, Charnos (opens in new tab). Boots, £79, Jasper Conran at Debenham.

The Key Styling Tricks:
- Buy key basics in smart neutral colours and your layering potential increases rapidly. - Keep print simple and use it in moderation. - A classic white shirt can be an ideal starting point. - Use colour sparingly - choose the colour combination of the season for an instant update. - Volume control is key - layers up top require a slim silhouette on the bottom to keep your look balanced: apply this rule likewise from bottom to top. - Stick to slim layers underneath and save your showpiece till last. - Add eye-catching details to really lift your look - shiny metallics are ideal. - Work in interesting jewellery to give those neutrals more edge. - Our favourite labels for layering include: Eileen Fisher, Uniqlo, Zara, Pure Collection, Joseph Massimo Dutti and Cos.